by
posted on January 13, 2018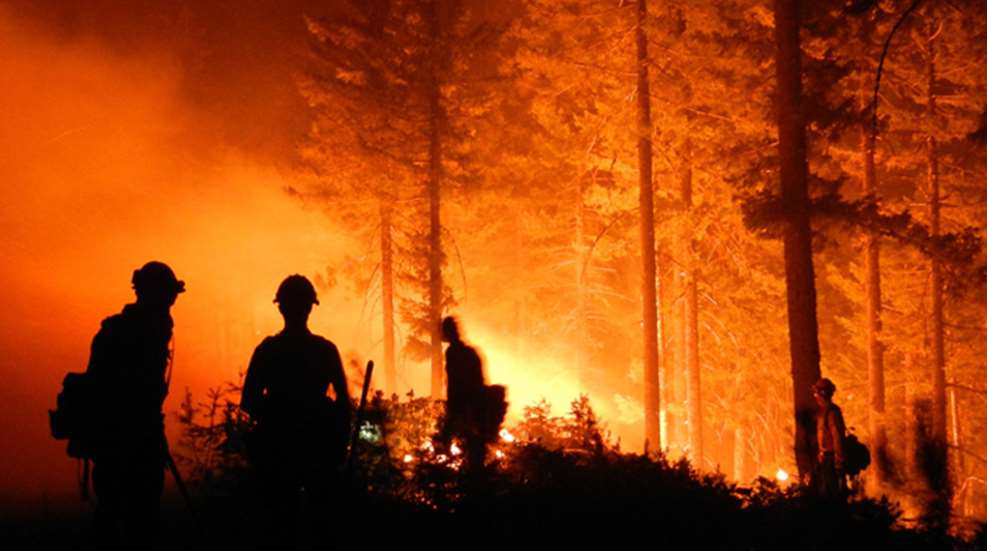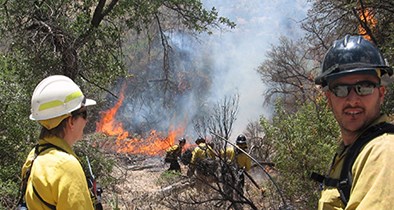 Do you remember the first time you saw a fire engine, its siren blaring as it sped down the road to put out a house fire, an office fire or perhaps help out at an accident scene? It was an awesome sight, and for many a boy and girl, it inspired the thought, "Wow! That's a cool job! I'm going to be a fireman when I grow up."
But did you know that in addition to the traditional firehouse job, where your primary work is to put out fires in buildings, there are a lot of other types of firefighting jobs? Take wildland firefighting, for instance. Let's take a look at a few of the possibilities:
Fuels Crews
Fuels Crews work on fuels projects, which include hazardous fuels reduction and restoration of areas that have been wiped out or heavily damaged by fire. This work may include thinning timber, woodlands and shrubs with chainsaws; using prescribed fire to reduce fuels; applying chemicals to undesirable fuels; monitoring pre- and post-fire effects; and-on occasion-helping to suppress fires. Fuels crews may be as large as a 10-person crew, and their members must be skilled in the use of hand tools and chainsaws.
Engine Crews
Engine crews are composed of firefighters who are trained to fight wildland fires with fire engines. They are made up of from three to 10 wildland firefighters. A typical wildland fire engine is a heavy-duty, off-road vehicle able to carry up to 800 gallons of water. Engines also carry foam to use on wildland fuels, for protecting the exterior walls of a building, as well as chemicals for use as needed. The engines also carry equipment for medical situations and crews are trained to help fire victims until more qualified responders arrive.
Engine crewmembers learn how to use water in fire suppression, lay hose, operate chain saws, construct fire lines with hand tools, conduct prescribed burning, set up portable pumps and drive wildland fire engines, and more. A typical day for an engine crew includes project work (trail maintenance, thinning timber and shrubs, assisting with timber sales, etc.), equipment maintenance and drills. On those days the hours are fairly predictable, but when fighting a fire, the hours can be long and hard.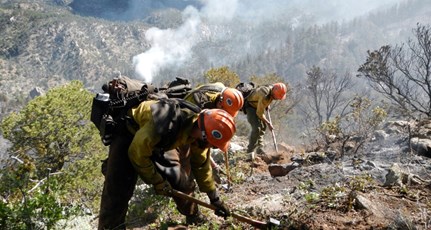 Hand Crews
Many wildland firefighters start their careers as members of a hand crew. These crews number about 18 to 20 members, whose duties consist of constructing fire lines with hand tools and chainsaws, conducting burnouts of areas using drip torches and other assorted firing devices, and mopping up and rehabilitation of burned areas.
Hotshot Crews
Hotshot crews have 20 members. Their primary work is wildfire suppression, fuels reduction and other fire management duties. Although hotshot crews perform the same types of duties as hand crews, they are quite specialized and are generally placed in the most rugged terrain on the most active and difficult areas on wildfires.
Hotshot crews were started in Southern California in the late 1940s to fight fires in the Cleveland and Angeles National Forests. Today, their role has expanded to include nationwide coverage. The crews are sent all over the United States to assist with wildland fires (with some crews traveling internationally to work in Mexico and Canada). Transportation is by truck, crew carriers or plane. In the case of more remote fire sites, hotshots hike or are flown in by helicopter. Crewmembers pack water and supplies for long work shifts-sometimes as much as 8 to 12 hours or longer.
As with all line firefighters, hotshot crewmembers must participate in physical fitness and conditioning programs and pass the Work Capacity Test at the arduous level. This level requires that each hotshot complete a three-mile hike with a 45-pound pack in 45 minutes. Hotshot crews are regarded as elite teams of professional wildland firefighters.
Helitack Crews
Helitack crews range in size from seven to 10 people who are trained in the use of helicopters for fire suppression. These crews can be rapidly deployed and are often the first to respond to a wildland fire. When the call about a fire comes in, the crew or crews quickly fly to the scene, where their first job may be to use water buckets or fixed water tanks to drop water or retardant.
In addition to delivering helitack crewmembers for the initial attack, transporting personnel and loading and unloading cargo in support of fires, helitack crews are also skilled in the use of hand tools and chainsaws, and they are well versed in digging fire lines. Helitack crews are also trained to "rappel" from a hovering helicopter into a remote area where the terrain or vegetation makes landing a helicopter too difficult.
Smokejumpers
Smokejumpers, as is suggested by their name, parachute from airplanes to fight fires in remote, often mountainous regions where access is limited and roads are frequently non-existent. These men and woman provide a way to reach such spots quickly. The size of the jumper fire determines the number of smokejumpers that fly the mission, but not more than 20 per plane. After the jumpers are aboard the airplane, a "spotter" selects a safe jump spot, judges the wind and the jumpers exit, two at a time.
Once they parachute to the ground, cargo boxes with tools, food and equipment are dropped. The jumpers then work as a crew to control and mop up the fire. They build fire lines with specialized tools, run chainsaws and conduct prescribed burning operations.
Smokejumpers are an elite professional group. All must have previous firefighting experience. Their individual backgrounds may include engines, helitack, hotshot crews, or fuels and suppression crews. Note that most smokejumpers are seasonal employees, so they start work in April or June and stay until laid off in September.
What You Can Do Now?
Even though you can't apply for a job as a wildland firefighter until you are eighteen, there are a lot of things you can do right now in the way of preparation. Start by developing your camping skills-things you'll need for an extended time in the outdoors. Learn how to pitch a tent, tie knots, read a topographic map, sharpen a knife and use a compass. When you're old enough, learn how to drive a truck with a manual transmission, change a tire and use a chain saw. Finally, get into good physical shape. There's a pack test that's required of all firefighters when they first report for duty: to complete a three-mile walk with a 45-pound backpack in 45 minutes or less. You can start training now with less weight and work up to 45 pounds as you grow. When the time comes, you'll be good to go. Later on, you may want to consider taking some basic classes in wildland firefighting or even getting a degree in fire science.
Is It for You?
Is wildland firefighting for you? Well, it's hot, dirty work for sure. You need to love the outdoors and physical labor. As a crewmember, you will be in the field for long periods of times, sometimes sleeping near the fire line, eating rations and-if you're lucky-grabbing a shower every couple of days. You're on call 24 hours a day,  seven days a week during the fire season. Crews normally work a 14-day assignment and get two to four days of downtime between assignments.
You'll need a sense of adventure and be willing to put yourself in danger on occasion. And finally, you'll need to work as a team-within your own crew and as part of an even bigger team with other crews as you join forces to accomplish your mutual goal. Your life and those of your co-workers will depend upon it.
So what do you think? Is wildland firefighting the "cool job" in your future?