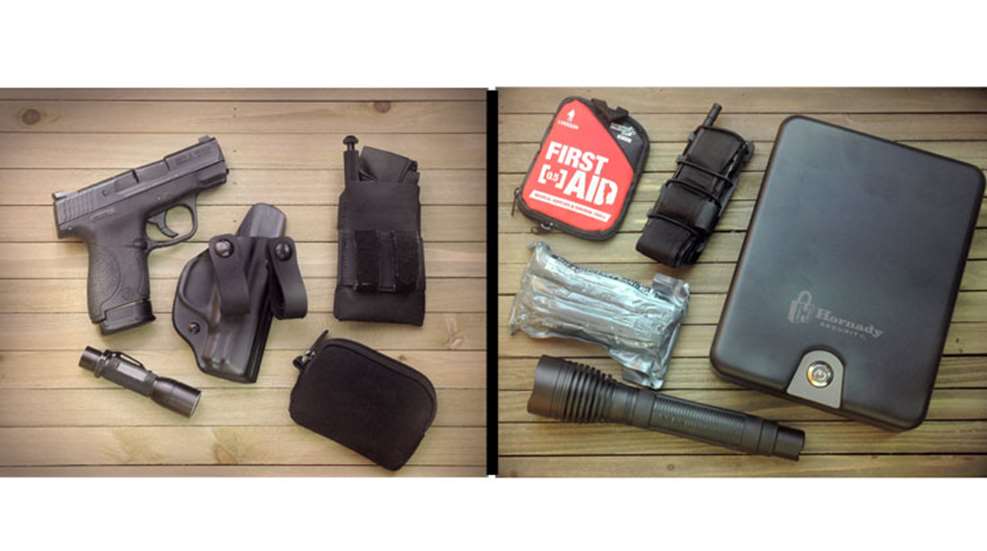 We learn from an early age that flashlights are a really useful tool. We learn that having a first aid kit nearby can ease the everyday pains of life. We know that a knife can be a useful tool for everyday life and a useful tool for self defense. We know all those things, and yet I still see people talk about how they're ready to deal with a low-light situation or a life-threatening injury because they have a flashlight or first-aid kit in their vehicle. Col. Jeff Cooper, one of the most-respected masters of modern defensive firearms training, said that if you don't have a defensive firearm within arm's reach at all times, you don't really understand the need for firearms training in the first place.
That same attitude should apply to other critical areas of our lives. We wouldn't consider ourselves able to defend our families if all our guns were inside the cars in our garage, and yet for some reason, people consider themselves ready to deal with a traumatic gunshot wound because they have a tourniquet in their truck. We spend hours on the shooting range honing our skill with our pistols, and yet I still people on social media talk about how they're ready to defend their life because they have a pistol in the glove box of their truck. That's not readiness, that's the illusion of readiness. The two or three minutes it takes to run out to your vehicle and retrieve your gun are going to be the longest minutes of your life, and that assumes you even get the opportunity in the first place. Better to carry your gun and critical gear where it can be deployed in an instant, and use your vehicle to carry gear that augments and extends what you have on you.
So is it better to have a gun, tourniquet and flashlight on you, or to have one in your vehicle? The correct answer to this question is, have both ready to go. If you carry a defensive firearm, carry it on you, because even the slowest of draws from the most awkward of holsters is faster than running out and retrieving your gun from your car.
I've carried a Smith & Wesson Shield on me for years now, and right now, I'm carrying it in Blade-Tech Eclipse IWB holster, loaded with Federal Premium HST ammunition. Thanks to hours of practice and some high-level pistol training classes, I know what that combination of gear can do—and also I know what I can do with it. Most importantly, though, it's a gun that I can and do carry pretty much every day of my life. If I need to leave it in my car, I lock it up in a small Hornady safe that's securely attached to the frame of my vehicle, because my car, while quite solid, is not a gun safe, and should not treated as such.
Carrying a flashlight is an easy task these days. SureFire, Streamlight, OLightt and a host of other companies make compact, rugged and bright (very bright) flashlights, and every week, I find a need to get out the Coast HP7 flashlight I carry with me, either to hunt for a lost item somewhere in the house or to light up the path through a dark parking lot. In my car, I have a 2,000-lumen flamethrower of a flashlight from Rayovac, as well as a smaller headlamp for more mundane tasks like tire changing or the like.
Carrying a tourniquet and trauma kit on you can be a bit harder. It took me a long, long time to find a way to carry critical medical gear on me every day, but I've found that a Ten Speed magazine pouch from Blue Force Gear is an excellent way to carry around an SOF-T tourniquet on my support-side hip, right next to my spare magazine. I also have a small trauma kit with a folding bandage, clotting agent and a pair of gloves tucked into a coin purse that I carry in my back pocket. In my car, I have another tourniquet, as well as an Israeli-style compression bandage and a Pocket Emergency Wallet from Phlster holsters, along with a small first-aid kit to deal with cuts and scrapes.
The increasing popularity of concealed carry is a sign that Americans are starting to realize that we are our own first responders. The police and fire departments and emergency medical personnel do a tremendous job and play a vital role in keeping our towns and cities safe, but when it comes down to it, we as individuals are in charge of our own safety, and that means being able to deal with a variety of life-threatening situations as they happen. Carrying a defensive pistol every day and everywhere you can is just one part of a well-prepared lifestyle; make sure you have the gear to save a life on you at all time as well. Who knows… the life you save may be your own.