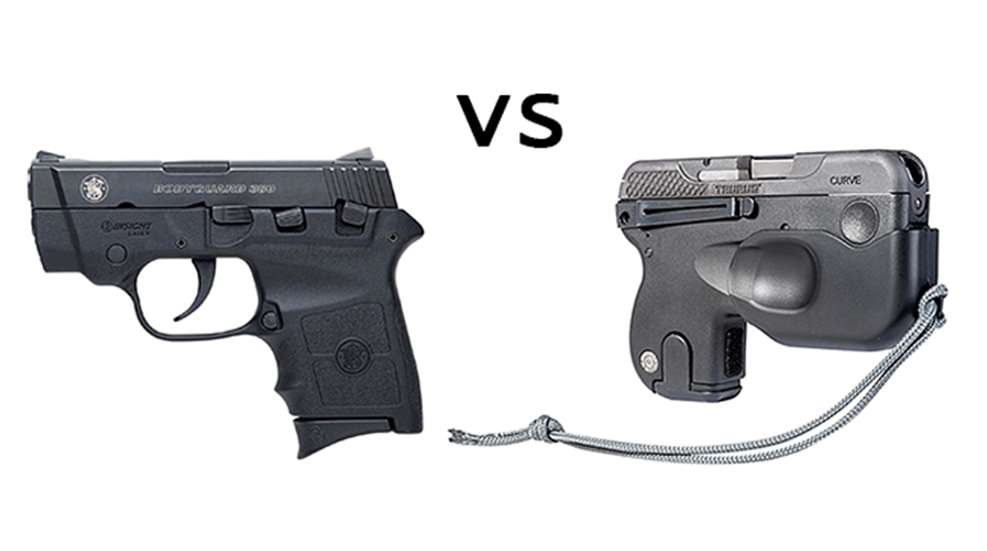 In the world of .380s, the Smith & Wesson Bodyguard comes highly recommended by many. Deciding to take that recommendation, I hit the range with Shooting Illustrated's Jay Grazio to put some lead downrange. It just so happened that we happened to have one of the new Taurus Curves in .380 in house, so I did a little compare and contrast.
The all-new Taurus Curve was engineered to fit the contours of the human body for a comfortable concealed carry. The pistol features smooth lines for no visible printing, a snag-free design, a bore-axis sighting system for instinctual shooting and a built-in holster-free belt clip. The Taurus Curve has a 6+1 capacity in a lightweight 10.2-ounce subcompact package. Since the pistol has no sights, you must utilize the LED light and laser that was built into the frame for quick target acquisition.
To make the playing field even, I shot the Bodyguard using a Crimson Trace laser, instead of using the stainless-steel front sight and drift-adjustable rear sight. Made of polymer with a stainless steel finish, the Bodyguard features a 6+1 round capacity and weighs 11.85 ounces.
Shooting both American Eagle and HPR ammunition, I found the Bodyguard gave me better groups and the felt recoil was minimal. I had no problem racking the slide. As for grip, I found that even though I had a much easier time gripping the Bodyguard over my Ruger LCP, thanks to the notches and slightly longer grip length, I still struggled with the size and where to place my thumbs. My thumbs felt clumsy and awkward, getting in my own way and flying off the gun when I shot if my grip wasn't tight.
The Curve is bulkier than the Bodyguard, and obviously curved slightly. Considering that there were no sights, I was surprised at how consistent my groups were, although they weren't as good as the Bodyguard's groups. For a .380, the grip was much more comfortable for me because there was more space for my hands. The curvature of the gun wasn't a hindrance to its performance, however the laser manipulation was. I had to remove my hands from my grip to turn the laser on, which in an actual self-defense situation is clearly not ideal.
Overall, both pistols were fun to shoot without any recoil issues or pain in my hands. If I was forced to choose, I would go with the Bodyguard (and probably purchase a magazine extender) due to the greater consistency in my groups.