by
posted on January 15, 2020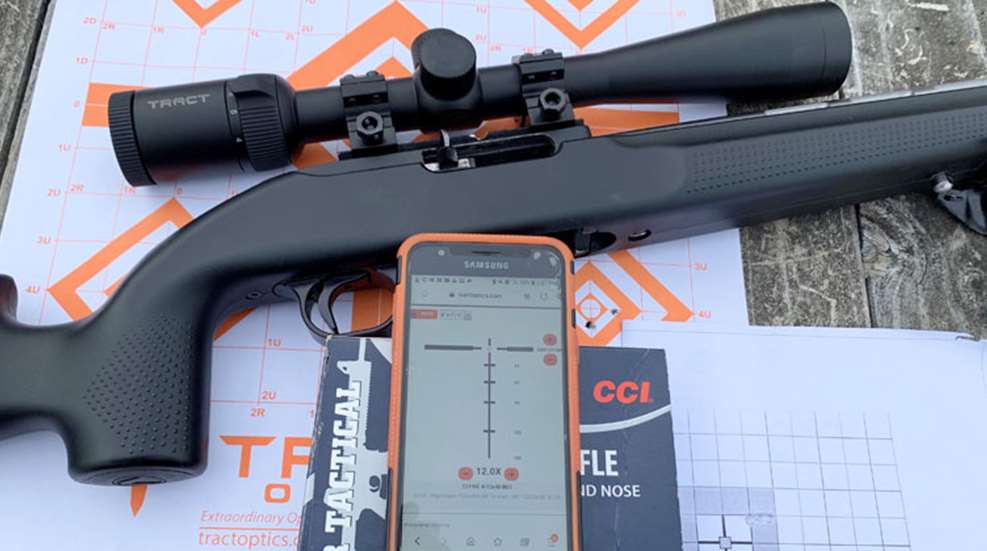 It's an unfortunate fact that too many shooters take the .22 cartridge for granted, relegating their least-favorite optic to their rimfire rifles, but a recent innovation from a company called Tract Optics just might change that. That's a good thing, because the .22 is a staple of the American shooter's diet that's digested brick after brick in a plethora of applications.
As an instructor, the .22 is our de facto training cartridge as it is ridiculously cheap to run, small enough to easily transport in large quantities, and is almost always a new shooter's favorite because of its minimal recoil and noise. I often look at a fellow enthusiast with shock, even a little bit of pity, when I hear that they don't own a rifle or pistol chambered in this classic cartridge. Where some might regard it as an anemic chambering, I simply describe it as accurate.
Of course, the accuracy equation isn't as simple to solve as grabbing the least expensive optic and ammunition off the shelf and hitting the range. In the words of the late Joyce Hornady, "Accuracy isn't something that just happens, you have to make it happen." I live by these words in all of my training and shooting endeavors and yes, this even applies to the tiniest of rimfires.
The biggest pitfall of the .22 owner is the "it's just a .22" attitude. The .22LR cartridge is capable of the same level of accuracy as a centerfire, and in many cases even higherWhile most .22LR rifles are capable of sub-MOA accuracy with properly matched ammo, the shooter often fails to achieve this benchmark due to one piece of equipment…the scope.
Sadly, because these guns offer low recoil, most folks just grab el-cheapo optic, slap it on and go shooting. Unfortunately, you are cutting a terrific firearm short by doing so. Tract Optics understands this and has thus created the 22 Fire line of glass for the rimfire shooter. The scopes are built to handle the same recoil as their centerfire lines, but instead of a 100-yard parallax setting, these are set at 50 to help the rimfire shooter see their best at the distances which they will likely be shooting. Both scopes also weigh in at under a pound, so the impact on the overall weight of your favorite shooting package is minimal. The 3-9x or 4-12x magnification ranges that they are available in are also a perfect match for these distances.
Excited to try them out, I requested a 3-9x model that was built with their fine T-Plex reticle and their 4-12x model that was built with their bullet drop compensation (BDC) reticle. Both magnification ranges are available with either reticle, but I prefer clean reticles on "close range" stuff, and figured that I would enjoy the extra magnification for the extended rimfire distances that I would use the BDC hash marks on. When they arrived I mounted the higher magnification optic on our precision Ruger 10/22. This gun has had a little bit of trigger work and has been fitted with a Victor Precision stock as well as a gorgeous stainless steel Volquartsen heavy-target barrel. The 3-9x T-Plex found its home on my old faithful squirrel slayer, the CZ 455.
As I already have a terrific relationship with each rifle I grabbed some of the rounds that each shoot best and took a ride to the range. As I zeroed-in, I noticed some ingenious markings on the turrets that I quickly nicknamed "rimfire language." Instead of saying "½MOA" they said "¼ inch at 50 yards." If you are training someone brand new and you don't want to pause to give them a math lesson, this is a terrific option as it gets across the fundamentals of zeroing an optic without requiring a working knowledge of the distance and minute of angle relationship.
After zeroing I was able to reset the turrets just by lifting them up and spinning them. The entire procedure was tool-less due to the simple spring-loaded mechanism. After zeroing I shouldered the CZ 455 with the 3-9x Tract 22 Fire scope, and proceeded to punch my typical one-hole groups using ELEY Subsonic Hollowpoint ammo. At this time I checked tracking and repeatability and both were spot on, putting my impacts precisely where they started. I mean it—right back in the same hole.
As I set the 3-9x down I picked up Tract Optics' 4-12x 22 Fire with the BDC reticle. If you follow my work, you know typically I'm not a fan of these. I have gone on record saying "Well, you don't know what temperature you're going to be using the gun at, let alone cartridge and bullet weight, yada, yada, yada…".  Tract knows this criticism and therefore gives the shooter free ballistic software called IMPACT BALLISTICS. This is right on their website, requiring absolutely no downloading. This nifty little program allows you to put in the round that you are shooting, and even adjust your atmospheric conditions. Once you plug all of that info in, it spits out the distances that your hash marks are going to be set for at each specific magnification setting.
After I did this I found out that, at 12x, the third hashmark down was my hold for a 99-yard target. Welp, I had a target at an even 100 yards so I held dead center and fired. Not only was I only half an inch high, that three-shot group was also one solemn hole, indicating how easily I was able to make out my quarter-inch grey aiming point. Lastly, before I finished fiddling with the software, I noticed that you can even order a custom turret for your specific rifle and round combination after you've had a chance to confirm your drops, assuring their accuracy.
Each one of these optics is available directly from the manufacturer at Tractoptics.com, and neither one is terribly expensive due to their customer-direct business model. These optics carry a lifetime warranty, regardless of whether you are the original owner, making depreciation minimal. The 4-12x can be had for just $194, and the 3-9x is even 20 bucks cheaper at $174. These prices reflect either reticle option as well, which I found to be very fair—oftentimes the BDC is considered an upgrade. For more information swing over to their website to get the full spec list as well as a chance to check out the IMPACT BALLISTICS software.