by
posted on December 1, 2022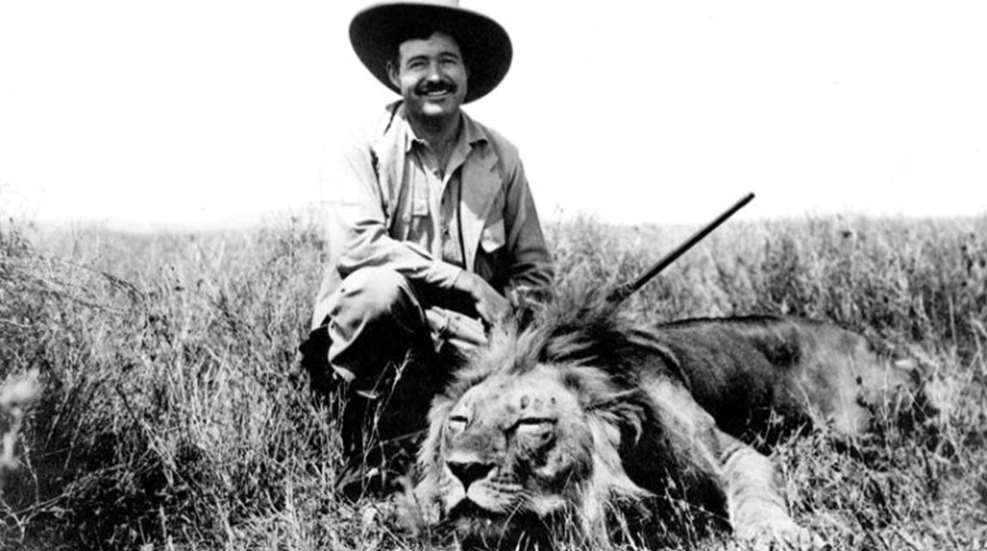 An American literary giant of the Twentieth Century, Ernest M. Hemingway (1899-1961) was more than an internationally famous author. A dedicated hunter, shooter, fisherman and outdoorsman all his life, he lived the adventures he wrote about. His prose was sparse, terse, yet pithy. Whether writing about tracking a whitetail buck in Michigan or describing the stalking of dangerous big game in Africa, Hemingway always added just enough detail to let you know he had "been there."
He was drawn to firearms at an early age. An old black-and-white family photo shows young Ernest at age five posing for the camera holding a Markham King air rifle, which sold new for 75 cents at the time. On the back of the photo his mother had scrawled, "Ernest was taught to shoot by Pa when 2½, and when 4 could handle a pistol."  He was given a single-shot 20-gauge shotgun for his twelfth birthday by his grandfather.
Ernest Hemingway owned many sporting firearms of various makes and models during his lifetime, so many in fact that it is impossible to know exactly how many for sure. He bought (both new and used), borrowed, loaned and gave away guns, but never collected them merely as works of fine art. Rather, he regularly shot and hunted with the guns he owned, preferring reliable function over fancy wood or extra engraving. He once wrote a friend about a new rifle saying, "I don't care about the job being too ultra, would prefer fit and sturdiness and absolute dependability of action to finish."
That said, below is a short list and brief description of some of Ernest Hemingway's more well-known firearms: shotguns, rifles and pistols.        
Shotguns
Winchester Model 12: His favorite shotgun, this pump-action firearm became a Hemingway icon. He owned at least two of these 12-gauge shotguns. The first he had for more than three decades, firing hundreds of thousands of rounds through its 30-inch, full-choke barrel. When the gun finally wore out, he replaced it with a used, shorter-barreled Model 12, purchased from a hotel bellboy in Sun Valley, Idaho.
Browning Superposed: Break-action, double-barrel, over/under shotguns (one barrel placed atop the other rather than side-by-side) began arriving in America from Europe in the 1930s. Hemingway won his 12-gauge Superposed during a live-pigeon shooting contest in France. He can be seen holding the shotgun in many publicity photos.
Browning Automatic 5: A revolutionary design for its day, this shotgun has a squared-off receiver back and became known as the "square-back or hump-back" Browning. Hemingway didn't think much of semiautomatic shotguns in general, but liked this one. "I shot a Browning for twelve years and it is the only good automatic shotgun," he said.
Ironically, it's also the gun that nearly killed him.
Hemingway would often invite the rich and famous from Hollywood to Sun Valley Resort in Idaho for fall weekend bird hunts. It was during one of these hunts that socialite Mary Raye Hawks, wife of film director Howard Hawks, was handling a 16-gauge Browning Auto-5 less than safely when it went off, barely missing Hemingway (who had been kneeling down just a few feet away tying his bootlace). The shot passed so close to the back of Hemingway's head that it singed his neck hair.  
Winchester Model 21: Hemingway kept two of these 20-gauge, double-barrel, side-by-side shotguns around for his wives to shoot—he was married four times. When he was named Winchester Outdoorsman of the Year in 1959, a presentation-grade 12-gauge model was specially made and engraved for him, but he died before receiving it.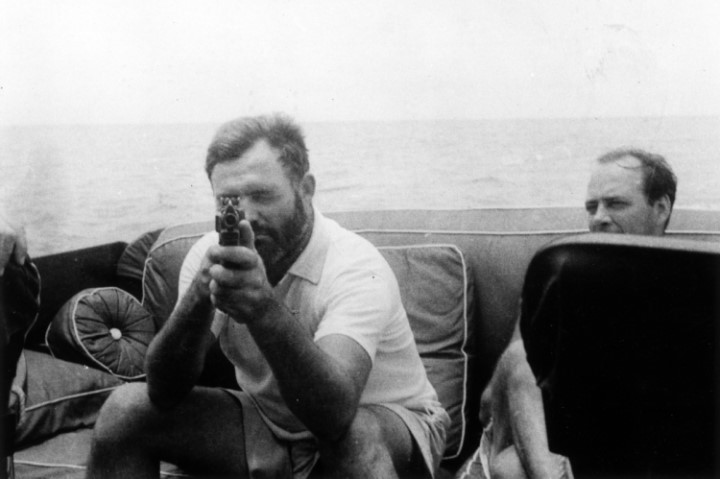 Editor's note: This is not how the NRA normally portrays gun handling. Please regard this historical image as just that--historical.

Rifles
Griffin & Howe Springfield: Hemingway's favorite big-game hunting rifle, this bolt-action gun was .30-06 caliber and built by Griffin & Howe in 1930 on a Springfield-barreled action bought through the NRA. The price was $256.50 and included a sling, leather gun case and detachable side-mounted telescopic sight. Hemingway soon removed the scope and never used it again, preferring open sights. He hunted with this rifle in Montana, Wyoming and Idaho, and took it on his two extended safaris to East Africa, 1933 and 1953, each trip lasting several months.
Westly Richards Nitro Express: For ultimate stopping power of dangerous big-game animals while on safari, Hemingway carried this double-barreled rifle in .577 caliber. He never shot an elephant with the gun, but took both a lion, rhino and possibly a Cape buffalo. Such a large-bore rifle was more than punishing to shoot, producing 100 foot-pounds of recoil, enough to break a hunter's collarbone if held incorrectly.
Various .22s: Hemingway owned many .22-caliber guns during his lifetime, both rifles and handguns. At least six .22 rifles included four pump-actions (Model 61 and Model 62), and a semi-automatic (Model 77), all Winchesters, and one Marlin lever-action Model 1897. The handguns were Colt Woodsman pistols, of which he owned three, possibly four.
Hemingway apparently used a .22 to defend himself at least once. When his house outside Havana, Cuba, was broken into for the third time, he heard the intruders during the night, jumped out of bed naked, and shot at the last man climbing out the bathroom window. The next morning, Hemingway and his wife found blood on the terrace and followed the trail down a hill, but the intruder had escaped.
Thompson Submachine Gun: Although certainly not a sporting firearm, Hemingway kept one of these "Tommy guns" aboard his deep-sea fishing boat Pilar to discourage sharks from attacking any large gamefish he might hook. "I have a Thompson Sub Machine gun and we shoot sharks with it," he wrote a woman friend. "As soon as they put their heads out, we give 'em a burst."  (Note: Prior to the National Firearms Act of 1934 there were no restrictions on the sale or ownership of fully automatic firearms in America.)      
Sadly, Ernest Hemingway died by turning one of his many firearms on himself, committing suicide in July 1961. It is not known for sure which of his guns was used, as the firearm was destroyed soon after the incident and no records remain today; but it is believed he used a shotgun, possibly a W & C Scott.
If you'd like to learn more about the firearms owned by Ernest Hemingway, the book Hemingway's Guns: The Sporting Arms of Ernest Hemingway is highly recommended. A collaboration of three authors—Silvio Calabi, Steve Helsley and Roger Sanger—the book was published in 2010 by Shooting Sportsman.