by
posted on July 18, 2014
The 2014 NRA Annual Meetings & Exhibits officially opened as NRA President Jim Porter welcomed the crowd ready for three days of family fun and celebrating freedom with these words: "Nine acres of guns and gear ... are you ready?"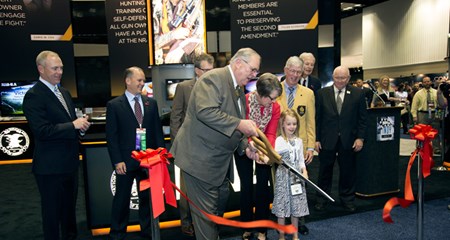 Porter, together with official sponsor MidwayUSA's Larry and Brenda Potterfield and their granddaughter, helped cut the ribbon to officially open the Exhibit Hall (below). "If you are a friend, then become a member," said Porter. "Get your family to join, get your kids to join." This emphasis on involving family in the love of the Second Amendment was a recurring theme throughout the weekend.
Within minutes, the Indiana Convention Center was alive with excitement as thousands of members filled the Exhibit Hall. With more than 600 exhibitors, educational seminars, celebrities and special NRA events, there was plenty to keep them entertained and informed.
The association's business was conducted at the NRA Annual Meeting of Members. NRA Executive Vice President Wayne LaPierre and ILA Executive Director Chris Cox advised the members about billionaire anti-gunner Michael Bloomberg's latest threat to our gun rights.
"As NRA members ... as good guys who still believe in what this country must stand for, we will stand together and fight for all of our values, all of our freedoms!" LaPierre declared.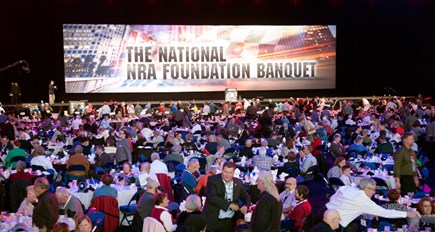 "The 5 million members of the NRA will not allow Michael Bloomberg to lie his way, buy his way, or bully his way into taking away our Second Amendment rights!" Cox promised.
From one-of-a-kind hunting trips to Magnum, P.I.'s Colt1911, there was no shortage of interesting items up for bid at the National NRA Foundation Banquet and Auction, the NRA-ILA Dinner and Auction, and the NRA Women's Leadership Forum Luncheon and Auction. Country music fans were excited to hear Joe Nichols play at the NRA Country Jam and Sara Evans opened for the legendary ALABAMA at the Stand and Fight Rally.
With more than 75,000 attendees, the 143rd NRA Annual Meetings & Exhibits was a high-octane hit. Make plans now to join us in Nashville, Tenn., next year!
Would you like to know more about the 143rd NRA Annual Meetings & Exhibits? Visit our photo gallery here.