People always have their phones within reach, and that's no different for hunting. It's brought along in case of an emergency, to take videos or pictures, for a little light reading while you wait…and wait….and wait. And now, thanks to onXmaps, your phone can be even more useful on a hunt as a full functioning GPS.
Available today on both the Google Play and Apple App Store, is onXmaps' HUNT 3.0 new and improved hunting app that turns your phone or tablet into a dedicated GPS device. HUNT 3.0 unlocks the full functionality of your phone's GPS and integrates it with map layers such as landowner names and boundaries, color-coded public lands, private lands open to public, hunting areas, roads and trails and points of interests. The compass feature, on the right of the screen, can be set to a destination and will point to the exact direction you need to go, or it can be set to compass mode informing you which direction you are going.
HUNT 3.0 also features digital interactive maps that were once only available in paper format, saving you the added weight but keeping the rich views showing you pertinent information such as trails, roads, rivers, campsites, peaks and more. onXmaps has been in collaboration with various U.S. Forest Service entities, to collect digitized official Forest Visitor Maps. The digital versions are just like the U.S Forest Visitor maps available on paper, but can be combined with the many GPS layering features so you'll always know your exact location.
The app has over 350,000 miles of trails mapped. The onXmaps team combined data from the Bureau of Land Management, National Park Service, U.S. Forect service, U.S. Fish and Wildlife Service, and additional local, state, and federal entities as well as Open StreetMap to provide an extensive data source of maps. The app also allows users to view these trails in a satellite, topographic and hybrid fashions.
"onXmaps has quite simply been the biggest game changer in the last five years for me and my ability to hunt not only in Montana, but in completely new states and units. Show me a hunter with onXmaps in his hand and I'll show you a hunter soon to have success!" says Randy Newberg, the host of Fresh Tracks TV and the popular HuntTalk online community.
With this app, it's easy to be a responsible and educated when in the field. For example, the Public Land Owner display layer provides the owners' names and property boundaries. Hunters know the value of this data when dealing with properties, finding public lands or knowing when to gain permission to hunt on private property.
Be sure to use the app's tracking feature. HUNT 3.0 will track and display your hike right on the screen. You can save your tracked hikes for a later visit, and easily find your way back to that perfect stand location.
If your hunt is taking you deep in to the  woods, beyond the long arm of full-speed cell phone coverage, you can simply save the map and layers you'll need to your phone. The intuitive Save Map function allows user to maintain full functionality and map data within the HUNT 3.0 app wherever you find yourself.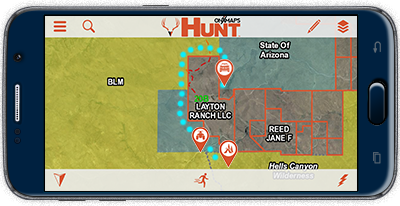 "HUNT 3.0 brings to life a new era of hunting maps. The App unlocks hundreds of layers of map data that make scouting and execution in the field much easier. I have found that certain combinations of map layers can help me identify hidden access points, key habitat for wildlife, and much more. I'm a firm believer that if you do the research and know your maps, you can drastically increase your chances of success!" says, Eric Siegfried, onXmaps president and founder.
Visit the Google Play or Apple App Store today to purchase the onXmaps HUNT 3.0 today, and feel comfortable knowing your place, any place, on your next hunt.
For more information and a full list of HUNT 3.0 features please visit www.huntinggpsmaps.com.