by
posted on May 15, 2014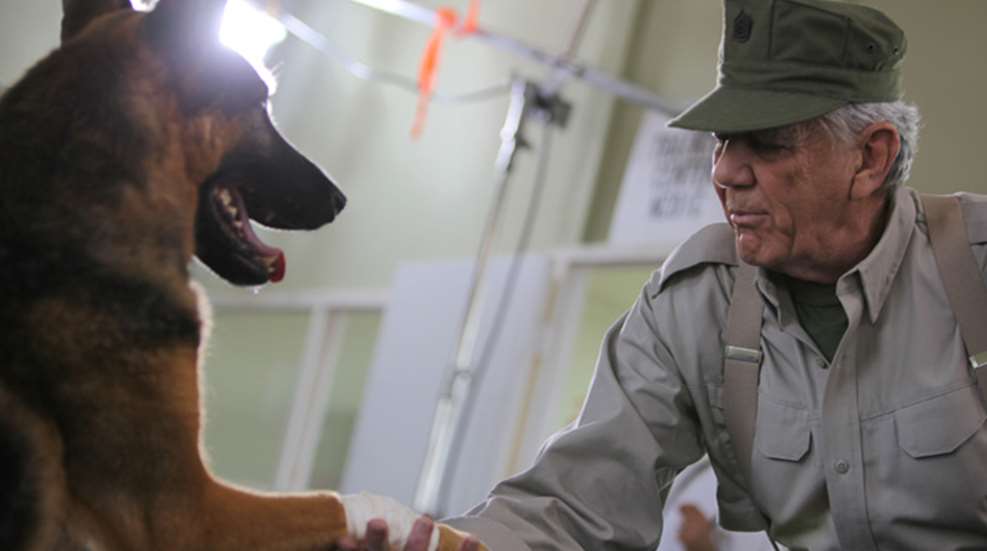 I recently had a chance to speak to everybody's favorite Gunnery Sergeant, R. Lee "The Gunny" Ermey, about some of his latest projects. Chief among these is his newest TV show, "Saving Private K9." So, square yourself away and listen up, recruits!
Wendy LaFever: It was exciting to see you at the 143rd NRA Annual Meetings & Exhibits in Indianapolis; that was the first time many people had heard about your new TV show, "Saving Private K-9," which premiered May 15 on the Sportsman Channel. Did you get to talk to many of your fans about the new show while you were there?
Gunny: Oh yeah, I talked to hundreds of my fans while I was there. People will stand in line for hours to see me and I appreciate that very much. And while I was at the Sportsman Channel booth, I used their speaker system to blast out a message to encourage people to tune in. People are very receptive; we Americans love our dogs. I don't know of many households that don't have dogs. I heard at one time the most frequently purchased birthday gift for an eight-year-old boy is a dog.
WL: With over 122 movies and TV shows to your credit, you must have a lot of demands on your time. What attracted you to being part of this specific project?
Gunny: Mrs. Gunny keeps pointing out that I should think about retiring, but I think not. I'm happy working, so why not continue to work? I can't think of a more interesting show to present to America than military working dogs. Dogs save lives in the military and police forces, and sometimes are more effective than us humans.
I also visited the WWII dog cemetery in Guam a while back, and that stimulated my interest. I've always had dogs growing up and, at one point, we had six in our household. They have always been close to my heart. My first dog's name was Tippie, a big farm dog, half Collie half something else. Tippie's job on the farm was to collect the cows for me and bring them up to the barn so we could milk them. She did a great job and was very smart.
WL: Have the ways in which the military works with dogs changed much since you were an active-duty Marine?
Gunny: I don't think they've really changed that much. The only things I've noticed is that they are using dogs more; they are more dependent on the dogs than before. They realize better now how dogs can save human lives. Their senses are much keener than ours. I would like to see military and law enforcement more active in the retirement with MWDs (military working dogs). I'd like to see these dogs retired to a much more posh environment where they can run and be free. Plus, for those ready for adoption, we need to figure out a way to expedite the process. People are lined up waiting for these dogs for months! These dogs can be retrained and are loving, caring, sweet animals that just require a little love and time. Hopefully through the course of the show it will bring awareness not only on adoption possibilities, but also how intelligent these animals are and they still have a place with us.
WL: What's the most rewarding thing about filming this project for you? The toughest?
Gunny: The most rewarding thing is reuniting handlers with their dogs. When an IED has gone off and the handler is medevaced one way and the dog goes off in another direction, they lose each other. The handler never stops looking for his dog; we've found that in several situations. I tell you what, while we are filming, I'm talking to the handler and I'll look up and the cameraman and sound guys have tears running down their cheeks and facial tissue in hand. There's not a dry eye in the house.
And these dogs never forget their handlers. They have a keen memory. It is a beautiful thing seeing them reunited with their handlers.
The toughest cases were times when we found the dog had died. We took the handlers to their dog's gravesite, and that was hard.
WL: It looks like you've got a new book out, Gunny's Rules: How to Get Squared Away Like a Marine. Tell us about it.
The Gunny: Everyone needs to read this book. I highly recommended anyone in the military read this book; even businessmen will find this a worthy read as it will help them lead-no matter if it's a meeting they are leading or a company. Young people in their teens seem to really benefit from the guidance, life skills points, and encouragement they receive from reading the book, also.
Readers can learn more about adopting MWDs from the official DoD 37th Training Wing and the Warrior Dog Foundation.