by
posted on August 5, 2014
If you enjoyed our recent piece from Scott Leysath offering his wild-game grilling tips, you're going to love this: In recognition of #Aporkalypse2014 week on Sportsman Channel, The Sporting Chef, is offering his pork smoked shoulder recipe, perfect for use on those tough wild pigs.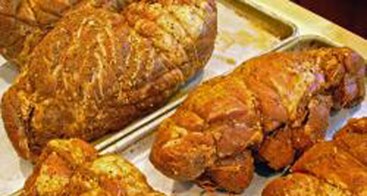 Simple Smoked Shoulder
My favorite way to cook wild pig or boar is by slow roasting or slow smoking the shoulders, allowing the heat do all the work. It beats the tedious task of boning, trimming and chopping into usable chunks of meat. If you don't have access to a smoker, use any grill with meat as far away from the heat source as possible. Drop a few wood chunks onto the coals or in a pan above the heat source before adding the pig. Larger bone-in cuts will require more time to reach the tender stage. If, after several hours, you check it and it's still not tender, keep cooking. It'll get there eventually. As long as I'm smoking one shoulder, I usually smoke several and freeze the pulled meat for another time.
Step 1. The Rub
Remove any excess fat from the shoulder. Season liberally with salt and pepper and, if desired, a little brown sugar for added sweetness or some cayenne pepper for heat. I use 4 parts Hi Mountain Garlic Pepper Rub and 1 part light brown sugar. The exact amount of seasoning isn't critical. Rub it in, wrap the shoulder in plastic wrap and refrigerate for several hours. If your shoulders are boneless, make sure to season all the cracks and crevices before wrapping with plastic. I usually tie the boneless shoulders with butcher string so that it will cook more evenly.
Step 2. The Cooking Part
Place in a 250 degree smoker for 6 to 8 hours, depending on the size of the shoulder. Cook until the internal temperature is 185 degrees.
Step 3.  Make it Tender
Remove the meat and place in the center of a large piece of heavy-duty foil ("standard" weight foil will always tear apart). Pour your favorite barbecue sauce over the meat, about a cup or two. Wrap snugly in foil and return the meat to the heat for 2 more hours.
Step 4. Shred
Allow to cool and then shred meat with tongs or forks. Pile high in a soft bun and top with coleslaw, at least that's the Southern way!
To read the rest of Scott's recipes, go to Sportsman Channel's blog here: http://www.thesportsmanchannel.com/2014/08/sporting-chefs-top-five-wild-pig-recipes/. Learn more about Sporting Chef at http://TheSportingChef.com and on Facebook at http://facebook.com/TheSportingChef. Learn more about #Aporkalypse2014 show times and schedules at http://thesportsmanchannel.com.