by
posted on October 16, 2019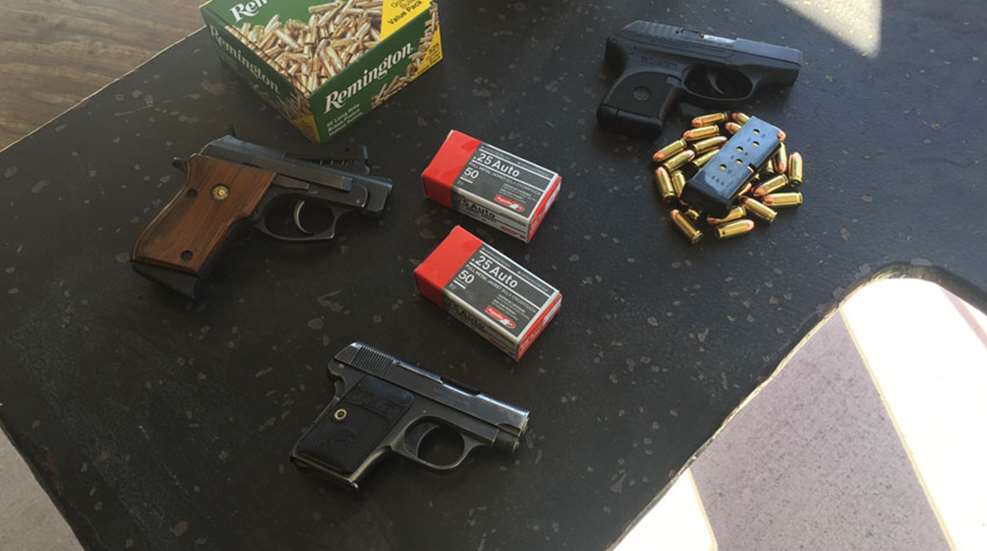 The .25 Automatic cartridge has been the Rodney Dangerfield of defensive cartridges for several decades…it gets no respect, no respect at all! And therein lies a mystery, because that .25 Automatic cartridge was created by one of the greatest firearms designers to ever walk the earth, John Browning. Browning fathered some of the most iconic firearms ever: the BAR, the 1911, 1908, 1917, 1919, the Ma Deuce and the A-5 shotgun among numerous others. Why would the person responsible for guns that are still being used by militaries worldwide a century after their introduction have ever considered designing something as dinky as the .25 Automatic cartridge?
Well, turns out that a deeper dig into the .25 Automatic uncovers some very solid logic behind its design. Much like today, in the early 20th century, people were pushing boundaries. One of the toughest boundaries to push for any engineer or designer is "going small," which is often more difficult than going big. The intent of the .25 Auto design was to replicate the performance of the relatively recent—at the time—.22 Long Rifle…and to do it with a 2-inch barrel. The .22LR dates back to 1884, and the .22 Long dates clear back to 1871, so by 1905, the .22 rimfire cartridges had some history under their collective belts. That history was apparently enough to make Browning question the reliability of a rimfire for use in his new self-defense micro-pistol, the M1905. John Browning being John Browning, this prompted him to design an entirely new centerfire cartridge from the ground up. Enter the .25 Automatic. Here's how the logic behind its creation worked.
First: In 1905—as well as now, come to think of it—the .25 Automatic is as small as a centerfire case can be efficiently manufactured. (I suspect at least a few readers will agree that the centerfire design of the .25 Automatic is superior to any rimfire design…as this topic was well-examined in the comments section of my recent article on the .22LR for self-defense).
Second: Browning knew that the swaged, lubed solid-lead bullet of the .22LR has limitations.  Browning knew that a jacketed bullet would deliver much more reliable performance, deeper penetration and better feeding than any swaged and lubed lead bullet. He knew it would be much cleaner as well.
Third: The .22LR is a rimfire cartridge. While there have been countless successful .22LR semi-automatic firearms, most of them are larger platforms. The rim on the .22LR presents some very real feeding challenges. By going to sleek semi-rimmed design, Browning created a cartridge that would feed and extract much more reliably than the .22LR. It also allows the magazine to be shorter from front to back, as one of the downsides to .22LR magazines is that the rims stack on in front of the previous—which requires a larger magazine. The new case design also allowed Browning to make the pistol impossibly small, even by today's standards.  I didn't fully appreciate just how physically small these guns were until I handled one—they're impressive.
Fourth: .22LR cartridges are typically plate loaded, and while manufacturers have gotten pretty good at plate loading consistent .22LR ammunition, it's not as inherently precise as loading centerfire ammunition. Better control over the ammunition production process means that the overall performance of the system—firearm and cartridge—working together would be more precise and reliable.
Now that we've determined that Browning wasn't off his rocker with the theory behind .25 Automatic from a design perspective, the next logical question is: How does the design apply to the real world?
Concealment
The Browning M1905, Colt M1908 and most other currently manufactured .25 Automatic pistols are impossibly small, even by today's standards.  Most .25 Auto pistols are significantly smaller than even the ubiquitous Ruger LCP. If there is one good argument for the existence of the .25 Automatic, it is definitely its remarkable concealability.
Reliability
The .25 Automatic pistol is arguably more reliable than micro-sized, CCW-designed .22LR pistols. Just for fun and perspective, I ran 100 rounds of ammo through each of the following guns, just for fun and perspective: Colt M1908 in 25 Automatic, a Taurus .22LR and a Ruger LCP (more on that very shortly).
Ballistic effectiveness
Here's where we get into "no respect, no respect at all" territory. The 25 Auto is very similar to the .22LR—a 50-grain bullet traveling around 850 feet per second (fps), versus a 35-grain hollowpoint at around 1,000 fps. Are there cartridges that are more capable? Yes, pretty much all of them—but I have also never heard of people lining up to get shot by the .25 Automatic for recreational purposes. Much like the .22LR, the .25 Automatic is precisely better than nothing. But here's the rub: Something has kept the little .25 alive for well over a century… because based on ammunition availability alone, someone must still be shooting them. And now I know why.
100-Round Test
I should clarify that this 100-round reliability test was fairly informal. I tested a Colt M1908 in .25 Automatic, a Taurus PT-22 in .22LR and a Ruger LCP in .380 Automatic with 100 rounds of ammunition apiece. I did not shoot groups or anything of a formal nature, just plinking at small targets of opportunity on the pistol range. The Colt M1908 was a very pleasant surprise. Given its very small size and rudimentary sights, it was surprisingly accurate.
Here's the most important part, and the solution to the puzzle: It was an absolute blast to shoot. There was virtually no recoil and very little muzzle blast; it was very much like shooting a .22LR micro pistol, except far more reliable than the .22LR micropistols I've fired. It did not hiccup or malfunction once during the 100 round test.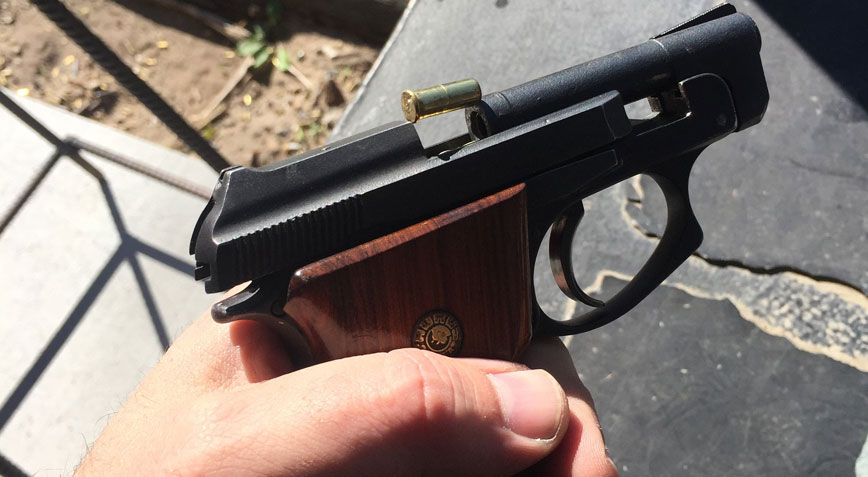 Normally, my Taurus .22LR runs extremely well, but as you can see, it did malfunction once in a way I haven't seen often...and the .25 didn't.
The .22LR had one very interesting malfunction during its 100-round run, but excepting that issue, it ran like a top. The Ruger LCP is my daily carry gun and it gets shot regularly. It ran just like it always does, with 100 percent reliability.  Shooting the Colt M1908 put a big smile on my face though, and when I come across the right 25 Automatic that is for sale…it will certainly be added to my collection.