by
posted on March 20, 2017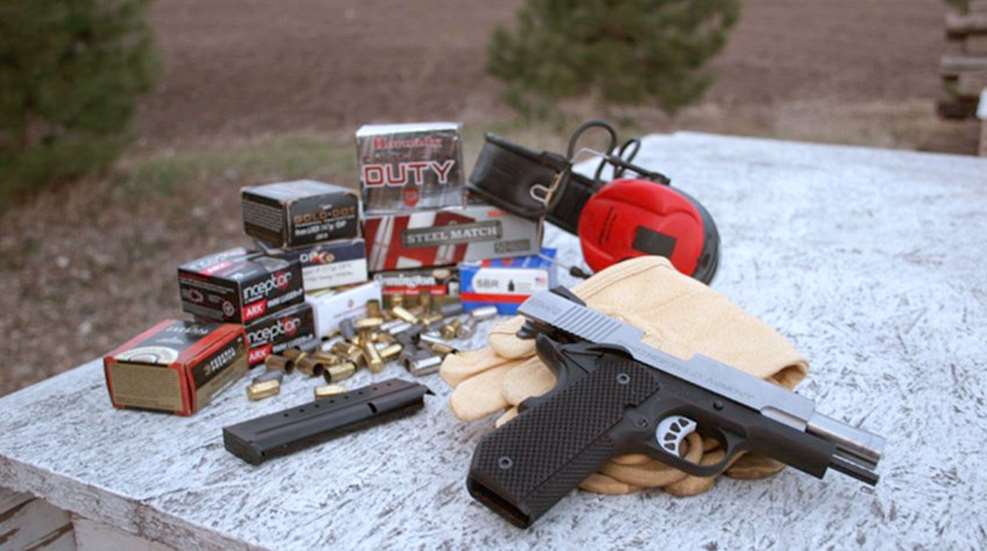 Picture this: SHOT Show 2017, Las Vegas, Nevada...and the Springfield Armory EMP4 "Concealed Carry Contour" has just locked me up like a Labrador retriever that smells bacon. I stop and take a much closer look. After about 30 seconds, I realize this gun might actually be better than bacon. And I like bacon. I knew I had to confirm this suspicion, so before I made it back to my room that afternoon, I already had the "green light" from my boss at NRA Family to cover this awesome little gun.
A few days later, I was cracking the EMP4 box open. To my surprise, it arrived with three magazines, an injection-molded holster and magazine carrier, a cleaning brush, extra fiber-optic sight material and a lock. Springfield hadn't missed a detail—and with magazines bringing up to 40 bucks a pop, getting three was a boon. Things were off to a great start.
So, what, exactly, about this pistol got a jaded member of the Glock cult acting like Ralphie from A Christmas Story when he first laid eyes on his new Red Ryder? First, the EMP4 Concealed Carry Contour is exceptional in its versatility. Concealed carry is a very personal thing; a person really needs to find what is right for them, their style and life. The EMP4's size and design allows for a huge amount of latitude in the way that it's carried—whether that's in an ankle rig, IWB or whatever you prefer. 
Secondly, the gun's shape maximizes its concealability. On Springfield's website, they explain that the "Concealed Carry Contour" grip shape is to eliminate the "garment bulge" that the heel of a pistol can create. "Garment bulge" is a real thing for a lot of people...me included, and the grip shape of the EMP4 Concealed Carry Contour fixes that.

Thirdly, the overall size and lighter-than-usual recoil spring make this gun great for smaller-statured shooters. While it is ever so slightly larger than sub-compact 9mm Luger pistols, that tiny increase in size and weight makes it much more shootable. This means that even new shooters will find practice and training with the EMP4 much easier and more pleasant than they would with many of the tiny, flyweight firearms designed for CCW on the market. In this writer's opinion, the EMP4 is a terrific balance of concealable size and maximum shootability.
All the other reasons the EMP4 got my attention can be encapsulated in one word: features. All the "usual" 1911 stuff is present, including an awesome trigger, low-profile/high-visibility sights, ambidextrous extended manual safety (my wife is a petite southpaw; she loves shooting this gun), beavertail grip safety, ergonomic grip texture (I've carried this gun a bunch and it's not as aggressive as it looks), and last but not least...magazine capacity. The capacity is 9+1 for the 9mm.

I'll summon my range experience with the Springfield EMP4 Concealed Carry Contour in another single word: blissful. This gun is one of the nicest-shooting 1911-style pistols that I've ever fired. The fact that it is not only chambered in 9mm Luger, but sized to compliment the 9mm Luger—not just a re-barreled 1911 Commander—makes it a spectacular shooter. When the gun arrived, I disassembled, cleaned and wiped it down and cleaned the bore, then lightly lubed the slide rails as I would with any 1911, then I went shooting. (A note on disassembly: This gun ain't your grandpa's Colt Government model. There is a special "dis-assembly tool" which resembles an Allen wrench, but is round instead of octagonal. This fits into a small hole on the guide rod, which captures the recoil spring under tension to allow disassembly. Although I had to look it up in the owner's manual, after the learning curve disassembly was a snap.)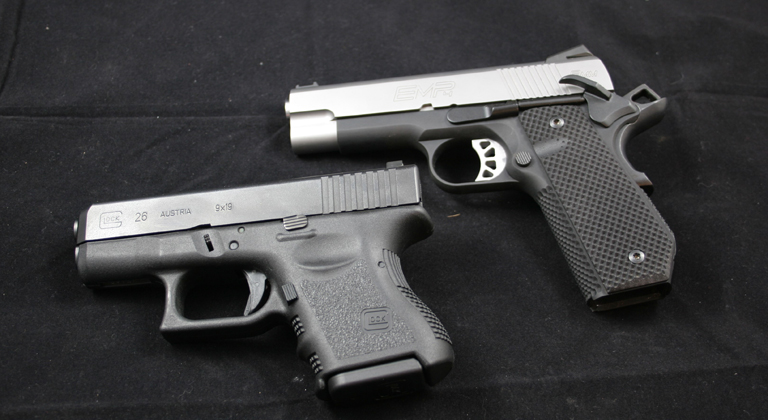 The EMP4 Concealed Carry Contour compares very favorably in size to the Glock 26 Sub-compact.

My standard operating procedure is to give all new pistols a bare minimum 200 rounds' break-in period prior to forming an opinion. During this break-in period, I expect a hiccup here and there while edges are smoothed and microscopic burrs are worn down; the EMP4 fired even these initial rounds very reliably. The steep feed ramp seems to prefer a more "rounded" bullet profile to the more "truncated cones" found on some less-expensive ammo. This is a trade-off which is easily justified; a steep feed ramp means a more well-supported chamber. When considering the number of +P loads for the 9mm Luger, and the 9mm Luger's higher operating pressure when compared to the .45 Auto, (35,000 psi vs. 21,000 psi, respectively), the steep feed ramp and well-supported chamber are welcome features on the 9mm Luger.

The EMP4 ran great with all of the premium "self-defense" loads. It seemed to favor the heavier bullets, but that could easily have been the shooter. I fired a variety of different loads, from the Ruger ARX 80-gr. +P (on the light side), all the way up to Hornady 135-gr. FlexLock Critical Duty and the CCI 147-gr. Gold Dot (on the heavier side). Every load that I tested functioned well, and took the gun to slide lock reliably. Accuracy was much more than acceptable at 10 yards shot offhand, and the sights were regulated perfectly...all the things one would expect from a firearm of this pedigree.

Additionally, the magazines fit very precisely and fed all factory ammo without issue. While sized very well for concealed carry, this is truly a gun that would be 100 percent comfortable and enjoyable to shoot for extended periods. Training will not feel like training with the EMP 4 Concealed Carry Contour; owning this gun is a lot like having a new car that gets you to work early because you wake up early to go drive it. Fit and finish are excellent. Some 1911s require a little beefing up of the detent, but not the EMP4. Its safety detent is plenty strong to keep the safety engaged until the shooter disengages it. The sights are excellent out of the box. I prefer tritium 3-dot sights, but that's personal preference and sights are easily changed. The bob-tail or "Concealed Carry Contour" feature makes this gun super concealable (even if you've got "love handles"). The texture on the G-10 grips may look a little aggressive, but in my opinion it's nearly perfect.

After numerous range sessions, hundreds of rounds downrange and a bunch of time at the 5 o'clock position on my waist in my Blackhawk CQC, the best summation of my general sentiment as I box this gun up to go back to Geneseo is simply, "Yup...better than bacon."