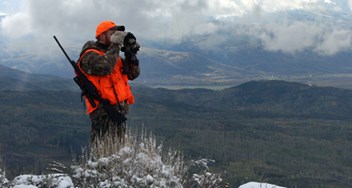 "If we could shut down all sport hunting in a moment, we would."
When Wayne Pacelle, president and CEO of The Humane Society of the United States (HSUS), uttered those words to an Associated Press reporter in late December 1991, he showed his hand and his group's true intentions for the future of hunting.
In the intervening decades, Pacelle and HSUS have spent considerable time and many millions of dollars to ban hunting-one species, one method and one state at a time. From black bear hunting in California, Florida, Maine, Maryland, New Jersey and Oklahoma to doves in Michigan and Iowa, lead hunting ammunition in California, wolves in the Northern Rocky Mountains and Western Great Lakes, and hunting of all kinds on National Wildlife Refuges, HSUS has long been the flag bearer for the anti-hunting movement.
After watching HSUS and its allies wage war against hunters within its borders and beyond for years, Texas lawmakers have taken action in the form of a constitutional amendment permanently protecting the right to hunt, fish and harvest wildlife. Having already won approval in the Texas House and Senate, voters will have the opportunity to ratify the NRA-backed amendment at the polls on Nov. 3, 2015.
"Adoption of the Right to Hunt and Fish amendment will safeguard the hunters and anglers of Texas from extreme animal rights groups dedicated to abolishing America's outdoor tradition," said Chris W. Cox, executive director of the NRA Institute for Legislative Action (NRA-ILA). "This important constitutional safeguard will protect wildlife and promote conservation."
Recognizing the need to get ahead of the anti-hunters' one-step-at-a-time plan to incrementally end all hunting, NRA-ILA has focused resources on the adoption of Right to Hunt and Fish constitutional amendments within the states. The purpose of these amendments is to specifically enumerate an individual right to hunt, fish and harvest game; to protect traditional hunting and fishing methods, such as the use of archery tackle, hunting dogs and traditional ammunition; and to preserve scientific wildlife management, with hunting and fishing serving as the primary means for managing wildlife resources.
To that end, the Texas amendment reads, "The people have the right to hunt, fish, and harvest wildlife, including by the use of traditional methods, subject to laws or regulations to conserve and manage wildlife and preserve the future of hunting and fishing. Hunting and fishing are preferred methods of managing and controlling wildlife."
The adoption of Right to Hunt and Fish state constitutional amendments is one of the most important efforts NRA-ILA leads today. Currently, 18 states have some version of Right to Hunt and Fish in their state constitutions, and with HSUS becoming increasingly aggressive with its anti-hunting propaganda, especially in traditionally pro-hunting areas, more and more states figure to follow Texas' lead in the years ahead.
With hunting under assault like never before, being proactive and having the forethought to set up constitutional safeguards will ensure that our outdoor heritage survives not just today's attacks, but also those that are sure to come.