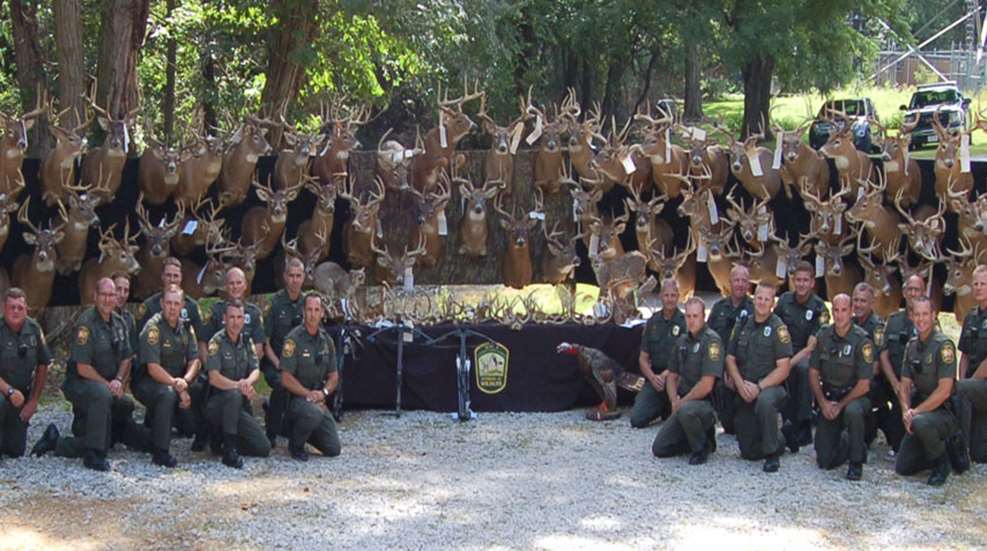 The tale of Operation North Coast is a story of superlatives—unfortunately, all bad—the worst incidence of poaching in the 146-year history of the Ohio Department of Natural Resources, Division of Wildlife.
The case began with a tip from the public in 2014 concerning illegal sales of venison. An investigation ensued by state wildlife officers, which would eventually be dubbed Operation North Coast due to the fact that it spread over six Ohio counties (Cuyahoga, Lorain, Lucas, Richland, Ottawa and Wood) located either along or near the Lake Erie shoreline, the Buckeye States' northern border. Accumulating evidence showed not only the illegal taking and sale of white-tailed deer but sport fish, as well.
The investigation phase of the case culminated in March 2016 with the execution of multiple search warrants, arrest warrants and interviews. Nine main defendants were charged with felonies. Those nine individuals were indicted for 66 wildlife crimes—which eventually led to a much larger investigation. All told, Operation North Coast resulted in 46 defendants being cited with 164 charges (91 felonies and 73 misdemeanors). Fines and restitution amounted to $131,763, with an additional $18,000 paid in court costs. The poachers also lost their hunting and fishing privileges for a total of 79 years, with jail time imposed totaling nearly nine years.
Evidence items permanently forfeited to the Ohio Division of Wildlife included three motor vehicles; approximately 100 mounted deer heads, antlers and skull plates; freezers containing hundreds of pounds of venison; crossbows and more. During the investigation, it was also discovered that approximately one ton of illegal boneless venison had been taken to a meat processor, who then converted it into meat products that were later sold. As a result, he was charged with money laundering and ordered to pay $15,000 in restitution.     
In Cuyahoga County, three of the worst bad guys poached 39 deer, including 22 antlered bucks, over a two-year period. The state bag limit for deer in Ohio is one antlered buck per hunter per year. The trio then had their family members commit communications fraud by falsifying records in the Division of Wildlife's game-check system. One of the three main poachers paid $40,000 in restitution and had his hunting privileges revoked for seven years. A second individual paid $25,000 in restitution and lost his hunting privileges for five years. The third man paid $6,800 in restitution and lost his hunting privileges for five years. A fourth poacher, in Wood County, who was convicted of multiple wildlife law violations, is now serving 22 months in prison. He also paid $5,513 in restitution and lost his hunting, fishing and trapping privileges until the year 2035.
After a very lengthy and exhaustive five-year investigation, Operation North Coast was finally officially closed earlier this year. "The Ohio Department of Natural Resources, Division of Wildlife, would like to thank the concerned citizens who initially reported the poaching information to state wildlife officers through the Turn-in-a-Poacher (TIP) hotline at 1-800-POACHER (1-800-762-2437)," said Ken Fitz, executive administrator of law enforcement. "And citizens should know, too, that all information received by the TIP program always remains confidential."  
Fitz went on to add that the names of those convicted in Operation North Coast were entered into the Interstate Wildlife Violator Compact, which means they will lose their hunting rights in 47 other states, as well as Ohio.
"The Compact is an agreement that recognizes the suspension of hunting, fishing and trapping licenses in member states," Fitz said. "This means that illegal activities in one state can affect a person's hunting or fishing privileges in all the participating states. And any person whose license privileges or rights are suspended in a member state may also be suspended in their home state."
Fitz concluded by saying that if a person plans to hunt, fish or trap in another state, and they have a license suspension in their home state, it is their responsibility to contact the other state to see if they can legally hunt, fish or trap there. Currently, 48 states are members of the Interstate Wildlife Violator Compact, with Hawaii and Massachusetts actively working through the formal process of membership.
As various hunting seasons begin to open this fall, be aware that in addition to law-abiding hunters, poachers will also be on the prowl in the woods, fields and marshes across North America. So if you see something, say something--because just as with Operation North Coast, yours could be the initial tip that breaks a poaching case wide open.