When Ukrainian President Zelensky said, "The fight is here; I need ammunition, not a ride," American ammo manufacturers listened, and acted. Millions upon millions of rounds of ammunition, courtesy of companies like Federal, Remington, Speer, CCI and others, are making their way swiftly to Ukraine. (With luck, they will then make their way even more swiftly—say, around 3,200 fps—to a destination where each bullet can do the most good.) Although these companies may be competitors here on our shores, when it comes to Ukraine's brave fight in the conflict with Russia, they stand shoulder-to-shoulder as brothers in arms. Today, both Remington Ammunition and Federal Premium are offering t-shirts for sale that will show your support. The shirts are similar indeed, but the primary difference is where the funds will go.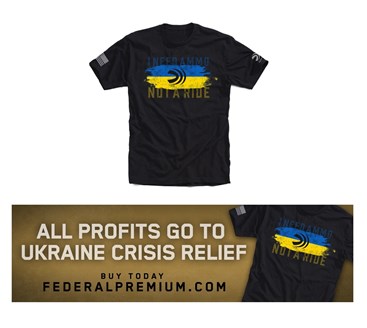 The first t-shirt design, available at www.federalpremium.com, is selling out very quickly. They're available in six sizes, from small to XXXL. If your size is out of stock, fear not: We have already received assurance that Federal has more on the way right now, and that you can sign up to receive a notification when the shirts are restocked. The profits from the sale of these shirts will go to support the humanitarian relief efforts through Ukraine Crisis Relief Fund - GlobalGiving.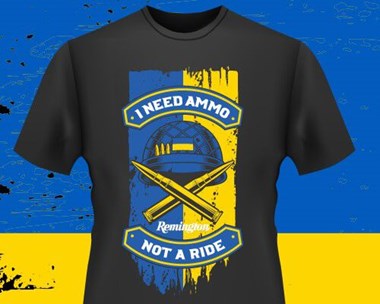 Although the second t-shirt design is also built on the now-familiar blue-and-yellow of the Ukrainian flag, this one is from "Big Green." The newly revived Remington Ammunition has joined the fray, first with a million (yes, 1 mil and counting) rounds of ammunition. Today, the ammo giant is also offering t-shirts (sized small to 3XL). The proceeds from these will go directly to Ukrainian refugees. As with the Federal t-shirts, available stock is very much a dynamic situation! If your size is sold out, Remington assures us that there are more on the way and that you may sign up to be alerted when they come in stock. Just head to Remington.com and show your support for Ukraine.