by
posted on August 29, 2017
Modern shooters have become heavy users of binoculars and spotting scopes. The basic optical principles that govern the design and construction of telescopic sights also generally apply to these essential shooting tools. Binoculars and shooting scopes consist of three elements: an objective lens system, an internal prism system and an ocular lens system. The objective and ocular lens systems in a spotting scope or binocular serve the same purpose as in a riflescope. The prism system performs two functions. First, in similar manner to a riflescope, the reversed and upside-down image from the objective is turned right-side-up and reversed. Second, the prism system also folds the path of light within the optical device, allowing a longer focal length in a shorter tube.
Binocular Design
There are two main types of binocular designs in common use: roof prism and porro prism. Roof prism binoculars have objective lenses and ocular lenses mounted on the same axis as the straight tubes. Roof prism binoculars may be easily identified by their straight tubes. Porro prism binoculars have objective lenses and ocular lenses offset from the axis of the tubes. Porro prism binoculars may be readily identified by their offset or zig-zag tubes. Both designs can be made to similar levels of optical quality, and thereby binocular choice often hinges on other factors. 
Most binoculars have a focus wheel in the center between the barrels and a fine diopter adjustment on the right eyepiece. The barrels are mounted on a center pin, which holds them in alignment. A common problem is misalignment of the barrels after the unit has been dropped or struck. Multicoated optics are common, but binoculars are often not waterproof or shock-resistant. 
Common magnification powers are 7X or 8X with 36mm objective lenses. For low-light conditions, many users prefer 7x50mm units. For the ultimate in performance, some shooters select 8X, 10X or 12X units with 60mm or 80mm objective lenses. However, such binoculars are heavy and can be very expensive. Binoculars providing magnifications greater than 10X become more difficult to hold steady.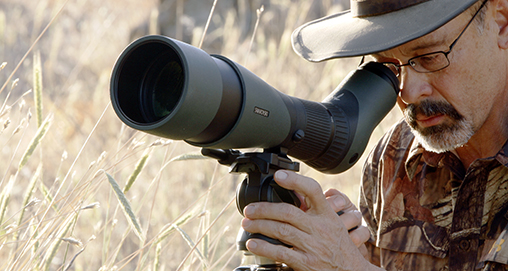 Spotting Scope Design
Spotting scopes are commonly used to spot bullet holes in paper targets by shooters and coaches. To accomplish this, the spotting scope must be able to resolve the bullet hole or mark at the distances being shot. For example, spotting scopes used in benchrest competition must be able to resolve a .22-caliber bullet hole to a maximum of 200 yards, while a spotting scope for use in long-range competition must resolve a .22-caliber bullet hole at 1,000 yards. Hunters also use spotting scopes to judge game at long ranges before starting a stalk. Spotting scopes for this purpose are generally used from a fixed position or base camp, and are not used for judging range.
For these reasons, spotting scopes are made in a wide variety of sizes and capabilities. In general, magnification, fully coated optics, resolving power, image brightness and light-gathering capability are very important. Light weight, size and tube sealing are not key considerations.
Most spotting scopes offer variable magnification from 20X to 80X with an objective lens diameter of 60mm to 80mm. Lower-priced spotting scopes often have smaller objective lenses and are designed to be mounted on small, lightweight stands that rest on the shooting bench, where they can be viewed straight-on through the tube. Higher-quality spotting scopes often have large objective lenses and are designed to be mounted on tripods. These scopes may offer a variety of interchangeable fixed-power and variable-power eyepieces that allow straight-on or offset use. For most purposes, a spotting scope with an objective lens diameter of about 60mm with multicoating and variable magnification of 20X-60X will offer satisfactory service.