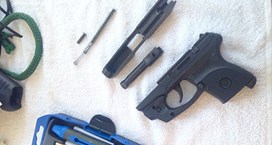 I have been on "Meetup" for the last few years, which is a social forum that connects groups of people that have similar interests, or introduces people to new activities. Last weekend, I attended my first Meetup event. After years of being inundated with invitations for group hikes, camping trips, meditation groups, book clubs and singles mixers, I finally received one that piqued my interest enough to participate: a gun cleaning brunch with "She Can Shoot."
She Can Shoot is comprised of 1,350 women, and is one of the largest Meetup groups in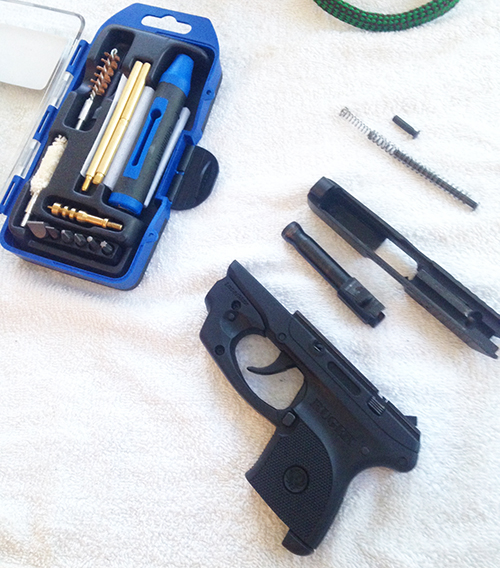 Virginia. The group was founded by President Tina Wilson-Cohen, who has seen the group grow to 13 chapters nationwide. Her long list of credentials include Retired Federal Senior Special Agent, U.S. Secret Service, Federal Air Marshal, Federal Bureau of Investigation Counterterrorism Unit, Certified NRA Firearms Instructor & Training Counselor, just to name a few.
She Can Shoot offers an array of classes from "Intro to Handguns" all the way up to private coaching, survival courses, instructor certification, children's firearms education, assistance in firearms selection and more. Most interestingly, the "Assistance in Firearms Selection" course gives women the opportunity to shop for a gun with a personal shopper, a female instructor who accompanies you and answers your questions to help you make an informed decision.
On Saturday I toted my Ruger LCP .380 to Tina's home, where a small group of female gun enthusiasts gathered to share delicious baked goods, gun-cleaning tips and good conversation. I have been blessed with the ability to assimilate comfortably into most crowds and conversation, so I had a fabulous experience with my first gun-gal gathering, and plan to attend more in the future. With Tina's aid and the help of some of the other women and my owner's manual, I managed to take my Ruger apart, clean it and put it back together without too much trouble.
One of Tina's tips that I would like to share pertains to gun cleaning: When cleaning your gun for the first time, it's helpful to place all the bits and pieces in the order and direction in which they came out (like in the photo above), to make it easier to put back together again. This seems like a simple and obvious tip, but was very helpful in the reassembly. And to Ruger LCP .380 owners, when reassembling, you must place the magazine back into the gun to get the slide to pull back fully on the frame if you pulled the trigger during disassembly, before placing the takedown pin back in.
I mentioned to Tina that my LCP was fun to shoot at first, but was definitely not a range gun, meaning that after 10-15 rounds my hand begins to feel the recoil, and the shooting becomes less pleasant. Often, the recoil is greater in guns like the LCP that are made from mostly polymer as opposed to metal, which absorbs recoil better. Tina recommended I try the Smith & Wesson Bodyguard, which I will be doing this week and comparing it to the newly released Taurus Curve, so stay tuned!
If you enjoyed this article, you may also like this one.