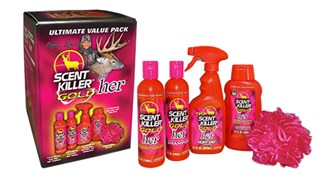 When you're sitting in a tree stand, the last thing you need is for a deer to smell you and spook. If you want to make sure that you really won't be caught by a deer's amazing olfactory sense, then you'll need some scent removal products. For less than $30 you can have an entire value pack that is not only proven to work, but is endorsed by celebrity huntress, and known big-buck hunter, Tiffany Lakosky.
The Scent Killer Gold is a popular scent-removal product that hunters have said is top-notch at keeping the scent away for longer periods of time. Now with the Scent Killer Gold for Her ultimate value pack, you get the conditioner, shampoo, clothing spray, body wash and a bath puff at an awesome price.
You may be wondering if there is any difference between the Scent Killer Gold and the Scent Killer Gold for Her, aside from the pink packaging. The main difference is that this product is designed specifically for women in that this product is safe to use on color-treated hair. The Scent Killer Gold Shampoo has a special moisturizing formula which also removes smells. The conditioner uses a special salon-quality unscented formula that helps protect your hair, while still removing scents.
For more information, visit Wildlife.com.