by
posted on September 10, 2014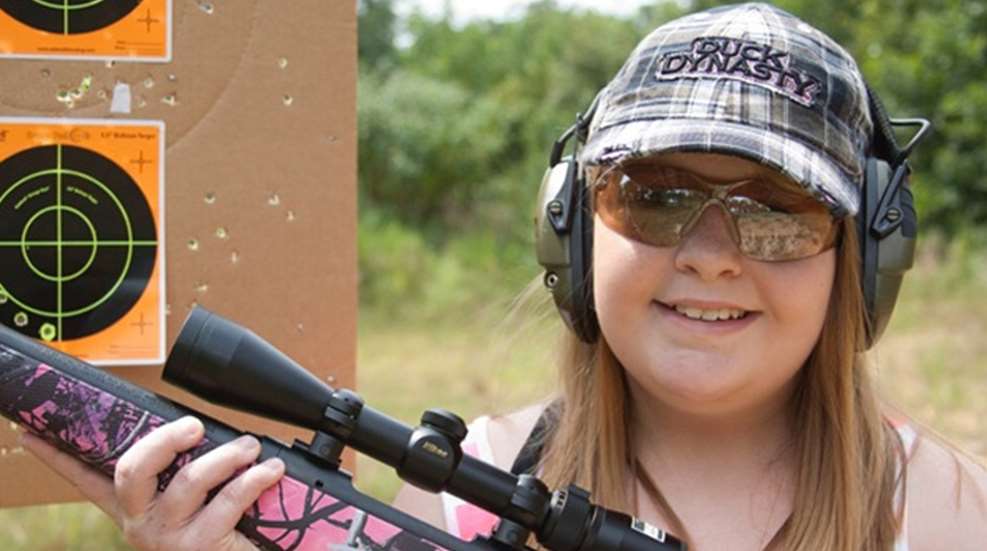 The 11-year-old deer hunter's eyes lit up when she saw the gun for the first time, and a little smile crinkled at the corners of her mouth. Savage Arms' 11 Trophy Hunter-XP, with its finish of Muddy Girl camo, appealed to Alexis, but it became obvious that she knew more about guns than to let the package sway her judgment before working with it. She needed to be convinced of the rifle's performance before she took it out in the field for deer season this year in the Ozarks of Missouri.
We took the gun to the range, went through all the safety rules, attached safety glasses and hearing protection to her head and then, Alexis worked with the unloaded gun from a seated rest position. We rested the forend on a shooting bag. When she eventually loaded the gun, the rest gave her the ability to concentrate on good groups, without the tension of having to hold up the gun. After all, she's only 11. Remember, when working with children, to go slow, be patient, talk and think safety first-and move at the child's pace. Do not rush through the process, trying to get the shots fired downrange.
Alexis is a deer hunter in Missouri. She hunts with both of her parents. Her mom brought her to the range for the review, and eagerly waited for her turn to fire the gun, too. Federal provided three types of 7 mm-08 Rem. ammo for this review: Fusion in 120 grain, Fusion in 140 grain and Federal 150-grain Speer HC SP. Of course, this rifle has some recoil, and moved Alexis back a couple of inches with each shot. She did not, however, complain about the impact, nor did she have bruises or any red marks on her shooting-side shoulder. Alexis shot several groups with the various ammo at 25 yards, and her last group measured 1½ inches, just a half inch down from her other groups. All-from her first to her last group-would have fallen in the dinner-plate area of a Missouri whitetail. She looked pleased.
The 11 Trophy Hunter XP is sized for youth or small-statured adults, and comes equipped with a Nikon 3-9x40 s/BDC riflescope, mounted and bore-sighted. I double-checked the bore sighting, and the rifle looked to be spot on, right out of the box. Nikon's patented BDC reticle allows up to 98 percent light transmission. Waterproof, shockproof and fogproof, the scope also offers a field of view of 11.3-33.8 feet at 100 yards. It's really the perfect scope for this youth gun. It should be easy for a youth to adjust the reticle, with quick ¼-MOA clicks.
Then, her mom, a petite woman, took a turn on the bench rest. She shot an impressive group and it became obvious that if for some reason Alexis does not take this gun afield, her mom would.
Because this is a youth review, it's important to know what Alexis thinks of the gun. She liked the color, the weight and the fact that it was easy to load. She said, "It didn't hurt and it was not a bad kick, at all." She informed NRA Family InSights that she plans on hunting during the youth season-one day with her mom, and one day with her dad; that is, unless she bags a big buck at daylight on the first day. She said she likes hunting for three reasons, too. "You can go be out in nature, it puts food on the table, and I like to shoot guns...because, girls are just as good in the woods with a gun as boys."
Savage 11 Trophy Hunter XP-Youth, Muddy Girl Specs
Caliber: .223 Rem., 243 WON, 308 WON, 7 mm-08 Rem.
Handed: Right
Rate of Twist: 1 in 10"
Weight: 7 pounds
Overall length: 39.5 inches
Barrel length: 20 inches
Ammo capacity: 4
MSRP: $660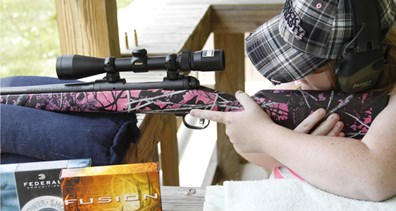 About the Ammo: Federal Fusion
In 2005, Federal introduced its Fusion line, the first-ever line created for whitetail hunting specifically. Federal bonds the jacket to the lead core at the molecular level, so there is no separation, allowing for retention of the original bullet weight. In customer reviews at Cabela's, 86 percent would recommend this type of ammo to their friends. It also can be used on antelope and other thin-skinned game.
Editor's Note: Want to make sure your child is seeing through the scope properly? Here's how to coach them.