by
posted on January 3, 2023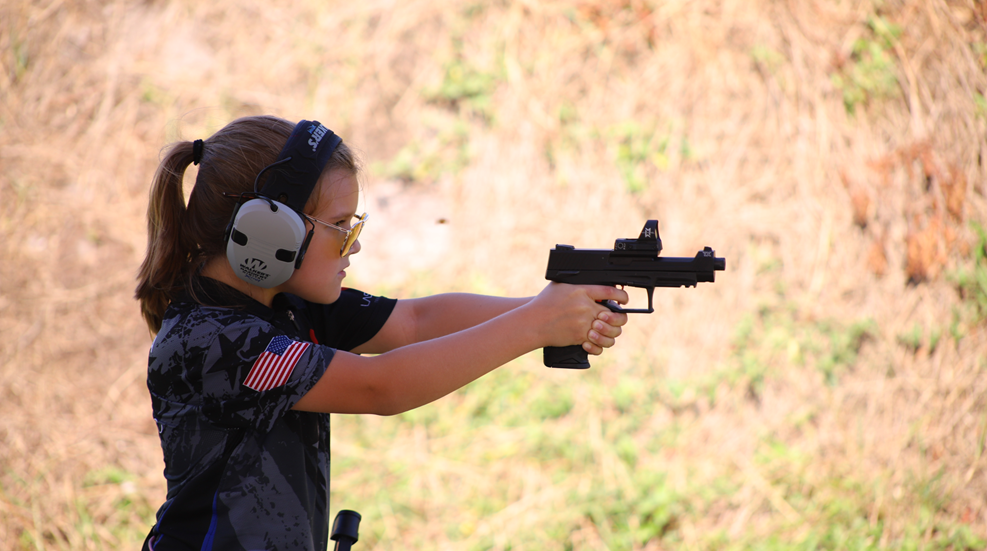 Many ranges and matches have minimum ages for competitors to ensure they are able to safely handle and operate firearms. Usually, this age is around 12 with waivers granted for 10 and 11-year-olds. Eight-year-old Tactical Mia is the exception to the exception.
Mia began shooting rifle and pistol competitions at age seven … but only after learning the firearm safety rules by heart. "My Daddy showed me the Eddie Eagle cartoon show when I was 5," Mia said, "and I watched that many times over and over before I was allowed to even touch any guns. I also watched a lot of gun safety videos too. I started shooting when I was 6 years old, only after I could say what all the gun safety rules are and I would show the safety rules to my daddy with a gun."
Andrew, Mia's father, gave Mia a rifle for her sixth birthday, but never anticipated her being a competitor. "Mia being involved with competition shooting at such a young age was sort of a random experiment I never planned for," he said. "She simply demonstrated a high level of maturity for her age, and she has unbelievable concentration and focus for just being a child. She was a natural when it came to handling firearms and she also has perfect range etiquette. If there was ever a label or an award for the 'safest' person on the range, she was that person."
It was actually a ran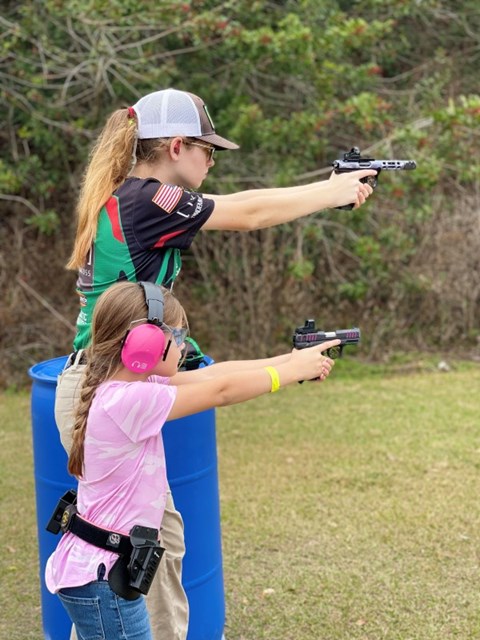 ge officer who suggested Mia try Steel Challenge after watching her progress over her first year of shooting. She now competes in Pistol Action Steel, Steel Challenge and USPSA-style matches. Andrew says shooting has had a positive effect on his daughter, teaching her things like confidence, focus and discipline, but cautions that every parent will have to make the decision based upon the maturity and personality of their children. "Not all kids are a good fit for handling firearms," he said.
Mia shoots some 9mm, but spends more time with her favorite gun, the Taurus TX22. She has competed in some NRL22 matches with her Ruger Precision Rimfire, but competes primarily in pistol matches. Mia says she enjoys the reactivity and noise of shooting steel as well as the fast-paced matches. She also enjoys meeting other young shooters. 
She invests considerable time at home honing her skills on Laser Ammo's Smokeless Range and is proud to represent them. Mia is also sponsored by OK Shooting Sports, Sprinco, Disruptive Defense, Hunters HD Gold, War Hammer Armaments and Walkers.
Mia has had several stage wins, but says her biggest accomplishment is getting faster. "Most of the time, I'm always competing with all adults, and lately, I've been ranked in the top 10 within the division at a couple matches now. In one recent example, I was only 5 seconds away from 1st place overall (rimfire pistol open) at a Steel Challenge Match, so that was very cool." She has also earned first and third place finishes in NRL22's junior division.
While she doesn't have any significant podium finishes, her dedication and experience at such a young age speaks for itself. Mia aspires to win awards and shoot internationally one day, but is especially excited about teaching her baby sister how to shoot when she is old enough. Among Mia's fans are plush unicorns she brings with her to the range … and of course her family, too. Andrew encourages parents to explore the Eddie Eagle program for their kids and to first understand, then teach their children that firearms are tools. "All tools are dangerous when not handled properly," he said. "As far as joining in on the competition fun, there are tons of local matches everywhere in the U.S. and a lot of forums and groups online that can help. Practiscore is a good website to quickly search up where local matches are being held."
Follow @tactical_mia on Instagram and Youtube!