by
posted on August 3, 2023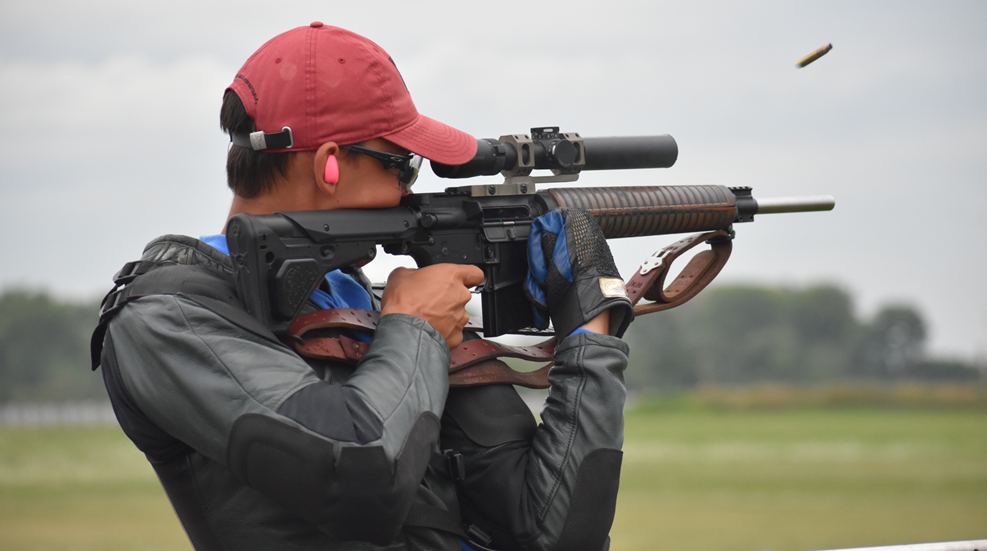 When you talk to some people, they immediately give you their resume and let you know they're a "champion." Spend any length of time talking to Koa and you'll conclude he's incredibly knowledgeable for a 20-year-old--but you wouldn't know he is one of the top service rifle shooters in the United States.
Anton Koa Van Hoven of San Rafael, California competes alongside his older brother Andrew Loet Van Hoven and his father, Vincent Van Hoven. Vince said that when each of his boys was about 10 years old, he taught them how to shoot rifles and pistols. They shot in a junior smallbore program at their home club, Richmond Rod & Gun, before trying out for the California Grizzlies high power service rifle junior team when they were 12. Vince started high power a few years before both boys, and Loet began two years before Koa, but it didn't take Koa long to catch up and jump in with both feet. According to Vince, he's still trying to keep up with his sons.
Vince remembers when he and his wife wanted the boys to be motocross riders. They were riding dirt bikes at age four, but took to shooting instead. Vince never expected shooting to completely transform his family. "Being affiliated with the California Grizzlies has taught them responsibility and respect … it is one of the best things that could have happened to my family," he said. As juniors, they also learned to reload ammunition, maintain rifles, and a number of skills that have shaped them on and off the range. Now the three Van Hoven boys drive cross country every year to attend the National Rifle Matches and National Long Range Matches at Camp Perry, Ohio. All three have the Distinguished Rifleman's Badge and have made the President's 100.
Koa has his own host of individual accomplishments. He's an NRA High Master shooter and multiple time member of the National Junior Rifle Team and National Civilian Rifle Team. This year he earned first place in the California state match rifle and service rifle championship. He was also the first place civilian in the National Trophy Rifle Team Match with a score of 496-14x out of 500. The year 2023 also brought a number of close second place finishes. He was the 2nd Junior in the National Trophy Individual Match, 2nd place in the National Trophy Junior Team Match and 2nd place junior in the P100/NTI/NTT Mountain Man Aggregate. He did fire on the first place junior Rattle Battle team, which also claimed the 2023 2nd place civilian team title.
His 2022 list of accomplishments is no less impressive. Koa claimed the Mountain Man High Junior Trophy, made the President's 100, fired on the first-place junior rattle battle team, and was a member of the 2022 National Junior Highpower Rifle Team. He also was high junior and the aggregate winner in the California state championship. In 2021 he helped the California Grizzlies set National records in the National Infantry Trophy Team Match and National Trophy Team Match. He also earned spots on the National Civilian Team and National Junior Team as well as claimed high junior and second place in the Congressional 30. The year 2019 started Koa's winning streak: He made the National Junior Highpower Rifle Team for the first time, was high junior in the National Trophy Individual match, and helped set a record in the National Trophy Rifle Team Match ... which he later helped break again in 2021.
Even with all his accomplishments, Koa is incredibly humble and always willing to learn and help others. He's stepped up to help me on the range on multiple occasions, at the expense of his own time, and sometimes, his own equipment. Ask a question about gear or anything shooting related and you will get an in-depth response backed up with facts and specifications.
He is admittedly hard on gear, so anything he uses is built to last and he plans to replace with the same thing. "Creedmoor Sports makes the best shooting coat," Koa said.  "Monard is my glove of choice. My Swarovski spotting scope is always used to spot my shots and read the wind. I am using the Leupold 4.5 service rifle scope because of the dot and circle reticle, Geissele National Match trigger, Magpul UBR Gen 2 stock with Stealth Ballistics weight and White Oak Armament top tube weight. John from White Oak Armament turns all my barrels for highpower and builds the best uppers." While his service rifle gear is well set, he's still searching for reliable long-range gear.
Whatever discipline Koa is competing in, he lists ear and eye protection at the top of his list. "It protects you," he says, "but it's also the thing that distorts your vision and can affect your group size/score." For these reasons, his Oakley Tombstone shooting glasses are his favorite piece of equipment, no matter what he is shooting.
Success and the process keep Koa going. "My favorite thing about marksmanship is when you do everything right: sight alignment, trigger control, perfect wind call, breath control and it's a beautiful X." He also pointed out that "It's hard to shoot a 490 with an 89 standing." Though laughable, it's true.  Koa says that marksmanship has taught him life lessons and discipline, including "how to overcome frustration, nerves, anger, and how to be a responsible person." He also pointed out that shooting is a sport requiring dedication. "Nutrition and exercise help immensely in lowering your heartrate, minimizing pulse. It helped make long standing and hot prone strings easy."
While 2023 marks Koa's last season as a junior shooter, he won't be leaving the shooting sports. He aspires to make the President's 100 shootoff and is also competing in long range, heading to South Africa in 2024 as a member of the Young Eagles National Rifle Team.