by
posted on September 30, 2022
Rock Island Armory (RIA) is typically associated with low-priced 1911s that run surprisingly well for the tiny investment that it takes to get one in your hands. Although RIA technically could just stick to the 1911 game and continue to churn out as many high-quality pistols as it can, these folks do like to branch out. Over the years Rock Island Armory has introduced different semi-auto shotguns. Most recently, they've entered the pump-action shotgun market...and NRA Families should take note!
The new series of pump-action shotguns is dubbed the "AG," which is short for All Generations. The lineup spans the three most popular gauges in the U.S., to include 12 gauge, 20 gauge, and .410-bore offerings. Barrel lengths range from 18.5 to 28 inches, depending on the model and, of course, gauge. For our testing, we sought the middle ground and went with the new 20-gauge model that is built with a short field barrel measuring 26 inches.
Upon first glance, it was obvious that this was not "just another pump-action" trying to take advantage of the soaring market. No, it was pretty easy to tell that RIA put a lot of thought into making the modern pump-action better as well as beating "the other guy's" price point. With an MSRP of just $299, one would expect a stripped-down version of what the bigger brands can deliver. You'd be wrong.
Honestly, I've never seen such a feature-rich shotgun with this small a price tag. For starters, it is fully adjustable to fit a variety of shooters. The adjustable cheek riser can be made taller or shorter without the use of any tools. The buttstock has a spacer system, allowing the end-user to tailor the length of pull (LOP) to best fit their unique body style. Although the dimensions are a bit too large to be considered a youth model, having the ability to adjust the LOP makes this perfect gun for a son or daughter, as it can grow with them.
While the adjustability alone is enough to get a potential buyer's attention, it pays to mention that the gun also includes sling swivels both fore and aft as well as an oversized buttpad that is molded with some exceptionally deep texture to ensure that it stays put under damp conditions. Completing the furniture is a unique fore-end that incorporates a pair of hand stops to help maintain control during both the forward and rearward stroke of the action. This forend is locked in place via a traditional breech locking system, and has an oversized release located just forward of the trigger guard.
While the furniture is impressive, it pales in comparison to the performance of the AG shotgun. The All Generations shotguns feature a polished chamber, ensuring smooth feeding and ejection. Aside from being polished, the barrel is proof rated and can accept heavy-hitting 3-inch shells, even steel. Rock Island caps off the business end with internal threading to accept chokes, and includes the "holy trinity: (IC, Modified, and Full), complete with carrying case and a snazzy choke wrench. Shotgun manufacturers have been eliminating extra chokes and hardware for years in an attempt to reduce prices and still haven't been able to provide this much to their customers at such a low price.
Another easy-to-cut corner is an action bar, but the AG doesn't do that. Instead, it employs a dual action bar system, making it as run as smoothly and wear as ruggedly as more expensive shotguns. These action bars run directly into the aluminum receiver that is cut with a 3/8 dovetail groove, so mounting a scope or red dot is simple and won't require any gunsmithing.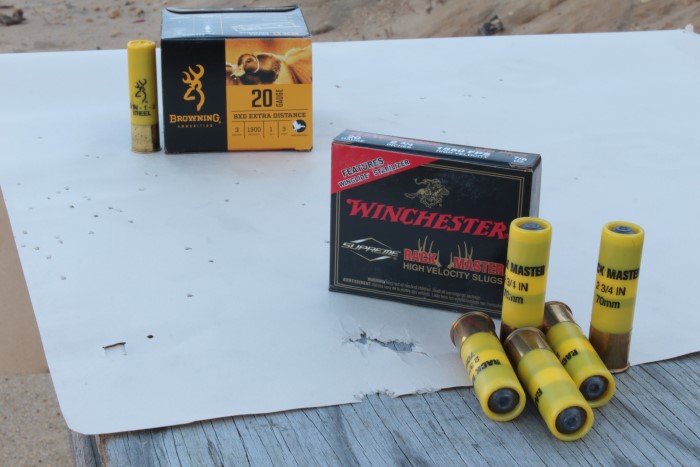 I packed the car with some paper targets as well as a variety of shells from Winchester and Browning and hit the road. My goal was to gather how the gun patterns shot, as well as how tight a group we could expect when firing slugs. As it is a hunting configuration I figured I would test it with slugs as well as birdshot. With the slugs, I fired five-shot groups from 25 yards with Winchester's Rack Master 7/8 ounce slugs and produced one-hole groups that I was more than satisfied with. The point of impact was nearly the point of aim at this distance, which is always important when you are working with non-adjustable sights.
Moving on to the duck load, we patterned the #3 Browning BXD long-range steel shells and saw consistency was well within a "minute of mallard," even with the IC choke installed. Backing it up to 50 yards we noticed about a 6-inch drop in both the slug impacts as well as the shot pattern, which was expected.
What wasn't expected was that the slugs still produced groups that were within just 2 inches from center to center, which is only about an inch larger than many rifles with a similar MSRP—not too shabby for a smooth-bore shotgun.
All in all the Rock Island Armory AG is just another shining example that the right people can make quality guns without much sacrifice. I enjoyed the ergonomics of this shotgun, particularly the fore-end, and found the accuracy to be superb. Weatherproof finishes as well as the use of polymer furniture make this gun safe for duck hunting in adverse weather. The 5+1 capacity gives you a fair amount of ammo to handle a flock of waterfowl, but you may want to go with one of the other, higher-capacity RIA shotguns if you are considering this for home defense. $299; Armscor.com