by
posted on July 14, 2020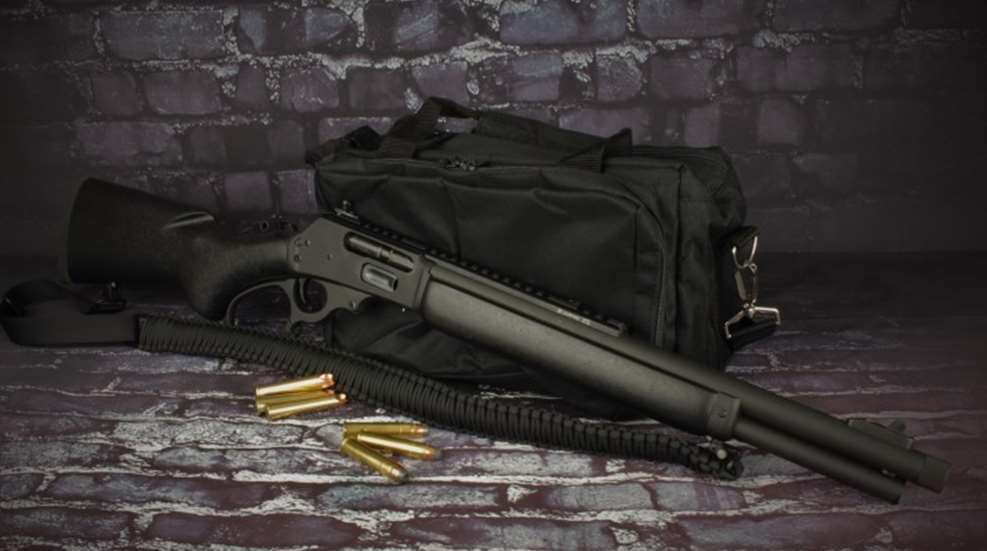 The Marlin 1895 has a long and colorful history dating back to, well, 1895. Back in those days, this was one of the handiest tools that a rancher could have at their disposal. This classic lever-action has put meat on the table and chased away its fair share of predators who sought to make a quick meal out of unsuspecting livestock. It's also reasonable to believe that they have been used to handle the two-legged variety of threat from time to time. For this reason, the compact lever gun still sits pretty high up on the list of home-defense options, and to celebrate that point Marlin has released the 1895 Dark.
The 1895 Dark isn't your grandpa's lever gun. Sure it works like his, but it looks more like something out of the latest John Wick installment. Aside from the jet-black Birchwood furniture, the new Dark series of rifles are exceptionally short— 34.5 inches, to be precise. This carbine length package affords the homeowner easy maneuverability, and the .45-70 Government chambering ensures whoever seeks to do you harm is halted in their tracks.
An 18-slot rail brings the venerable lever gun into the modern black-rifle age with enough room for any optic solution you can dream of, and maybe even a compact night-vision device. If you choose to keep it naked, the new 1895 comes with stock XS sights that provide a monstrous front blade and a donut of a rear aperture. I thought this was a smart choice, as these sights come together instantly, even with little to no available light.
Then there are the aesthetic features…of course, I'm referring to the paracord-wrapped lever and its matched sling. It may seem a little extraneous, but that paracord saves your knuckles if you are cycling the gun hard, and it's nearly as useful as duct tape should something need to be repaired on a camping trip or in the middle of a hunt.
A rifle like this is equally capable of defending the home and harvesting game (even dangerous game) at close distances, making it a budget buy in a way. Because this gun can handle the role of both a brush rifle and a defensive firearm, be sure to work in the savings of an entire gun when you consider the $949 (MSRP) price tag.
Of course, for it to serve each role the gun needs to be filled up with the right ammo for the job. With that in mind, I decided to test an offering that best served each purpose. Black Hills knows how to make devastating defensive ammunition and I have been fortunate enough to try their Honey Badger load in nearly every cartridge offering. As luck would have it, one of their newest additions is a 325-grain .45-70 Government load, and they were kind enough to send me some. Remington has been making .45-70 hunting ammo for over 100 years, so it only made sense to work in a few boxes of their 300-grain jacketed hollowpoint loading.
After I had everything in hand I sped off to the range to see how the newest thunder stick would perform at 50 yards. From a bench-rested position, I fired five 5-round groups using nothing but the stock iron sights. This was the first time that I got a realistic feel for how crisp the single-action trigger of the 1895 was. Later we used a Lyman Digital Trigger Scale to determine that was breaking at only 5½  pounds. Cycling was smooth, indicative of over 100 years of product refinement. We didn't have a single failure to feed or failure to eject, and operating the big-loop lever was not only effortless but a load of fun!
Both rounds performed admirably, with Black Hills turning in the best group of the day at 2.81 inches to Remington's 3.12 inches. After sitting down with a calculator, we determined that the Remington ammo produced a five-group average of 5.31 inches while Black Hills' mean was 4.91 inches. While these numbers might not seem impressive, it was obvious that this was a product of the chosen factory sights. While the sights were great for rapid target acquisition, their oversized qualities allowed for greater misinterpretation and robbed the gun of a bit of accuracy.
However, it's important to remember what the gun was built for and once we realize that the seconds they save can be the difference between life and death (or harvesting game before it runs off) it's easy to give up a few inches at 50 yards, especially when it may never be used that far out anyway.
My time with the new Marlin Dark 1895 delivered a far more unique range experience than the typical gear that I've been testing these days. For starters when you shoot .45-70 Gov't you know you're shooting .45-70 Gov't. Sending a few boxes of that old thumper downrange is sure to wake you right up, so skip the coffee that day. Of course, if you are recoil shy the gun comes with a threaded muzzle making it easy to add a brake.
For more information visit marlinfirearms.com