by
posted on August 10, 2022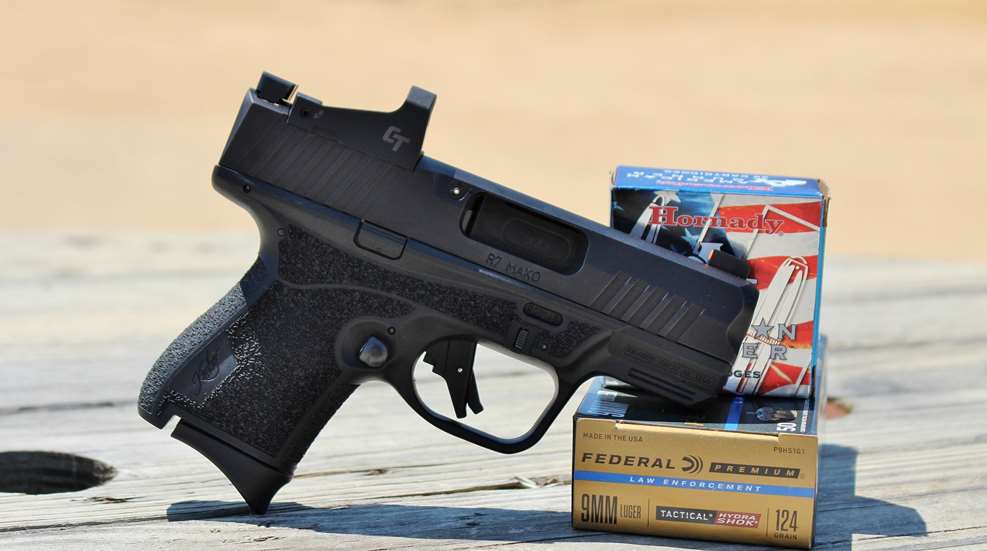 I would love to start this story with how "on the ball" I am in keeping up with the latest trends and gear, but the truth is, I am nearly always late to the table. I was the last in my circle to switch over to a smartphone, the last to automate our home, and seemingly the last to realize that there are friendlier states than New York for gun owners. Kimber America recently faced that same issue, so at least I'm in good company. Moving a multi-million dollar business to gun-friendly Alabama takes a lot of resources, and as such development of new products takes a hit. This is part of the reason Kimber was one of the last companies to bring a micro-compact pistol to the market.
The rest is simply timing and tactics. The best seat at a poker table is the one that's last to act, as the player positioned there gets the advantage of seeing what everybody else did before he or she decides how they want to play their cards. Kimber's R7 Mako boldly demonstrates the use of this tactic and, as such, is exponentially different than other current offerings in its class.
When I first picked up the R7, I immediately took notice of the hooded slide, a departure from the current sea of compact carry pistols these days. Many manufacturers steer away from this design, as it involves more machining to create a solid lockup and impedes cycling if done poorly. Eventually, engineers realized that its extra rigidity was no longer necessary and started building open-top pistols for simplicity.
That worked just fine until slide-mounted optics became fashionable, as the open-top configuration is unforgiving to them. One of the most significant problems was exiting brass. Many users reported that their optics' lenses were getting scraped by cases departing the action, leaving them with a costly repair. Second is the sheer fouling that accumulates on the glass, clouding it to the point where the dot is scantly visible. Kimber's Mako is a more inviting option for those looking to run an electronic sight, and even offers prospective buyers a version with a pre-mounted Crimson Trace CTS-1500 for those looking for something ready right out of the box.
Although functional mechanics will always grab my attention first, it was hard to ignore the exterior features of the R7 during my first encounter—with the stippling pattern being the most obvious. Kimber took it a step further than most and clad the area forward of the trigger guard with the same skate-tape-like texturing. This provides a better thumb connection to the frame under recoil and allows shooters to get back on target more quickly. Kimber mirrored this pattern onto the other side, accommodating left-handed shooters during normal operation, or right-handed shooters that might need to shoot from their weak side.
Continuing the theme, Kimber went out of its way to ensure that all of the necessary controls are bilateral, including a magazine release button that can be actuated by pressing it in either direction. After removing the magazine, I racked the slide to the rear to confirm it was empty before turning my attention to the trigger. A long time ago (right around when I bought my first flip phone), it was thought that all defensive pistols needed a stiff trigger to stave off negligent discharge. Better training, education and gun design have changed that thinking.
To that end, I measured a clean trigger break at just 4lbs., 14oz.; surprisingly, that's even lighter than Kimber advertises. In addition, the trigger system features a flat, straight bow that is slightly wider than average. This is a trend that we are starting to see, and it represents a better understanding of trigger movement and how the human hand can push sights off target during its depression.
I could only stand so much dry fire until I needed to run some rounds through a gun like this, so after packing up ammunition, I hit the road and headed to the range. After hanging paper at 7 yards, I familiarized myself with the sights. My sample included the Crimson Trace optic, but that didn't preclude it from having the Truglo Night sights as well. When aligned, the iron sights co-witnessed with the dot, providing a "belt and suspenders" sighting system, should your battery die or a sight get knocked loose (it does happen).
I started my test firing with Federal's 124-gr. Tactical Hydra Shock ammunition and was impressed by its accuracy. My best five-shot group measured .81," and the average of five groups only came in at 1.19". Moving over to the economical 115-gr. Hornady American Gunner ammo and expecting less, I produced some even smaller groups that measured as little as .51", creating a five-group average of only .97".
While paper-punching is the best way to determine accuracy, popping steel uncovers how well a pistol is built for speed. With a full-sized AR-500 IPSC at 15 yards, I exhausted the rest of my ammunition in a series of double taps from a generic IWB universal holster. I found the R7 to point and recover with little to no influence. The trigger reset was positive and tactile, earning me split times as short as .19 seconds. Overall I found the R7 to shoot flatter than most of this size, and the recoil felt on par with just about any larger target pistol I would bring to the range.
My range session ended after Kimber's new design digested 325 rounds of ammunition, all hollowpoint, and all without a single failure to feed, fire or eject. This brings me to the last point of inspection, reliability. A gun's comfort features don't mean a thing if you can't count on it when the chips are down, and like all things Kimber, you can bet on the Mako R7. For more information and to find out where you can get yours, check out kimberamerica.com.
SPECIFICATIONS
CHAMBERING: 9mm Luger
ACTION TYPE: Semi-Automatic
CAPACITY: 10+1, 11+1, or 13+1 rounds
FRAME MATERIAL: Polymer
OVERALL LENGTH: 6.2"
BARREL LENGTH: 3.4"
HEIGHT: 4.3"
WIDTH: 1.0"
WEIGHT: 19.5 oz
FRONT SIGHT: Fiber Optic TruGlo Tritium Pro Night Sights w/ orange front ring and white rear dots. Pre-mounted Crimson Trace CTS-1500 (optional)