by
posted on September 24, 2021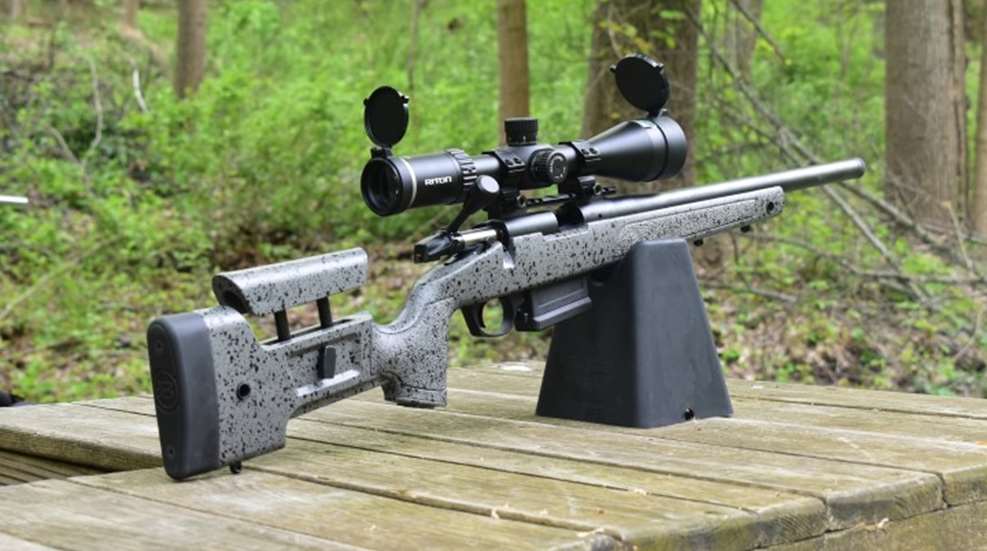 There's always that one thing. The one thing you forget at the store, the one sale you missed out on, the lunch date you forgot to put on the calendar. For me, that one thing was the Bergara B-14R.
Bergara's B-14R made quite the splash at SHOT Show 2019, emerging as an affordable, ready-to-go platform for precision rifle .22 competition and as a rimfire trainer for centerfire matches. I was incredibly disappointed when I discovered I had accidentally missed an opportunity to shoot it during SHOT Show Range Day. Resigned to admiring it indoors, I spent some time ogling it on the show floor where it rested on a vertical rack.
Since that January, the B-14R has been on the top of my list of guns to try. (Yes, believe it or not, a .22 rimfire beat out everything "new" on the firearms scene.) I wasn't the only one to notice something special about this gun. This year Bergara released a left-handed version of the same rifle, opening up training capabilities to an often-neglected segment of shooters. No matter which orientation you choose (left or right-handed), the features remain the same.
The B-14R follows the dimensions of the popular Remington 700 platform. This opens up a world of possibilities, allowing shooters to swap out stock parts for any REM700-compatible stocks, bases and triggers. A 10-round single-stack magazine has the same dimensions as a standard short action AICS magazine. The 1:16" twist Bergara barrel is threaded for a muzzle brake, and is available in carbon fiber or steel. The steel model weighs more than the carbon model, 9.2 pounds compared to 8.1 pounds respectively.
I finally got to cross this tackdriver off my bucket list. Paired with Lapua Center-X .22LR and a steel barrel, I hit the same hole, or near it, over and over again at 50 yards off a bench. Fifty yards is child's play for this gun, but worked well for testing its accuracy. The test B-14R first sported a Riton X3 Conquer 6-24x50 FFP scope. The Bergara already came with a Picatinny rail, so mounting was simple and relatively painless. (Adjusting to the scope was another matter.)
I opted to set this rifle up for a PRS .22 match, thinking I'd give the gun a chance to do what it's built for. I consulted several experts in the discipline who all recommended a first focal plane scope in mils. Since I'm an MOA girl used to simple reticles and iron sights, the Christmas tree reticle was overwhelming at first and a bit tricky to understand. Determining holdovers didn't come easily and I needed a ballistics calculator to do some quick math as I pushed the rifle to further distances.
I was definitely missing a few key pieces to determine the rifle's full potential out to 200 yards, namely a chronograph to provide the most accurate data possible for holdovers and corrections. Once dialed in, I was able to keep my groups in an approximate 2-inch space of a 6-inch bullseye target, but I suspect the rifle can do better. Though it had clear glass, I was too unfamiliar with mil corrections to effectively use the scope and I struggled to consistently use the same hold-over line.
The release of the Vortex Venom, an affordable entry-level FFP scope, spurred me to give it a try. This time, ignoring the preference of most PRS shooters, I opted for MOA turrets and never looked back. I've been extremely impressed with the scope and even more so by the accuracy of the rifle. The beauty of a first focal plane scope lies in the fact that the zero does not change with magnification changes. Dialing the scope to 25 power off a bench at 50 yards yielded a 5-shot, 0.35 MOA group, quite impressive for a .22LR.
The best part was introducing my mom to the rifle, who fired eight shots in the same two or so holes, impressing both my dad and me. My mom is left-eye dominant, right-handed and still relatively inexperienced with firearms, but is teaching herself to shoot left-handed. Even with my right-handed B-14R, she excelled. I can only imagine how she would do with the B-14R left-handed. The bolt was smooth and easy for her to run, even with arthritis.
The B-14R is not just a gun for competitive shooters, but is very much a family rifle, ideal for anyone looking for accuracy in an attractive package that offers nearly endless customization. It provides an affordable way to train for longer range competitions and is an unintimidating way to introduce youth and new shooters to a larger bolt-action platform. One might say it is a lot of gun paired with a big scope for a .22, but that's what makes it so accurate – quality components, accessories, and a platform that gives it purpose beyond a plinking gun. MSRP $1,150-$1,245 depending upon model chosen: https://www.bergara.online/us/