by
posted on April 17, 2018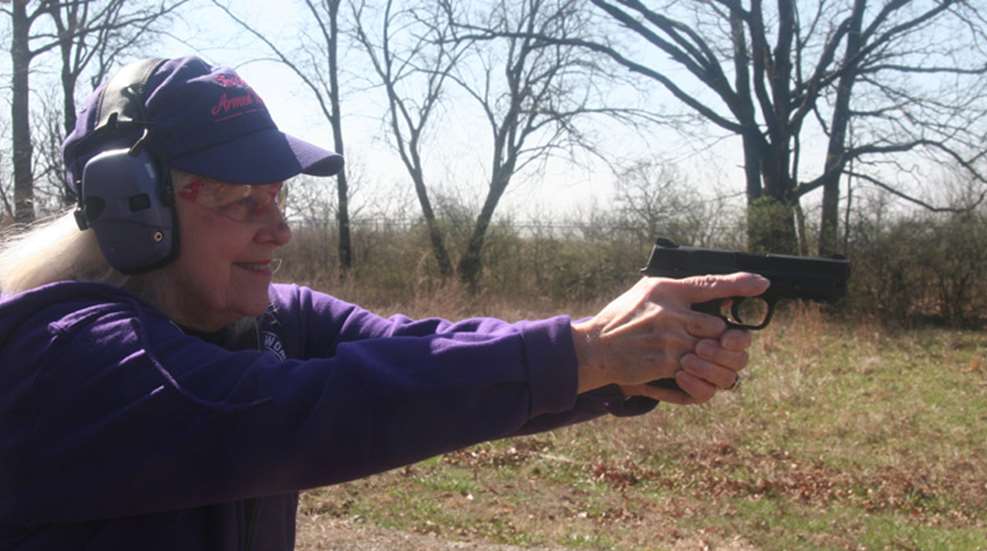 It's being called "Grandma's gun" in some of the hip and more...masculine gun publications. This Smith & Wesson M&P 380 Shield EZ may have been designed with "Grandma" in mind, but it will appeal to several other classifications of shooters for several reasons.
But first, what is it?
This iteration of the Shield came out in January 2018 and claims a rightful place as a descendant of the M&P family, first introduced by Smith & Wesson in 2006. You may know its cousin, the popular Bodyguard, also chambered in .380 Auto. This gun is the stretch version, and its appeal—as evidenced by its "EZ" nickname—applies to the easy ability to manipulate the slide and other things. Smith & Wesson claims the magazine is easy to load. It's also easy to clean—and you don't have to pull the trigger to disassemble it.
Gun reviewers seem to agree that this model surprised everyone. No one expected a .380 to come from the M&P M2.0 line when the little Bodyguard kept doing its job so well. But, hey … there's a women's market, an aging baby boomer market and most definitely a market for AARP members with arthritis, regardless of gender. Smith & Wesson has been paying attention.
Specs
Built for personal defense, this gun weighs 18.5 ounces, unloaded. It comes with two magazines equipped with orange followers, which makes it easy to see if the gun is unloaded when you do a chamber check, or when the slide has locked back.
The Shield EZ holds 8 plus 1, and here's where it gets interesting. Its polymer frame sports a 3.675-inch stainless steel (with Armornite finish) barrel on an overall length of 6.7 inches. Yes, it's long yet slim, with a width of about 1.43 inches. The slide is made from stainless steel with Armornite finish. The M2.0 enhanced grip texture works well on the grip, which you must squeeze tightly to activate the grip safety, and has been designed at 18 degrees. This angle, according to Smith & Wesson, allows the gun to offer a natural point of aim.
The front sight is a white dot, and rear sight is an adjustable white dot, which is adequate for personal defense shooting, but you might want to add fiber optic sights or a laser. The Shield EZ comes with a Picatinny rail for lights and lasers, too.
I shot tight groups at the standard distance for concealed carry (7 yards), using several brands of target and personal defense ammunition. Groups of five rounds times five targets measured from .5 inches to 1.5 inches. I shot the accuracy tests from a seated position, in a two-handed grip. After 500 rounds, the gun settled in and kept on being consistent with accuracy. It was at this point, that it required a thorough cleaning to continue, though.
My trigger tester, a former United States Air Force Academy Pistol Shooting team member, liked the crisp trigger (and he is usually a total snob about factory triggers). This is where you can see the heredity of the gun coming through, with a nice factory trigger. It's easy to feel the reset. You can hear it, too. The trigger weight measures just under 5 pounds.
The magazines can be loaded quickly, with push-down buttons on either side. The large numbers on the magazines make it easy to see how many you've loaded. Left-handed shooters will love this gun, because they can make it accommodate their needs with the previously referred to bilateral thumb safety, along with a reversible magazine release.
Safe, safe and safe
This gun features three safety mechanisms: the internal safety, a grip safety and an optional manual, bilateral thumb safety. Since appendix carry seems so popular these days, and especially with warmer temperatures coming this way, it's comforting to have the options of the additional safety features. Note: You must give the grip safety a strong grip or it will not activate. This is reason to stress the importance of keeping your hands strong in your later years.
Grannies on the range
Whereas other publications talk about this gun being for Granny, we invited some actual senior citizens to a dry-fire practice during a session of the local The Well Armed Woman monthly meeting and later, to a local range. While at the dry-fire session, the women marveled at how easily they could manipulate the slide.
Two out of the nine women at the session wanted to test the gun further as soon as possible and agreed to meet on a range. By now, the gun had been fired a few hundred times. They completed the break-in process, and added another 200 rounds, making the round count easily over 500. Not only did they shoot for accuracy, but they went from the low ready position to shooting at multiple targets quickly and accurately. They surprised themselves, when at five and seven yards, they could make such decisive hits on the targets.
Said one, "I liked the gun because it is light weight, has low recoil and because of the easy slide action."
The other senior said, "I love it because of the easy slide. It fits my hand well and the thumb safety is easy for me to reach and operate."
As of this date, they have ordered their guns to be delivered to our local FFL dealer.
Cleaning it
I think the grandmas back there on the range will like the ease in which they can take down these guns. You don't need to depress the trigger and go through several other steps to remove the slide and get to the dirty parts. Disassembly is simple. Just remove the magazine, lock back the slide, push down the take-down lever to the 6 o'clock position, move the slide back and then forward and off. Reverse the process, gently, and you will have everything in order (after you've replaced the barrel and spring, of course).
Holstering it
Whether it's holstered in a bag or on your side, the slim design of this gun makes it easy to conceal. It's 1.5 inches wide at its widest part. As my husband said, "It's slim like a 9 and shoots like a 9 (low recoil), but it's a .380."
The future of this gun
I'm thinking this gun, after it is purchased by me, will be given to a new mom in our family as a Mother's Day gift. She lives in a metro area on the East Coast and has expressed an interest in conceal and carry when she's pushing her new baby in his stroller around the neighborhood on daily walks. I know she'll like the size of it, and the fact that it comes with an extra manual safety. If you know a young mom out there, this might the solution to diaper bag carry.
You don't have to be a granny or elderly to appreciate the simplicity and ease factored into the design of this semi-auto.
Of course, Smith & Wesson backs this product with a lifetime service policy ("availability subject to applicable federal, state and local laws, regulations, and ordinances"). 
Learn more about the M&P380 Shield.
MSRP: $399

NB: Since this article was written, Smith & Wesson has issued the following advisory: 
Like any firearm, the function of the M&P 380 Shield EZ Manual Thumb Safety pistol can be influenced by the type and quality of ammunition used with the pistol. In the case of the M&P 380 Shield EZ Manual Thumb Safety, we have found that in very rare circumstances, ammunition that produces a high level of felt recoil can cause the manual safety to move from the fire to the "safety on" position during firing. Should this occur, you will not be able to fire the next round unless and until the manual safety is reset to the fire position. If your pistol is subject to this advisory, please call Smith & Wesson at 1-800-331-0852 or email us at [email protected]. A FedEx return label and shipping instructions to facilitate the return of your M&P 380 Shield EZ pistol will be mailed to you promptly. If you have any questions, you may call 1-800-331-0852 for more information.