by
posted on October 3, 2023
All dogs play fetch, but not all of them can retrieve your freedom. This is the story of Retrieving Freedom … the soldiers, the handlers and the very, very good boys and girls who deserve plenty of pats and treats. It's a story that goes back much further than you may know.
Man's Best Friend has been aiding his physically challenged two-legged pals for well over 250 years. The Parisian School for the Blind first introduced service dogs to the scene in the year 1780. These guide dogs served as the eyes to their blind and visually impaired handlers, steering them out of harm's way. Similar experiments with the training of seeing-eye dogs continued throughout the following years, with early experiments using Spitzes, poodles and various types of shepherds.
Dogs can do more than see for us; they were brought into service directly alongside their GI counterparts as early as World War I, where they would aid in bringing supplies to wounded soldiers in what is referred to as "No Man's Land." Not only would these dogs bring much-needed aid to the wounded, they then would traverse the harrowing stretch between trenches carrying the wounded soldier's hat back to his fellow soldiers—so they could attempt to come to his rescue.
In the 40 years following WWI, the demand for service dogs quickly rose with an estimated 4,000 Germans using them around 1927. It was around the same time that an American woman, Dorothy Eustis, began breeding and training German shepherds in Switzerland that later saw work in the military and police sectors. Dorothy went on to eventually open the first guide dog training school in the United States.
Over the years, the special needs and requirements of service dogs have grown exponentially, bringing about more extensive studies about the best methods of training and raising these pups, as well as how to best match them to an individual in need. We're seeing guide dogs trained to assist those in need who struggled with mobility issues, PTSD, Autism, Multiple Sclerosis, diabetes, seizure disorders and more.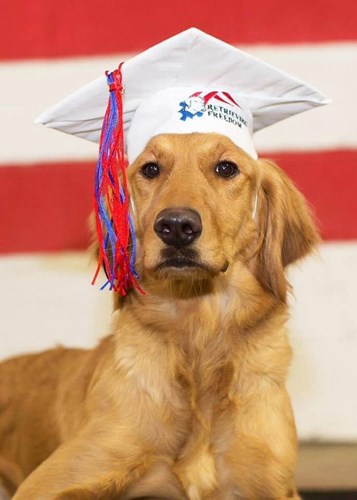 With the growing need for service dogs also came the even more daunting need for facilities to organize the raising, training and placement of such animals. The creation of these organizations is easier said than done, as each requires an immense amount of training, organization, outreach effort and funds in general. Retrieving Freedom Inc. is but one of these organizations that has blessed many a person with their new best friend.
Retrieving Freedom is a 501©3 non-profit dedicated to the training and placement of service dogs across the United States, with their primary focus being Veterans who suffer from PTSD as well as children suffering from Autism. With two locations in Waverly, IA, and Dedalia, MO, an immense amount of care and attention is placed into the training of every pup, making sure that it is perfectly matched to the unique needs and requirements of its new potential owner. Because one service dog owner's needs can vary greatly from another, it is important to know that the training programs and methods used by Raising Freedom are not a "one size fits all."
Upon filling out the initial application for a service dog, which can be easily found on the company's website, it quickly becomes clear that finding the perfect fit is a top priority. They ask how one plans to care for the physical and health needs of a potential companion, information regarding any pets already owned, plans for how you anticipate handling any behavior or health issues, information regarding a veteran's service-connected disability, information regarding a child's Autism, how a person's disability affects their daily life, how a potential recipient expects a service dog will be able to help them and much more. There are additional follow-up interviews, visits, and more involved. Despite all the hard work and time involved, the end results are always worth it.
Using their very own in-house breeding program and reputable breeders throughout the United States, puppies "enrolled" into Retrieving Freedom's training program are hand-picked to ensure they have some of the basic qualities sought in all service animals, including an eagerness to please, friendliness, confidence and size. Unsurprisingly, sporting dogs make up the bulk of service dogs—after all, they've already been bred for all of those qualities for centuries. Common service dog breeds include Labrador retrievers, golden retrievers, German shepherds and standard poodles.
They say it takes a village to raise a child, and the same could be said for these service dogs in training. Retrieving Freedom relies on the gracious donations of its supporters to be able to continue to train and place these young pups. On average, the total cost to raise, train and place these pups can reach upwards of $30,000. Monetary support is not the only way in which to support this great organization, as volunteer fosters are needed as well, with opportunities for fostering full-time, part-time, and even on the weekends! Retrieving Freedom incorporates help from at-risk teens, inmates and young children, which benefits the mental and social health of those individuals as much as it does the dogs.
What does all this cost to the recipient of a well-trained, well-mannered pooch? $0. Nada. Zilch. You heard that right … the service dogs placed with their new owner are provided free of charge. To continue operating and bringing life-changing service dogs to those most in need, Retrieving Freedom creates a fundraising page on their website for newly placed service dogs with the goal of each to be able to raise $7,500.
If you'd like to learn more about man's best friend and how those suffering from PTSD and Autism can benefit, visit retrievingfreedom.org.