by
John Zent, Editorial Director
posted on August 15, 2016
Two years after a premature initial release,
Remington's
controversial R51 pistol is now back in the marketplace. Word came over the weekend—via a company press release and from actual gun-store customers—that the R51 is indeed on sale at dealers across the country.
The 2014 intro of the much-anticipated contemporary version of the 1920s-vintage legacy pistol proved to be a false start, and ultimately a black eye for Remington, when the entire run was recalled for performance deficiencies. At that time,
Remington
offered R51 buyers three options: replacement R51 when the bugs were corrected; credit on an R1 1911 pistol; full refund. Yes, it took a while, but now the company has made good on that with what it says is a smooth-running revamp that offers all the advantages that made the original Model 51 and then its descendant model so appealing to concealed carry owners. The stylish sub-compact 9 mm weighs 1.4 lbs., has 7+1 ammo capacity, and combines a very low bore axis and comfortable grip angle to help dampen recoil. Designed with rounded edges intended to speed drawing from holster, purse or pocket, the pistol, and that includes the rear sight despite that it's bigger and easier to see than most others. The gun's key part, the Pedersen block locking system, reduces effort needed to retract the slide, however it was this inherited component (from original designer John D. Pedersen) that proved to be very difficult to manufacture here in the 21st century.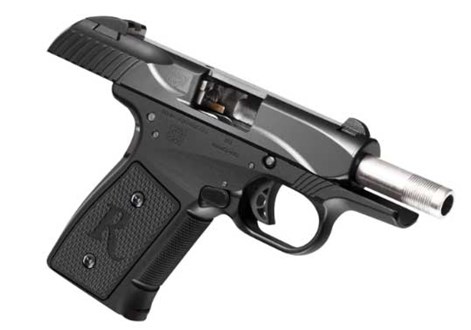 That was addressed in the following statement issued by the company: "Because the R51 is so unlike any other handgun on the market, it posed unforeseen challenges in manufacturing when it was first introduced in 2014. Since then, our engineers have worked tirelessly to address the issues and extensively test the solutions, and we're proud to say the redesigned R51 surpasses even our initial expectations."
Early chat on the Internet sounds promising, but of course NRA Publications will do its due diligence in T&E and report back through American Rifleman, Shooting Illustrated and here at NRA Family. For further thoughts on the R51 re-introduction,
check our Mark Keefe's blog from AR.org.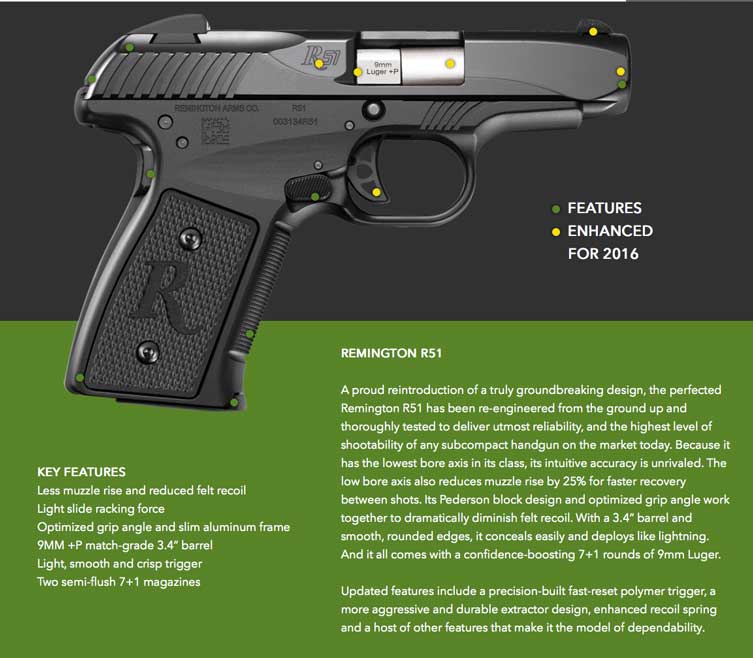 Remington
R51 9mm Pistol Re-engineered from the ground up and thoroughly tested to deliver ultimate reliability, the R51 gets you on target faster and more intuitively than any other subcompact on the market. Add 25% less muzzle flip and a sleek, ergonomic design, and it's exactly what you need to shoot your best in worse-case scenarios. Chambered for 9mm Luger with a 7-round magazine making the capacity 7+1, a full 8 rounds with a flush magazine. KEY FEATURES: Less muzzle rise and reduced felt recoil, Light slide racking force, Optimized grip angle and slim aluminum frame, 9MM +P match-grade 3.4" barrel, Light, smooth and crisp trigger, 20 .oz, Two semi-flush 7+1 magazines. A proud reintroduction of a truly groundbreaking design, the perfected Remington R51 has been re-engineered from the ground up and thoroughly tested to deliver utmost reliability, and the highest level of shoot-ability of any subcompact handgun on the market today. Because it has the lowest bore axis in its class, its intuitive accuracy is unrivaled. The low bore axis also reduces muzzle rise by 25% for faster recovery between shots. It's Pedersen's block design and optimized grip angle work together to dramatically diminish felt recoil. With a 3.4" barrel and smooth, rounded edges, it conceals easily and deploys like lightning. And it all comes with confidence-boosting 7+1 rounds of 9mm Luger. Updated features include a precision-built fast-reset polymer trigger, a more aggressive and durable extractor design, enhanced recoil spring and a host of other features that make it the model of dependability.