Pests are just that--a mammal or bird species that cause problems for the environment--and for homeowners everywhere. In some places, such as in the Appalachian Mountains, a pest can be a groundhog that digs holes, raids gardens or climbs trees to steal apples. Near the Rocky Mountains, prairie dogs, sage rats and ground squirrels dig holes and gobble down alfalfa and grasses that are grown for cattle. Ranchers consider those hole-digging rodents pests. You should note that in some areas, like Oklahoma's famed pecan groves, gray squirrels are considered pests and hunters are often welcome to help with depredation (crop damage) problems and pest control. In other regions, gophers are the problem pests and tall, barren dirt mounds reveal their presence. There could be pests near your home.
"I like shooting gophers and ground squirrels because they are good target practice, and you can learn a lot about your firearms," stated 12-year-old Kellan Stevenson of Montana. He finds these pests digging in his yard, or on the family's farm, and he shoots them often.
While ground-dwelling pests are definitely plentiful, don't overlook the pests with wings. Crows in agricultural regions damage a large number of crops, including corn, grapes and apples. One university in Iowa recently held a program where students were invited to go out and hunt crows. On a more local level, dairy farms and grain silos are often raided by pigeons that steal corn and grains. Most states list pigeons as an unprotected species, and this means unlimited shooting opportunities. Other birds such as starlings and house sparrows are also listed as pests or unprotected species in most states. These two bird species actually kill other, more desirable, bird species.
Pests are undesirable, but they do create hunting opportunities for hunters. Always ask permission, however, before hunting on private property. You'll also need to carefully study safe zones of fire at each hunting site and follow the rules of firearms safety when hunting pests. Sometimes pest plinking action can be fast paced.
"I am learning the ethics of hunting and some of the proper etiquette when I hunt gophers," continued Kellan. "I am also learning how to be a better marksman." He enjoys hunting with his dad and friends. His marksmanship practice while hunting pests helped him with getting his first deer last season, a white-tailed buck.
The good news for hunters looking for something to hunt is that on nearly any day of the year, and from coast to coast, pests are causing problems. Are you ready for the pest plinking challenge?
Rifles That Reach-And Reach Out
Believe it or not, many pests can be hunted with America's most popular rifle-one chambered for the .22 Long Rifle cartridge. For longer ranges and bigger pests-like the groundhogs and marmots-bigger bores like the .223 Rem., .22-250 Win., .204 Ruger and other similar cartridges and rifles rule the fields and hills. Shots can be made from steady benches or atop sturdy fenceposts in a high-tech or low-tech approach to meet your style and budget. The larger caliber pest plinking rifles, like those chambered in .223 Remington, are often topped with a riflescope. At 500-plus yards, the popular 12X magnification and greater power scopes begin to show their designed purpose. Long-range pest plinkers might also want to invest in a spotting scope and a sturdy tripod to support it. A spotting scope can often help with discovering and seeing the head of a partially concealed groundhog that's hiding in a den opening.
When you are shooting pests, work for steady rifle rests. The steadier your rifle, the more accurate your shot will be. Study the prone, sitting and kneeling shooting positions to determine how to be steady when shooting unaided. You should also research shooting sticks-and the popular shooting tripods-to determine which options will fit your body, hunting style and budget. When looking at any shooting aid, judge the rest for portability and weight; most pest plinking adventures require you to walk and climb up hills or trek down into valleys.
While on the hunt, take a daypack to store ammunition, optics, water, snacks and other gear. A daypack with a hydration bladder inside and a sipping hose outside can help increase your comfort level as you hunt.
Places for the Pursuit
Finding a place to hunt pests is often as easy as knocking on a door and asking permission. Ranchers and farmers hate these pests and will often open their gates wide when you request to put pests into your rifle sights. You should always consult with any landowner to become aware of the farm practices and areas where you can hunt. Problem pests are often widespread on public lands also. The best news is that some states will let you hunt pests free-like Wyoming-with no license required. Be certain to research the requirements and stay legal.
State game departments, local farmer co-ops, vineyards and even the sites that grow landscaping shrubbery or Christmas trees, often have problems with pests. Cattle ranches and horse farms are also sometimes plagued by pests. Pests are so widespread and plentiful that the U.S. could be viewed as a coast-to-coast pest hunter's playground. Study wildlife guides and regional habitat maps, plus the hunting regulations for the region where you'll hunt, to determine what species of pest could be found there. Internet searches can also help you learn more about pest species. Here are some basic rules:
Groundhogs are found mainly in the East, and mostly along the Appalachian Mountains from Vermont to Georgia. These gray or reddish-brown rodents will come out of their underground dens in large numbers on hot humid summer days after a brief thunderstorm passes and the sun reappears. Plan to be afield then. Note that some states have groundhog seasons.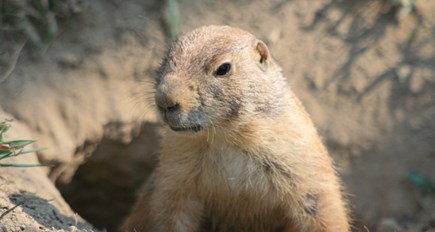 Prairie dogs are found from Utah through Montana, and in large numbers in areas of Colorado, Wyoming and South Dakota. When seeking these rodents, seek open prairies and grass fields. Look for the dirt mounds that form towns.
Marmots are king-of-the-hill and can be spotted up high. Search along rocky ledges and around boulders. Don't, however, expect to see an entire marmot. Do expect to see the top of a head as the critter lies atop a rock and soaks up the sun's warmth. Marmots will go underground when clouds come overhead, or on rainy days. Warm sunny days are the best times to be afield and hunting with your rifle at the ready.
Pigeons, crows, sparrows and starlings are widespread. Some states do have seasons on crows, but the other winged pests are normally available for plinking when you see them. While hunters can plink these birds with rifles, shotguns are best for downing pests on the wing. You'll also need head-to-toe camouflage-including a face mask-when calling and hunting crows. Crows can also be called and lured closer with decoys. Generally there are no bag limits, so take plenty of ammunition and shotshells and expect to do a lot of firearm shouldering and shooting.
Pest hunting trips are unlike other hunting trips. You'll not feel pressure such as that felt when hunting deer, you'll not have to get up early, and licenses are affordable or sometimes not required. Pest plinking is also not as gear intensive as hunting trips for other species can be. These trips also permit you to talk with friends who join you, and you can sometimes work together to spot and call shots for each other.
"Just go out and have fun!" quipped Kellan Stevenson.