by
posted on January 4, 2018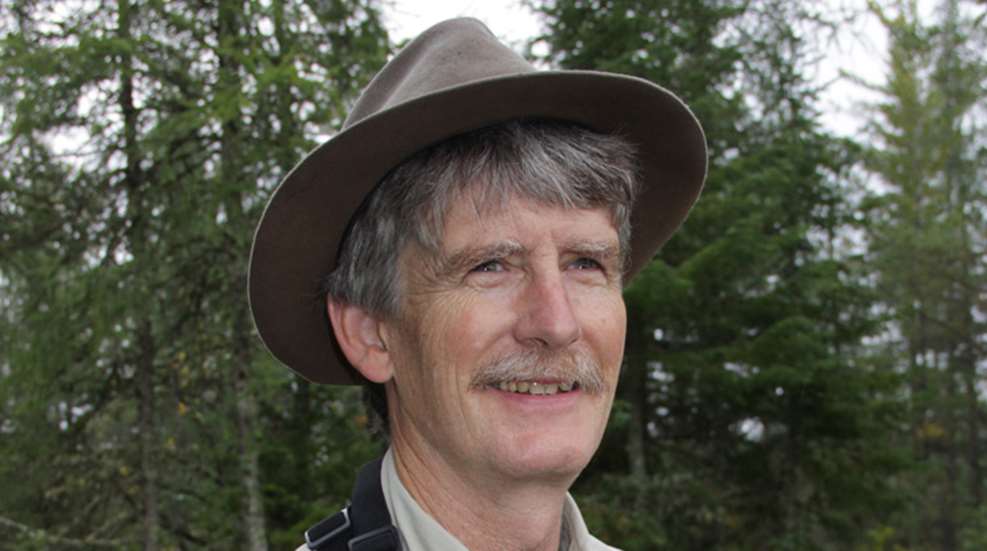 At nearly six million acres in size, it's the largest park in the lower 48—bigger than the entire state of Massachusetts. Put another way, the Adirondack Park in upstate New York is larger than Yellowstone, Glacier, Grand Canyon and Yosemite National Parks combined. "The Adirondacks are a unique combination of both public and private lands," explained Ed Kanze, "about three million acres of each." A licensed, professional Adirondack guide, Kanze has been exploring the Adirondacks—an extremely beautiful yet rugged mountainous region—all his life, and has lived and guided there the past 18 years.
What do you do as a nature guide? 

"I take people for hikes and gentle saunters through the woods. We look at everything that catches our interest: wildflowers, trees, mosses, fungi, big mammals, small mammals, birds, snakes, turtles, frogs, salamanders, insects, spiders and all the rest. We walk winter, spring, summer and fall, rain, shine and snow. I also spend a lot of time promoting my business through a website, donating my services to worthy causes, and socializing with people who might hire me or send me business."
How did you prepare for such a job?

"It helps a lot—but is not absolutely necessary—to go to college, so you can converse with highly-educated people (who are the main people who hire guides). You can also learn a lot of the foundations of biology, history and the English language in college. But the most important preparation is getting outdoors and teaching yourself to know and love the things you'll show people on walks, and also identifying people who know more than you. After nearly 40 years in the game, I still find those people easy to find, and I ask them if I can tag along with them and learn. It's work, but at the same time it's all great fun if you love nature and the outdoors."
Have you guided anywhere in addition to the Adirondacks?

"I have guided five Smithsonian groups, one while spending a week on a luxury cruise ship off the coast of Alaska, and the other four while traveling by plane, bus and boat in Australia and New Zealand. I wrote a book about Australia and another about New Zealand. While those books didn't earn me much money, they helped open the door to leading future trips in those countries."
What else do you do for a living besides guiding? 

"I work as a writer, writing books, magazine stories and newspaper columns. The best education for a writer, I believe, is to write a regular column. For instance, my newspaper column is now 30 years old. (That's older than many of its readers!) Most guides I know have many small sources of income that, added together, make up a living. And most are married to husbands or wives who have steady jobs, as guiding income comes and goes. I've also worked seasonally as a National Park Ranger, done painting and carpentry jobs, and even worked for a jewelry designer making pewter earrings and pendants."
How should a young person prepare for such a job?

"There are colleges today that teach what I do, which might be called 'ecotourism.' Paul Smith's College, just up the road from where I live in the Adirondack Mountains of northern New York, is one such institution. And there's no substitute for life experience. Anyone who wants to lead people in the outdoors will learn the most from watching pros who are great at what they do. The only way to find the great ones is to go on lots of walks with various guides. You'll know the best naturalists and walk leaders when you see them in action. They're knowledgeable but also humble, and they love sharing their interests with others."
What do you enjoy about guiding?
"I love working outdoors. I can do my own work in an office, but I'm not much good at doing someone else's. I took an office job once and quit on the morning of the second day. I just couldn't do it. But I can go out in the snow when it's zero degrees, the wind is blowing, and help people enjoy a great outing on snowshoes. A great pleasure in guiding is being of service to others. You help people find joy in a beautiful place, and in the process you find joy yourself. The world has lots of problems, and by taking people outdoors and helping them develop a sensitivity for the places you show them you make the world a better place, at least in a small way. And that's satisfying, too."
What are the downsides of the job?
"Bugs, harsh weather and the office work required to keep a guiding business afloat aren't much fun. Also, I depend on hotel staff to send me much of my work. People come and go from hotel jobs, and when they go new people who don't know me don't send me business. So I'm constantly having to work at building relationships with new people when I'd rather be guiding, having fun outdoors and earning money for my family. Occasionally I guide someone whom I don't like much personally, but it's very rare. And as a result, many of the people I guide become friends." 
Do you have a humorous story that occurred during one of your guiding experiences?
"I once took the travel editor of a large magazine on a hike during blackfly season in the Adirondacks. Blackflies swarm all over people and bite them, mainly during late May and June. My wife had just bought a beautiful new bug hat, made by a local craftswoman. It was gorgeous and my wife hadn't worn it even once. But she insisted I take it along and let the travel editor, a woman, wear the pretty floral-patterned hat with a veil to keep the blackflies off. So I took the editor up a mountain and as soon as we stepped out on a ledge near the summit a gust of wind came along. It blew my wife's hat off the editor's head and carried it far, far away. For years afterward I looked for that hat but with no success. I've never forgotten the loss of that beautiful new hat, and believe me...my wife hasn't forgotten either."
Has a dangerous incident ever occurred during one of your guided trips?
"No, but one could happen at any time, so I'm always on the lookout for danger signs. The best way to avoid danger in the outdoors is to prevent it. I begin every outing with a safety talk. I learned to do that while working as a National Park Ranger, and I always keep an eye out for anything that could go wrong. Still, even with great caution, I know that something dangerous could happen, and knowing that, and keeping it always in mind, helps keep safety margins wide and danger at a minimum." 
Anything else you'd like to add?
"It's my belief that work is a privilege, one that offers opportunities for serving others while serving yourself in a way that's good for all. The best work involves doing what you love, wearing the clothes you'd wear even if you weren't working, and being yourself. In other words, not pretending to be something or someone you're not. There have been times in my life when I wished I didn't feel that way, when I knew that if only I could slip into a suit and tie and work in an office building I could make more money and keep the wolves further from my door. But I just don't have it in me. 'To thine own self be true,' wrote Shakespeare. I first came across those words in high school, and I've been trying to live by them ever since."
If you visit the Adirondack Park and would like the assistance of a licensed guide, Ed Kanze can be contacted by e-mail at

[email protected]

.