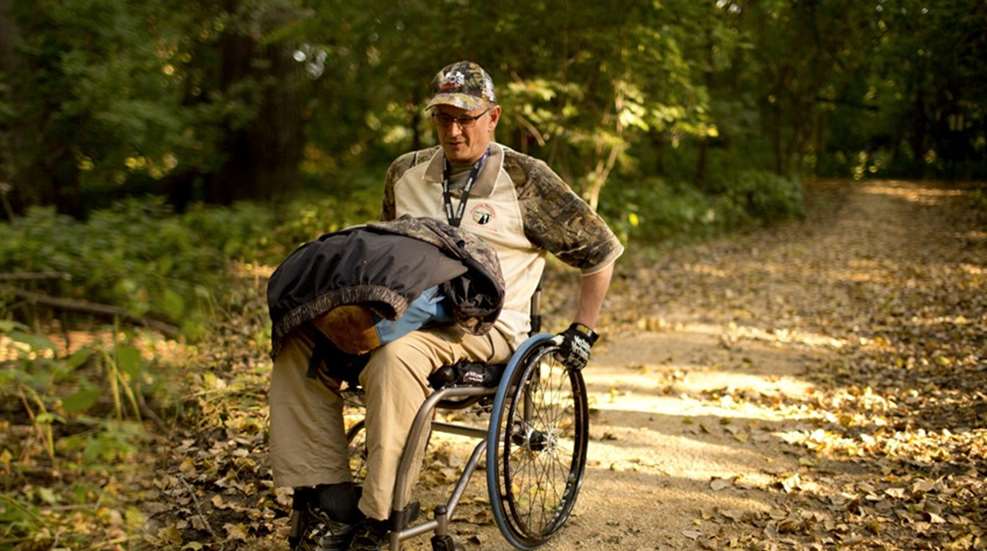 The debate over carrying on- or off-body has proven to be energetic and at times heated, and it's especially thorny when we're talking about self-defense and concealed carry for the disabled. There are benefits and limitations with each method, but off-body carry tends to fall short in two vital areas of concealed carry: accessibility and control. Accessibility and control can sadly be lost at the most critical moments for those carrying a gun off-body in a wheelchair. Unfortunately, criminals often attempt to dump people from their wheelchairs at the onset of an attack. If the victim's firearm is mounted to their wheelchair, contained in a bag, in a basket or slung over the chair back or armrest...the victim has simultaneously lost access to that firearm while the perpetrator has gained control of it. 
However, individual circumstances may make on-body carry impossible, so off-body options become the only options. The primary location to mount a holster on a wheelchair is on the leg rest. Clearly, there are special considerations and equipment required to securely mount a holster in this location. One such piece of equipment is a product designed by ScotWorks, Ltd for attaching a holster to the leg rest of most manual wheelchairs. It is a simple design requiring only hand tools for attachment. As of this writing, it is made to work with a very specific holster brand/type called the Blackhawk Serpa, which must be purchased separately. The draw stroke from this device will be identical to drawing from a dominant,side hip holster, so you should still be able to participate in live-fire practice at ranges that allow drawing from a holster. 
Two other devices to consider are the concealed carry purse and fanny pack. A quick search online shows that these devices are very popular among those in wheelchairs who choose to carry a concealed firearm. They meet many of the requirements for practicality and mobility, but fare poorly when evaluated for accessibility. Both methods will most likely require the free use of both hands to access the firearm, which may not be an option due to either the user's abilities or the self-defense situation. While this is something to note, it is not a deal breaker for these devices. Training and situational awareness will go a long way to ameliorate these concerns.
A concealed carry purse does not mean any purse large enough to enclose a firearm. It is a specifically designed piece of equipment with a built-in holster or some other method of storing a gun such that the trigger and safety mechanism is covered, and the gun is consistently placed and oriented to maximize accessibility. Some designs also offer reinforced straps to prevent a criminal slashing the strap to "snatch" the purse. There are two general caveats when choosing to use a concealed carry purse. The first is that the user must keep the holster or pocket/section used for firearm storage free of all other items. Not only will this allow the carrier cleaner retrieval should the need arise, but it will also decrease the risk of a negligent discharge. The second is that the purse must remain under the carrier's physical control at all times. Hanging the purse on the back of the wheelchair or draping it over an armrest will not afford the person access to the weapon in a self-defense situation, will make it very difficult to prevent the purse and gun from being stolen. 
There are options if you choose to use an existing purse that is not specifically designed to conceal a handgun. These devices are holsters that will use some type of anchoring mechanism to keep them from moving around freely inside the purse. It may be something as simple as a tacky exterior that will adhere to the inside of a small pocket within the purse, or it may be an anchoring strap or brace. It goes without saying that whatever method you choose, it must meet all holster criteria as previously mentioned to be considered a safe alternative. 
The fanny pack is another very popular method of concealed carry for people in wheelchairs. It is a method with some serious flaws but also some legitimate benefits. The devices come in a variety of sizes, shapes and storage methods. The benefit of the fanny pack is the ability to efficiently conceal many types of handguns regardless of the wearer's choice of clothing. One of the serious considerations when using a fanny pack for concealed carry is the tendency to "muzzle" the non-firing hand/arm and the legs when drawing the firearm. This is virtually unavoidable, and should be considered before incorporating the fanny pack into a concealed carry system. As with the belly band, a fanny pack may be obstructed when seated. However, if the wearer moves the pack slightly to one side, some of the obstructions may clear...but access is now single-handed. Keeping the pack in the front but loosening the retention straps to allow for seated obstructions may offer the wearer better access.