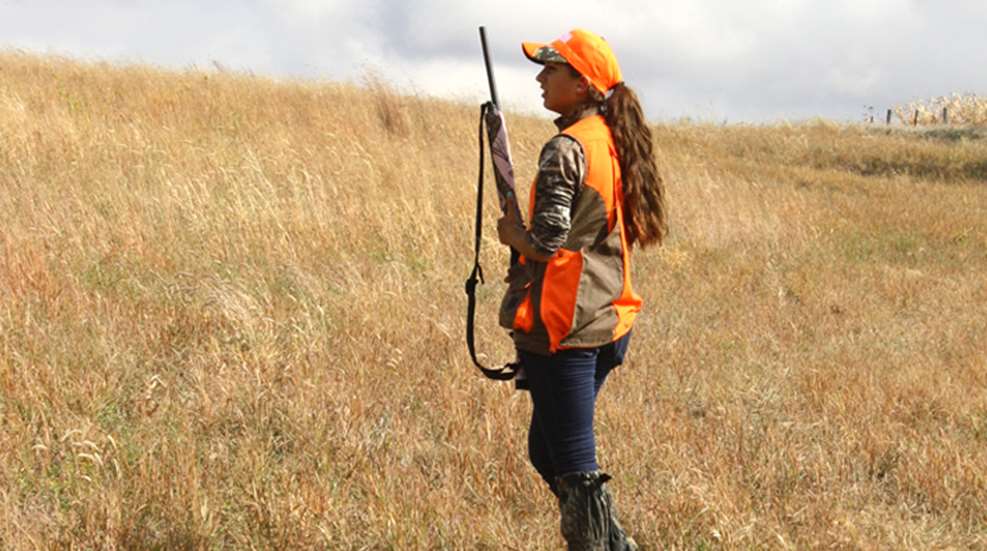 "Justin, go ahead and take the outside, in case any birds run out ahead of the dogs and cross that path to your left."
Pheasant Bonanza's Troy's instruction made sense. Moments earlier, we had seen a ringneck in that same brush-hogged path as we parked the trucks, and the path served as a potential break-out point for any birds fleeing the pursuit of Troy's German shorthairs. We hadn't gone more than 50 yards when Gracie, a beautiful brown-and-white shorthair, stopped in her tracks and stared intently into the thick cover.
"Gracie's on point," Troy called out.
He quickly moved in to flush the bird, and with a cackle a rooster erupted from the cover and flew hard to my left, just as I had envisioned. I instinctively shouldered my 12-gauge and swung the gun through the bird to get ahead of it and pulled the trigger. The pheasant fell neatly from the overcast sky, and the first bird of the morning was in the bag.
Passing It On
After lunch, we headed out for the afternoon hunt. We broke into three groups, just as we had that morning. I was paired with Frank and Janelle Bleier, a father-daughter pair that came to Nebraska by way of Long Island.
This was Janelle's first hunting experience, although at age 15 she's already an avid outdoorswoman. She has gone fluke fishing with her dad in New York's Great South Bay. She has climbed 10 of the 46 highest peaks in the Adirondacks and hopes to eventually complete all 46, a distinction that would earn her a place in the prestigious Adirondack Forty-Sixers Club. But she'd never actually hunted.
"I wanted to ease her into hunting," said Frank, an NYPD narcotics detective. "Grouse hunting in New York, you might see one bird in three days. I knew she would get a lot of action here. I want to spark her interest in hunting and keep her interested. It's rare to see a girl her age hunting on Long Island."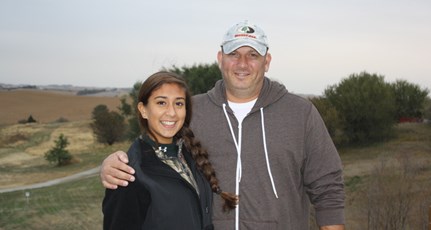 In preparation for their adventure together, Frank bought Janelle a 20-gauge Remington 870 compact in Mossy Oak pink camouflage. They shot together for a month leading up to the hunt, and dad was impressed with her shooting.
"She shoots better than me," said Frank, flashing a proud smile.
The first morning Janelle got plenty of shooting in but no birds to call her own. The afternoon session played out much in the same fashion. She had such a great attitude and never let the misses get her down, although you could see on her face how badly she wanted to get that first bird under her belt.
I did not hunt with Frank and Janelle our final morning in Nebraska, but as she walked back to the lodge-seemingly on air-the huge smile on her face said it all. "I got three birds this morning, and they were all my own," she said, beaming with youthful enthusiasm and pride.
"The whole trip has been great," Frank said. "That was just the cherry on top. Everyone made us feel so welcome.
About NRA Outdoors
NRA Outdoors is a free service that gives NRA members access to detailed information on more than 300 pre-approved hunting and fishing outfits across the globe. Every destination has been thoroughly vetted through a rigorous inspection process, so you can be sure that any hunting or fishing trip booked through NRA Outdoors is of the highest caliber.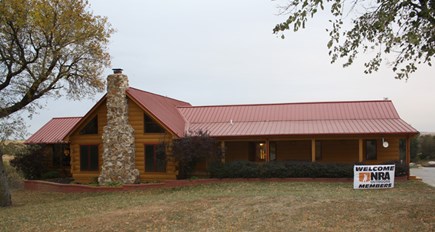 "We actually go to every one of our outfitters," said Greg Ray, president of NRA Outdoors. "The main thing we do is make sure that the outfitter is what he says he is."
Once you have an idea of what you want to hunt, NRA Outdoors, which was developed in partnership with the outdoor travel agency Outdoor Connection, will give you information on various outfitters based on the criteria you designate-things like trophy expectations, lodging expectations, budget, hunting style and the physicality of the hunt. A member of Greg's team helps with everything from booking the trip and making travel arrangements, to gear lists, itineraries, references, travel insurance and regulations. Members can also purchase discounted gear through NRA Outdoors.
This service is available free of charge, and the cost of booking a hunt through NRA Outdoors is the same as booking the trip directly with the outfitter. There is no mark-up whatsoever. As an added benefit, each time an NRA member books a trip through NRA Outdoors, a portion of the proceeds helps NRA defend the Second Amendment.
To find out about future NRA Outdoors-hosted trips, click here!