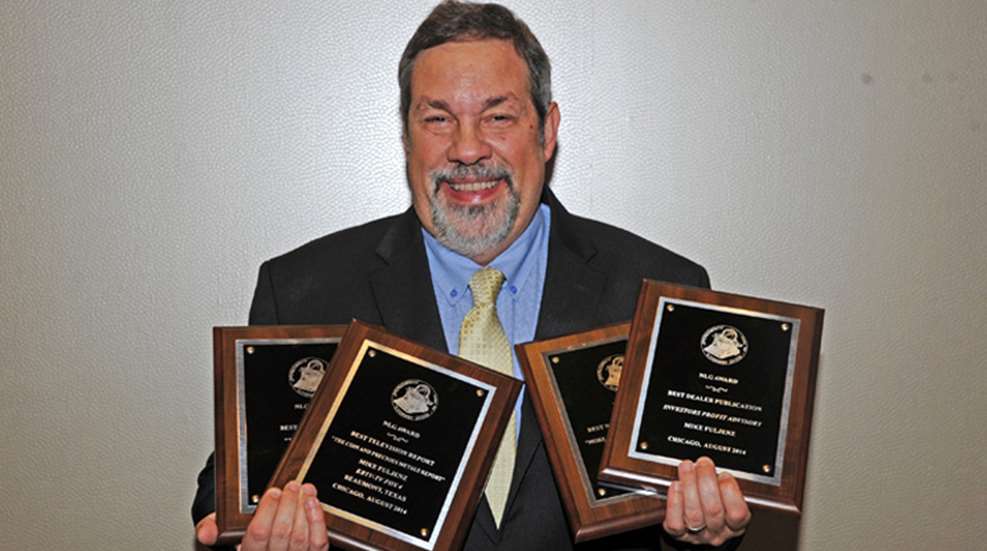 Distinguished gold and rare coins expert Michael Fuljenz was recently acclaimed at the Chicago 2014 World's Fair of Money.  Fuljenz was recognized for his excellence in consumer protection and education efforts. A longtime sponsor of American Rifleman TV's popular "I Have This Old Gun" segment, Fuljenz was also recognized for his outstanding service to the numismatic hobby and profession.
The awards were presented by the congressionally chartered American Numismatic Association, the Professional Numismatists Guild and the Numismatic Literary Guild. The annual event brings together approximately 10,000 rare coin, currency and precious metals buyers and sellers.
"We congratulate Mike Fuljenz on this much-deserved recognition of his expertise in the world of collectible coins and precious metals," said Doug Hamlin, Executive Director, NRA Publications. "The staunch support the National Rifle Association receives from Mike is vital to our ongoing efforts to protect and preserve Americans' rights to own and use firearms. We are pleased to learn of these awards and are gratified that such an accomplished business leader is committed to the cause of freedom."
Since 1986, Fuljenz has been honored with more than 50 awards for his consumer and investor education work . His award-winning, free weekly Metals Market Report is available at UniversalCoin.com. A complimentary copy of the award-winning "Universal Gold Guide" is available by calling (800) 877-3273.