Do you know a New Hampshire outdoor family with a little one on the way? Well, if you've been stumped for the perfect baby gift, the New Hampshire Fish and Game Department has a way to guarantee you'll be the coolest person at the baby shower. It's called the Newborn Lifetime Combination Hunting and Fishing License, and they're available now. The l
icense is not a "real" license of course, as Baby will need to grow up a bit until he or she is old enough to complete their Hunter Education course.  Instead, it's actually a special gift certificate. The holder of the certificate, upon reaching the age of 16, will be able to redeem it for a lifetime New Hampshire freshwater fishing license and a lifetime hunting license.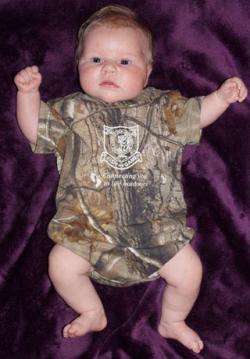 All children a year or under who are New Hampshire residents are qualified to receive this perpetual future access to New Hampshire's hunting and freshwater fishing adventures. The price of the license (which is a one-time fee) is $300 plus $4.50 for habitat and agent fees. You can even buy s
pecially designed New Hampshire Fish and Game camo-themed onesies, in sizes 6-months and 12-months separately...they make a great gift to be presented with the certificate.
Purchase of a Newborn Lifetime Combination Hunting and Fishing License gift certificate can be made only at the Fish and Game's headquarters office in Concord, New Hampshire, or by mail. The applications are available on the Fish and Game website at 
wildnh.com/licensing/forms.html
. The application process requires a copy of the child's birth certificate and a copy of one parent's (or legal guardian's) valid New Hampshire driver's license or non-driver picture identification to establish residency.
If you have questions, visit 
wildnh.com/licensing/newborn.html
 or call the N.H. Fish and Game Licensing Office at (603) 271-3422.
Proceeds from Newborn Lifetime Combination Hunting and Fishing License sales go to a special New Hampshire Fish and Game Department trust fund, helping to ensure that healthy fish and wildlife resources and opportunities for outdoor recreation will be here for future generations.