by
posted on September 19, 2014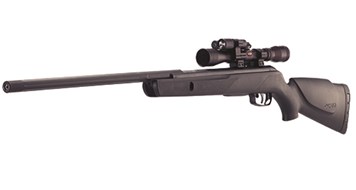 Gamo Outdoor USA has released the all-new Varmint Hunter airgun that includes Gamo's famous laser sight and flashlight combination. The Varmint Hunter shoots 1,250 fps using .177 PBA Platinum pellets, and comes with many of the top features included in Gamo's premium air rifles. Other features on the Varmint Hunter include an all-weather thumbhole black color stock, a smooth action trigger, shock wave absorber (74 percent recoil absorption), and the 4x32 mm riflescope with laser sight and flashlight. The Varmint Hunter has an MSRP of $249.95.
MECHANISM
-Velocity: 1250 feet per second (fps) with PBA, 1000 fps with Lead
-SAT Smooth Action Trigger-SWA (Shock Wave Absorber), with up to 74 percent recoil absorption
-Break Barrel: Single Cocking System
-Automatic Cocking Safety system
-Barrel: Fluted Polymer Jacketed Steel
-Cocking Effort: 30 lbs-Trigger: Second Stage adjustable
-Manual Safety
STOCK
-Stock: Tough All Weather molded Synthetic
-Butt Plate: Ventilated rubber pad for recoil absorption
-Cheekpiece: Thin cheek pad molded on each side for both Right hand and Left hand shooters
-Checkering: Non-Slip texture design on grip and forearm
-SWA (Shock Wave Absorber), with up to 74 percent recoil absorption
OPTICS
-Scope Ramp: Grooved receiver
-Scope: 4x32 mm air riflescope with rings, matched with a laser sight and flash light
SPECIFICATIONS
-Weight: 7.15 lbs
-Length: 43''
-Ammunition: Any .177 Pellet
-Caliber: .177
-Trigger Pull: 3.74 lbs
-Barrel Length: 18 in
For more information, visit GamoOutdoorUSA.com.