by
posted on December 16, 2017
How would you know which .22 pistol is the best one for you? If you have brothers and sisters, you may not get to choose. Or, like Molly in the photo above, you may get to have a hand-me-down from someone you meet at the shooting range. Whether someone is likely to provide the .22 pistol of your dreams as a gift or you have to work hard to earn it, know this: Not all .22 pistols are created equal.
Just trying a .22 will help you decide what features you most want to have when you buy a pistol of your own. Going to a range with rental guns allows you to try different ones and compare them. You have to be able to reach all of the mechanisms and operate it by yourself. It has to feel comfortable in your hands. And you have to be able to shoot accurately-a gun that is not your size may cause you to miss.
What type of shooting you'll be doing with your .22 plays an important part in deciding what pistol you will spend the most time using. You would not use the same platform for hunting, plinking or the different types of competition. Fortunately for you, there are many people-neighbors, coaches, competitors, sales staff-who want to encourage youth shooters and turn them into lifelong firearms enthusiasts and Second Amendment advocates.
I spoke with three young shooters about their first, and most recent, experiences with a .22 pistol: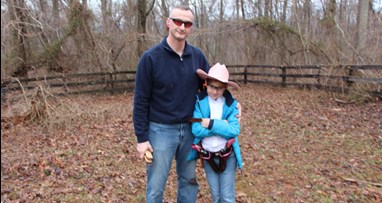 Sarah Balding aka "Cardinal Wind"
Like a lot of us, Sarah Balding, along with her older sister and younger brother, was given a Daisy Red Ryder BB Gun one Christmas. Shortly after that, she saw a pink-stocked "Cricket" .22LR single-shot bolt-action rifle on the wall at a store and, for the next two long years, to relentlessly ask her father: "When will I be old enough?" Her mom and dad this decision before relenting to his persistent daughter. While participation in shooting sports, like other competitive activities, builds confidence and maturity, the safe operation of firearms is a responsibility not to be taken lightly.
Sarah quickly graduated from "plinking" with her dad on her grandparents' horse farm to learning to use all of the firearms required for joining the Single Action Shooting Society (S.A.S.S.). Her favorite is the pistol. Pistols, actually, because "Cowboy Action Shooting" (CAS) requires competitors to wear and shoot two pistols.
The youngest S.A.S.S. category is for "age 13 and younger." Children who have shown they have the interest, attention span and dexterity to operate the firearms go with a parent to shoot. There are additional safety features built in: Your pistols and rifle are loaded at a designated Loading Area under the watchful eye of a Loading Officer, and your shotgun is loaded on the line. While you shoot, the person holding the timer watches to make sure you are shooting safely and that you keep your muzzle direction safe. "Spotters" (the three people watching for hits or misses) can also call out, as could your parent, spectators or others, if something is unsafe. After hitting the targets, the shooter goes directly to a supervised Unloading Area to make sure all firearms are properly cleared.
When it came time to register a shooting name with S.A.S.S., Sarah chose "Cardinal Wind," because her class was studying Native Americans in History/Government-so she combined the state bird of Virginia with an Indian-sounding name. "I am, technically, obsessed with Indians," she confided. She plans to create an authentic-looking shooting costume.
Sarah carries two Heritage Arms .22LR single-action pistols, with pink pearl grips, in custom-made holsters trimmed in pink with red ray skin hearts inset in her gun belt. She prefers shooting her pistols because they are "lighter and easier to shoot" than her 10-round lever-action rifle. As ammo prices rise, the economics of shooting become increasingly a factor as a one-day Monthly Match is usually 30 rounds with each of the two pistols, 60 rounds with the rifle and 12 (or more) shotgun targets. Sarah gets to dry-fire at least once or twice a week, in the garage, to get used to wearing gun leather, drawing her pistols, using the correct stance, and practicing her grip.
Sarah practices because she has a goal. "Yes, yes I do!" she said with a wide grin. Her father, a Commander in the U.S. Coast Guard, relocated the family from Louisiana where Cowboy shooters have a "Daddy and Daughter Rule."  This rule states if your daughter shoots in a major center-fire caliber and beats your raw time, you have to wear a dress to the next match. Just picturing this shooting milestone has Sarah in hysterics.
Sarah told me that she wants our readers to know "how much fun it is to spend the day Cowboy Action shooting. I like meeting new people and there is a lot to learn." As the middle child she is afforded special attention from her dad and the entire shooting club who cheer when she makes her hits. Besides getting helpful advice and encouragement (as all new Cowboy shooters do), Sarah enjoys listening to the jovial conversation in much the same way American pioneers would gather around the campfire at the end of the day.
For a Cowboy Action shooter, there is nothing like a "ding" on a steel target. To see and hear some phenomenal shooting by a young woman, check out the annual SQUINTY EYE Match.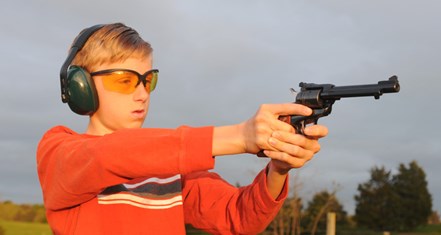 EVAN SHEETZ
The oldest of three children, Evan Sheetz is a 13-year-old seventh grader who likes to read and build things, which may well converge some day in his goal to become an inventor.
Evan is an accomplished "plinker." Evan shot a pistol for the first time at the age of 10, and has even gone hunting several times since then. In the beginning, his father explained how to load, align the front and rear sights, shoot and empty the spent cases from the single-action revolver, then repeat and shoot again. This was an excellent choice for Evan because it requires deliberate, methodical actions on his part. He's shot a variety of .22 pistols, but especially likes his Ruger (Super) Single-Six convertible .22 WMR. It has virtually no recoil and is quiet. Because it is single action, you must pull the hammer back each time you want to depress the trigger and shoot. It is very accurate.
Evan does have friends his own age who shoot, but usually not with a handgun. Once a month he goes to his granddad's cabin in the woods for practice. He especially likes to engage the Champion auto-resetting steel target. "I like the challenge of getting all the targets across the bottom so I can shoot the top one and reset the unit." And, according to Evan, the best thing about shooting is "accurately engaging a target."
When Evan was reminded that NRA Family InSights provides a national audience, he said he would like to tell readers, "I think shooting instills mental discipline. It is a sport everyone should try."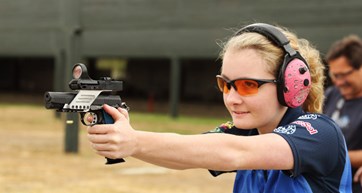 MOLLY SMITH: AKA "Millisecond Molly"
Molly Smith is an avid InSights reader and competitive shooter, plus she loves telling people about the NRA, and also how much fun it is to shoot, especially revolvers. She was just one of a few students selected from her county to participate in the Rotary Youth Leadership Association, went to the Youth Education Summit (Y.E.S.) last year, participates in a GALS shooting club (Girls and Ladies), writes articles for Women's Outdoor News and reports for American Trigger Sports Network-TV.
Molly took her first shots, at a local range, when she was 11 years old. She told us, "At first, I had no interest in shooting because I thought it was something boys did, but after the Range Officer started teasing me, saying I couldn't shoot well even if I wanted to, and that I'd 'shoot like a girl,'  I decided to prove him wrong! I was hoping the first gun I would get to shoot would be a Smith & Wesson because I like the name, but a borrowed Ruger was perfect for me that day." Only a year later she was asked to join Team Smith & Wesson.
Her first .22 pistol was a Browning Buckmark, which she still has. There's a lot to be said for luck, as in being at the right place at the right time. There was a really good shooter at the range, and after he bought a new pistol, Molly got his old one. Once she saw how fast he was with that Buckmark, she wanted to emulate his success using that same equipment.
She also told us she's incredibly happy with any sort of action shooting-especially when it involves running, because, as she put it, "Having that sort of freedom adds to the adventure and joy of shooting. The Bianchi Cup, though not running around at all, is another favorite because of the pure concentration needed to succeed. It is a real challenge."
When not on the shooting range, Molly describes herself as an average teenage girl who likes to read, write, listen to music, and hang out with friends.  Even though it's 45 miles away, Molly "loves her school" and her favorite subjects are Social Science and Literature which, she explains, "are closely connected in demonstrating the hardships of various times in history while helping to illustrate possible solutions to problems that the world may be facing." She has taken classes in marine biology and political science for fun at community college. "Constitutional matters are huge for me, "she said, " learning about different Supreme Court rulings and following the up-and-coming debates is absolutely fascinating."
You might be wondering how she manages to find time for all of these activities and she said, "I have amazing support. I'm also doing things that I love. My parents tell me, time and time again, that they will support me in whatever I choose to do, but I need to get there myself, and put my heart into it. They give me the independence to take on a lot of activities and prioritize those how I see fit, but when I need a break, they understand and encourage me in that too."
When I asked her what she would say to InSights readers interested in getting involved in competitive shooting, she said, "Grab a parent and get to the local range! If they have a .22 pistol or rifle you can try, great, but otherwise you can research in your area to find a range with rental guns. Starting with a .22 is good because they are easy to shoot and a lot of ammo comes in those little boxes. I recommend practicing for a few weeks first, but then attend a match for fun! Competitions are not difficult once you are actually there-at the events there is a lot of help to keep you organized and safe. Range Officers are always on every stage. Don't expect to win, expect to have fun! My first big match, I came in second to last place, right in front of someone named "DNF" which I later learned meant "Did Not Finish"! That was a two day match, which tested stamina, and was so worth it!"
Molly has sponsors-the main ones being Smith & Wesson, Tactical Solutions, Hogue Grips and Pro Ears. They are very encouraging and supply her with equipment when she needs it, but she says she doesn't ask for much! When asked how other shooters might attract a sponsor, she replied, "I would say in order to get sponsors; the biggest thing a shooter has to do is be generous and helpful to others. Showing a good attitude and having fun, especially if a stage does not go well or you lose a match, are all attributes that sponsors look for. Being respectful of others and successful in school are also important. I believe sponsors look for these types of qualities. Oh, and shoot lots of matches! Get out and get noticed in the industry by practicing and shooting matches. Eventually, with your personality and competitive 'wins,' you may be approached by sponsors. I love to encourage more people, young, old, male, or female to try this sport!"
Check out Molly on YouTube, go to her blog, or "Like" her on Facebook.
These are just three of the unlimited number of true stories out there. If you have a different way of using your .22, or a special .22 story, we'd like to hear from you.