Hunting is a cherished pastime. It's a sport that runs through generations of family members, or brings in novice hunters looking to make it a tradition of their own. It's also a sport some would like to see erased. Anti-hunters, for decades, have demonized those who partake in a very natural way of procuring meat. Hunters can take the name calling from their opponents, but when the attacks comes from the inside in the form of poaching, that's when the threat becomes much more personal.
Law makers, conservation officers and hunters in Minnesota have decided to take a strong stand against poaching. They want to change the crime from a gross misdemeanor, as it is now, to a felony, since the number of issued hunting citations in the state is rising. Between 2014 and 2015 there was a 35 percent increase in hunting citations and warnings, with the state issuing nearly 3,900 in 2015. 
Minnesota Governor Mark Dayton is disturbed by the increases in the disregard for game laws. "The recently reported instance of wanton and wasteful poaching in Minnesota should offend the sensibilities of all ethical and law-abiding hunters and anglers," the Governor said. "They are shameful criminal acts, and they should be treated as serious offenses by Minnesota laws."
Many others are in agreement with Governor Dayton.
"When you hear somebody poached a deer, it's pretty much salt in the wounds for sportsmen," said Mac Perry, a member of Quality Deer Management Association (QDMA). QDMA is a non-profit wildlife conservation organization dedicated to ensuring the future of white-tailed deer, wildlife habitat and the tradition of hunting. "If the stakes became a bit higher, I think the word would get out a little bit more," Perry said in regards to making poaching a felony.
Minnesota has been in the news for the past few years regarding high profile poaching cases. Troy Reinke in 2009 poached a world-class eight-point buck and two bull elk were poached from the small northwestern Grygla herd in 2015.
Sportsmen can also call Turn In Poachers (TIP), and it seems they have been. TIP received 1,250 calls to their report-a-poacher hotline in 2015. "I'm surprised in how much poaching goes on in Minnesota," said TIP's President Dennis Mackedanz. Through their hotline and social media, they allow citizens to submit poaching accusations, which will be submitted to Department of Natural Resources agents. TIP also helps to identify repeat poachers. "Some of the poachers we've seen caught over the years are people that do it year in and year out," Mackedanz said.
Additional scrutiny falls on Minnesota's current fine costs. The current minimum poaching fine is $185. That's $165 below the national average. According to the QDMA, fines per first offense that are below $1,500, might even be less than the cost of a legally acquired hunting license.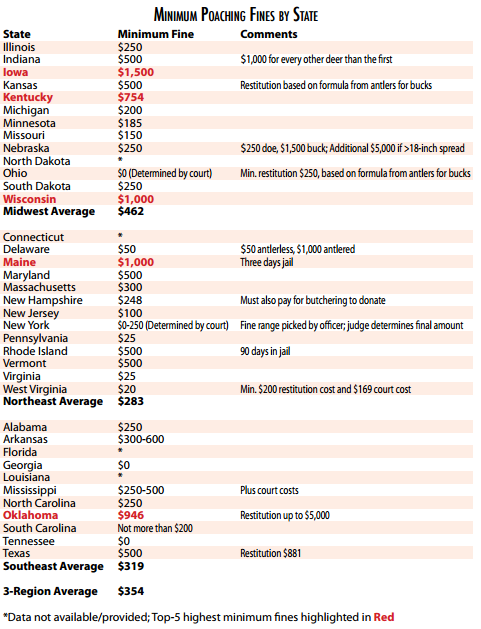 Sportsmen and lawmakers alike seem confident that poaching will soon be a felony in the Land of 10,000 Lakes, but only time will tell.