by
posted on January 20, 2023
CZ USA's P-10 pistol may not be new, but the company is launching two new models for 2023: the full-sized P-10 F OR SR and compact P-10 C OR SR. These new-for-2023 models inherit all the performance-driven features of the well-loved P-10 series, but with modified slides cut for optics and barrels threaded for suppressors. The difference between the models? Size! One is compact and perfect for concealed carry, while the other's full size is optimized for shooting comfort.  
Like all P-10 series pistols, CZ engineered the P-10 OR SR models for reliability, outstanding accuracy, extended service life and shooting comfort. The barrel and fiberglass-reinforced frame and slide feature an incredibly durable finish, protecting them from mechanical damage and the elements.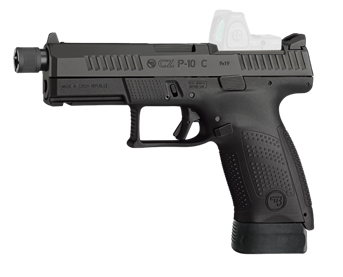 Both pistols feature a modified slide for attaching a red dot sight and an extended barrel with 1/2"×28 threads for mounting a suppressor. Both models ship with extended mag bases, adding two rounds to the standard mag capacity. OR SR pistols come equipped with iron sights with three luminescent dots for quick and intuitive aiming in low light. The iron sights co-witness perfectly with an RMR mounted on the slide. What's more, their chamfered edges ensure smooth handling.
Ergonomics and comfort are at the forefront of the P-10 OR SR's design. Deep serrations on the front and rear of the slide improve grip for ease of operation, while prominent grip checkering provides superb shooting comfort, stability, and safety. CZ also includes three interchangeable backstraps for customizing fit and reach to the trigger. 
Shooters will love the ambidextrous features of the P-10 pistols. A flat ambidextrous slide stop suits right- and left-handed shooters while allowing for comfortable handling with the non-dominant hand; the flat design makes it ideal for concealed carry. A swappable magazine release is fast, intuitive, and comfortable on either side. The P-10 OR SR's sophisticated grip and checkering incorporate the modern ergonomic design for a sure grip and a user-friendly experience. 
P-10 pistols include three safety features: trigger safety, trigger bar safety, and a firing pin block safety. Together these safeties safeguard the user if the pistol drops accidentally and in high-stress situations. For more information, visit CZ-USA.com!
Full-size specifications:
Caliber:

 9mm

Mag Capacity:

 21 rounds

Trigger:

 Striker

Frame:

 Fiberglass-reinforced polymer

Sights:

 

Luminescent 3 dot
Thread:

 

1/2"×28
Height x Width x Length:

 6.02 inx1.26 inx8.7 in

Barrel Length:

 5.10 in

Weight:

 29.4 oz

Safety features:

 Trigger safety, Trigger bar safety, Firing pin block
Compact-size specifications:
Caliber:

 

9mm
Mag Capacity:

 17 rounds

Trigger:

 

Striker
Frame:

 Fiberglass-reinforced polymer

Sights:

 

Luminescent 3 dot
Thread:

 1/2"×28

Barrel Length:

 

4.6 in
Height x Width x Length:

 5.31 inx1.26 inx8 in

Weight:

 27.1 oz

Safety features:

 

Trigger safety, Trigger bar safety, Firing pin block