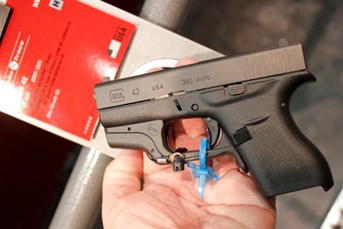 Draped in red, black and gleaming chrome, the Crimson Trace booth is hard to miss...and for NRA Annual Meetings & Exhibits convention goers, that's a good thing. "These new Rail Master Pros have been a big draw," explained Media Relations Manager Michael Faw. It's a light and laser combined, and you can set it to laser, laser and light, light only and strobe.  The best part," he continued, "is that it can be mounted on anything with a rail...pistol, rifle, even a tactical shotgun."
New shooters in particular are making sure to stop by, continued Faw, based on the growing popularity of extra-compact pistols designed for concealed carry. "A lot of the time," he explained, "these very small compacts have sights that are difficult to use, so that's where a laser sighting system can really improve accuracy." He stated that shooters who only have limited time in their schedules to go to the range will find that their practice becomes much more efficient with a laser, as well.
Another aspect that seems to be delighting booth attendees is the speed with which Crimson Trace is bringing laser sighting systems to market...even for the newest guns. Pictured above is the brand-new Glock 42, complete with the Crimson Trace sighting system designed especially for it. "We're in such close contact with the manufacturers that we can make these available almost as soon as the gun is," reported Faw.
Want to see for yourself? Stop by Booth 3648 before Sunday!