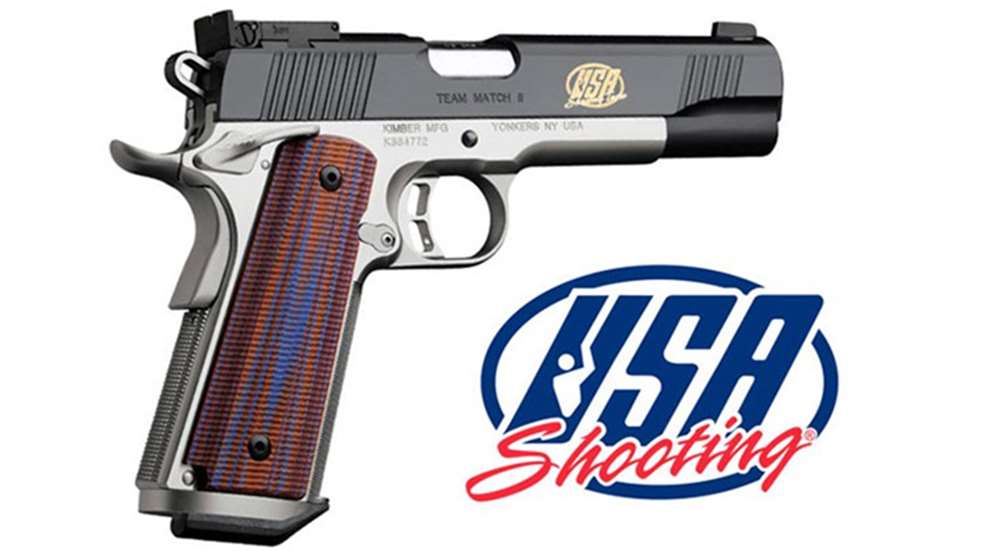 USA Shooting, the organization that prepares American competition shooters to excel at the Olympics and Paralympics, has a friend in Kimber. The legendary pistol manufacturer has generously donated $100 of every Team Match II 1911 pistol sold to support USA Shooting in its mission. This program, which has been running since 2003, has resulted in donations of $1.3 million.
The partnership makes perfect sense: Kimber has a fantastic competition pistol in the Team Match II. The pistol is one of Kimber's masterpieces in 1911 design philosophy. Designed for action shooting competitors who need the knockdown power of the .45 ACP cartridge (the gun is also available in 9mm), this pistol is much more than another 1911.
Kimber's attention to quality components is legendary, and the Team Match II is no different. The adjustable sight, with steel-on-steel click adjustment dials (6.8-inch radius), is dovetail-mounted into the slide. It features a 5-inch, match-grade barrel and bushing, and a high-strength stainless steel frame. The aluminum trigger is set from the factory to a 4-to-5-pound pull (with the clean break you would expect from a Kimber 1911), and the extended magwell that is often favored by action shooters. The slide sports the USA Shooting Team logo engraved in 24k gold.
Kimber did not stop with these high-quality components. The workmanship is top-notch, even for the high standards that made the company famous. For example, the steel match-grade barrel is machine oversized, and then fitted by hand in the Kimber custom shop for accuracy. The beauty in this pistol is unmistakable...and supporting our Olympic shooters is even more beautiful.