by
posted on July 9, 2014
You can see it in the eye of every qualifying shooter at the 49th Annual Daisy National BB Gun Championship Match: They're willing to practice, work hard and dedicate themselves to the shooting sports. For many shooters it will be just the beginning in a career in the shooting sports, while for others an opportunity to learn shooting safety and participate as a team member in this renowned BB gun match.
Competitive shooters from 51 teams and their coaches from 17 states across America qualify through state championship matches to participate in Rogers, Ark. Each shooter uses a muzzle-loaded single-shot Daisy Avanti Champion Model 499 BB gun, and fires 10 rounds in four positions: prone, standing, sitting and kneeling. The total scores are added up for individual and team medals.
As always, teams of young boys and girls ages eight to 15 participate in the match. Each team consists of five shooters and two alternates. Only teams that qualified through state championship matches are eligible. New this year is a scoring system provided by Orion Scoring System. "It's an electronic scoring system able to get out individual and team scores quickly to the shooters, coaches and public," said Erik Anderson, Ph.D., owner/inventor of Orion Scoring Systems. The results were posted online and shown on a big-screen television throughout the event so coaches and shooters could check the result of the match.
Although marksmanship scores in the Daisy 5-meter match are important, gun safety plays a significant part in the team and individual scores. A written safety test covering a classroom curriculum comprises a substantial percentage of the shooter's overall total score. The test has 45 true or false questions along with five multiple-choice questions.
Over a four-day period shooters had their guns checked, practiced shooting on the range, visited the pro shop and Daisy Museum, attended opening and closing ceremonies, traded at the Barter Bar, went to Daisy Night at the water park along with watching fireworks and shot targets. Shooters and coaches were also excited to have 2010 Daisy National BB Gun Championship winner Lydia Paterson attending the match.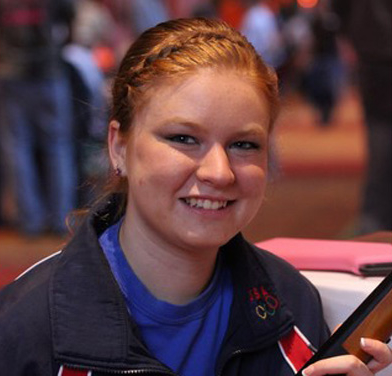 "I started shooting when I was 7 years old and have always been around shooting. From there it just progressed to shooting at state matches to the national BB gun championship to currently preparing for the upcoming CAT Games for an invitation to the Olympic Games," said Paterson, 2014 National Junior Olympic Champion in Women's Air Pistol and USA Shooting National Team Member. Qualifying to join the National Team at age of 16, Paterson suggested young shooters train hard to excel in shooting sports and win events like the Daisy National BB Gun Championship.
This year the winning team was Pierre Junior Shooters from South Dakota. The team of Ryan Habeck, Canaan Smith, Cassandra Ryckman, Jacob Beastrom and Nathan Schnabel scored a combined total of 2375.73 points. Pierre Junior Shooters have dominated the Annual Daisy National BB Gun Championship, winning six of the last 11 matches.
"Our first-place finish is the result of a lot of hard work, practice and studying for the safety exam. It wouldn't happen without parental help like assisting the coaches out at practice and helping the competitors study for the safety exam throughout the year preceding the match," said Pierre Jr. Shooters coach John Forman. Forman noted that the team did various fund-raising events like raffles, direct mail campaigns and doing a business night at stores where part of the proceeds go to the team.
Shooting coach for the Pierre Junior Shooters, Gene Garber, agreed with coach Forman, adding, "This team studied more and practiced more than any team we have ever coached. They practiced shooting all four positions every day and did study groups every week."
Spink County Shooting Sports from South Dakota finished in second place with a total score of 2363.81 points. "Our success comes from shooting lots of targets. The team practiced very hard throughout the year," said one of their coaches. Another Spink County Shooting Sports coach noted that every team member learned a lot about safety, self-control and discipline.
Finishing in third place was Lake Houston 4-H Outdoors Explorers from Texas with a total score of 2326.81. "I tell everyone all year long that Daisy has the best match to attend and when the team gets here they understand it's the big show," said Lake Houston 4-H Outdoor Explorers coach Frank Butkiewicz. Coach Butkiewicz noted their team did some fundraising along with getting funds from the Texas State Rifle Association to help offset travel expenses.
Not only did the Pierre Junior Shooter team win the match overall, they had the overall total points shooter, Cassandra Ryckman, with a total score of 482.15. Ryckman admitted the key to her success came from practicing and studying for the test. "It's nice to win after practicing so hard, but what's really cool is that all these people are learning about gun safety and to shoot," said Ryckman.
Second place overall total points shooter Jaidyn Kramp (Spink County Shooting Sports, S.D.) finished with 479.20 points. "Being part of the team has helped me work on calming my performance nerves and have more patience," Kramp said, "you also really stick together as a team even when one of us is having a bad day."
Finishing in third place overall in total points and first place in the standing position was Hannah Leggett (Coffee County Center Shots, Ga.) with 478.20. Leggett believed her success came from hard work in practice. "If you work hard in practice it will show when you start shooting," said Leggett.
However, there's more to being at the match than shooting and taking the safety exam. Between events, teams hang out together playing games, studying and just chilling out. "My mom's the test coach so we did a lot of studying at home as a team, and I also used my free time in between shooting to study. I also like to listen to music and play games with the other kids," said Carrie Butkiewcz (Lake Houston 4-H Outdoor Explorers, Texas).
Kanen Bush (Treutlen Viking, Ga.) was busy using a magnifying glass to pick out the BBs with fewer faults in between shooting. "I'm checking out the BBs we are going to shoot during the match so our team only shoots with the best ones," said Bush. Bush liked hanging out with his mom during his free time.
Shooter Kyleigh Haun's (Johnson county KS 4-H Rifle Club, Kan.) mom, Lisa said, "The secret is to have lots of games, low-sugar treats and no caffeine before the match." Johnson County Shooters from Kansas were under the same dietary restrictions, but also no electronics. To pass time the team was energetically playing a card game, "I Doubt It." Teams, coaches and families also went to the Daisy Museum, Water Park, watched fireworks and participated in Barter Bar.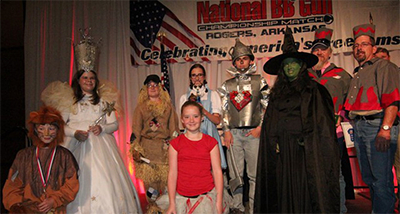 At the Opening Ceremonies, teams have the chance to participate in a costume contest. This year, a team from Kansas took the prize.
The event brings shooters from across America together, but it's more than just shooting. For some families it's their vacation while others an opportunity to bond together as a team and have a great time with their friends and so much more.