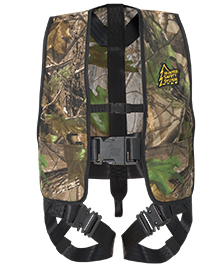 It is of the utmost importance to instill safety into every trek into the field with a new hunter. From safe ways to hold a gun, point a gun and what to wear, safety should always be the number one priority. During deer hunting season, about 90 percent of hunters hunt from elevated stands, according to a Deer & Deer Hunting Tree Stand Survey. According to a study of Vermont and North Carolina hunters, 74 percent of accidents occurred when climbing into, out of, during installation or while removing a stand.
Needless to say, treestand injuries and accidents can be avoided with the use of a safety harness. Many hunters may think they're not high-up enough to warrant a harness, but in all cases-especially with youths and new hunters-it's better to be safe than sorry.
Hunter Safety System (HSS) is known for its innovative, high-quality harnesses and climbing gear. It is also the first company to make a youth-sized harness: The HSS-Lil Treestalk. The Lil Treestalk retails at $85.95 and only weighs 1.5 pounds. The fabrics keep kids cool and dry, with a design that will keep them comfortable while hunting. There are no dangling straps or weave-through buckles for kids to get snagged up on. The Lil Treestalker also features soft-touch binding that won't cause abrasion around the neck and arms. Sporting Realtree X-tra camo, the Lil Treestalk is made for kids from 50 to 100 pounds, with a torso of 24 to 33 inches.
For more information, visit HunterSafetySystem.com.