Based on their habitats, ducks are commonly separated into two broad groups: puddle ducks and diving ducks. However, their habitat is only part of the story. Here are some key differences you can spot with your naked eyes...no biology degree necessary!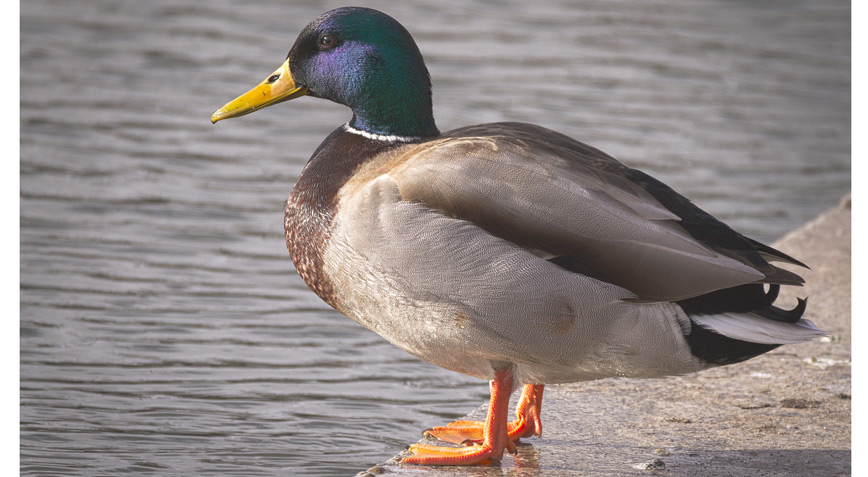 Puddle Ducks

Puddle ducks usually frequent shallow marshes and river edges rather than large lakes and bays. They usually feed by "dabbling," or dunking their heads in the water. They ride high on the water, and jump directly upward when taking off. The colored wing patch, which is called the "speculum," is usually very bright or iridescent. Ducks feeding on croplands will usually be puddle ducks, because this group of ducks can walk and run on land. Their diet is mostly vegetation. 
You'll also notice that they rarely dive; instead, they "tip up" to feed, leaving their hindquarters above the surface of the water. Their legs will be near the center of their bodies, as with the mallard drake pictured above. They usually swim with their tails above the water, and they tend to have a smaller foot than you'll see with diving ducks. Their hind toe won't be lobed.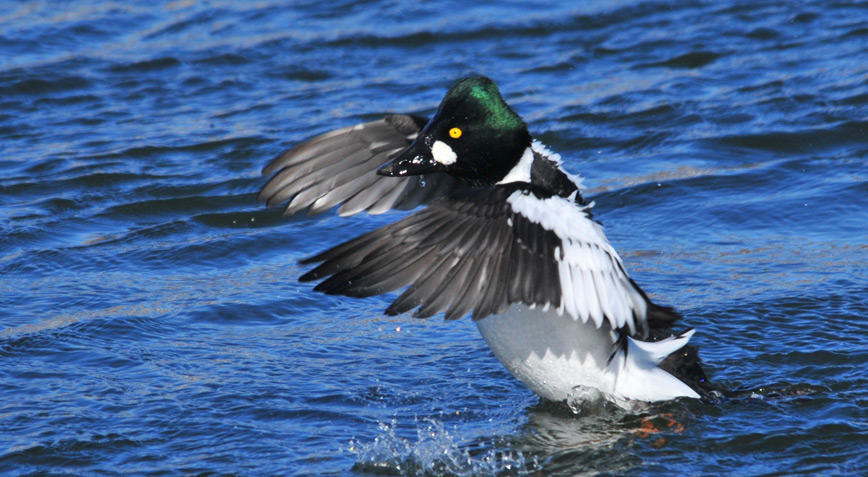 Diving Ducks

Diving ducks usually frequent large, deep lakes and rivers. They feed by diving, often to considerable depths. To escape danger, they can swim a remarkable distance underwater. They may then emerge only far enough to expose their head or bill to grab some oxygen, before submerging again. 
The wing patches of diving ducks lack the iridescence of puddle ducks. To compensate for their short tails, they use their large, paddle-shaped feet as rudders in flight. Those large feet are often visible while they're flying. Speaking of flight, most of this group run or patter along the surface of the water before becoming airborne (as with the goldeneye drake pictured above). Diving ducks have a small wing in proportion to their bodies, so they have a rapid wingbeat in comparison to that of puddle ducks. You'll also note that the legs of diving ducks are set near the rear of their bodies, and that their hind toes are lobed. They usually swim with their tails close to the water, and dive completely underwater to feed. 
Diving ducks' diet is chiefly fish, shellfish and aquatic plants. The flavor of their meat is often a bit gamier than that of puddle ducks, which are largely vegetarian.