by
posted on September 15, 2018
Whether you're hiking, hunting, camping, skiing or any of the other awesome outdoor pursuits your family enjoys, selecting the right tent for your adventure is critical. A tent keeps you and your gear dry, warm and sheltered, and it protects you from insects. The tent your party should take on your adventure should be practical for the kind of camping you plan to do, and it should provide snug shelter from strong winds, rain and snow. Here are four different kinds of tents, and the considerations you'll need to keep in mind while you're making your selection. 
1. Wall Tent
A large wall tent, 12 x 14 feet, will accommodate four people comfortably. It has room enough for moving about inside, and plenty of head room. With a wood-burning tent stove, it will keep the party warm in any weather. A key point: Tents are made from several kinds of fabrics, including canvas and water-repellent cotton, but most recreational tents today are made from nylon. Nylon is exceptionally strong, easy to repair if torn, will not rot, is water resistant and weighs only a few ounces per square yard. However, when a stove will be used to heat the tent, it is better to have a tent constructed from canvas. Although it's heavy, canvas is less flammable than nylon. If you intend to use a wood-burning stove, the tent must have a fireproof ring for the stovepipe to exit without scorching the tent fabric. The stovepipe must project at least a foot above the ridge of the tent, so the wind will not blow sparks onto the roof. 
A smaller wall tent, 8 x 10 feet, is better for two people...but it will be a little cramped. Sleeping bags should be rolled up during the dame to make more room inside the cooking and eating tent.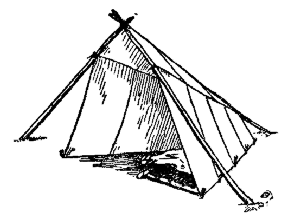 2. Forester's Tent
A forester's tent makes use of nylon fabric and aluminum pegs and poles to save weight. You can't build a fire inside one, but a campfire built outside the tent opening will provide enough heat to keep the tent warm and comfortable even in extremely cold weather. 
Because of this tent's design, a fire can be built quite close to it. A forester's tent is set up with three poles: two poles of equal length and a longer ridge pole. The ridge pole should be erected at the rear of the tent. It is an easy tent to set up and take down. If rain or snow blows through the tent's front opening, the tent can be quickly turned to another direction by changing the position of the ridge pole.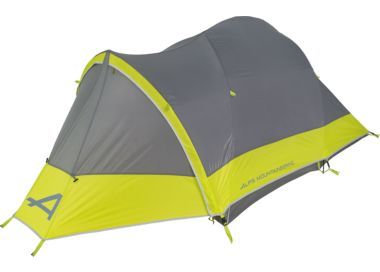 3. Mountaineer's Tent
A mountaineer's tent is useful for the hunter or hiker who requires only a place to sleep and protection from the weather. It is small and very light in weight. The tent floor is sewn to its walls, which keeps out drafts, mosquitoes, rain and snow. The tent is not high enough to stand up in, and there is very little room for gear other than a sleeping bag.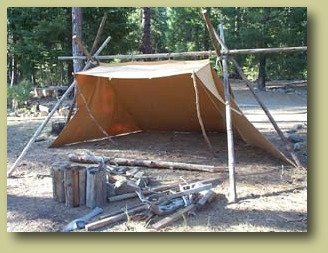 4. Lean-To Tent
A lean-to or tarp tent makes a convenient and comfortable shelter. The tarp is simply a rectangle of waterproof cloth with rings called grommets every 2 or 3 feet along the sides and at each corner. The grommets are used to tie and erect the tent. The tarp can be any size that's adequate for shelter. Several different lengths of line for tying will give you the flexibility you require to set up a lean-to. A lean-to tent pitched at a 40-degree angle will provide good protection for beds and gear stored under it. With a fire in front, a lean-to can be warm and comfortable.
This type of tent is particularly suitable in the woods where trees are readily available for use as tent poles, and where there is shelter from the wind...as the lean-to doesn't provide much of that on its own. To keep out rain or gusts of wind, small spruce trees and evergreen boughs may be cut down and stood up at the open ends of the lean-to tent. 
A tarp has many other uses around camp, and we recommend that at least one goes with you on every trip where space is available, even if you don't intend to use the tarp to make a tent. A tarp can be used to cover supplies and equipment; it can be set up as a roof to provide overhead shelter from rain or sun, or it can serve as a windscreen. 
Lead image by Hans de Laat