by
posted on January 17, 2018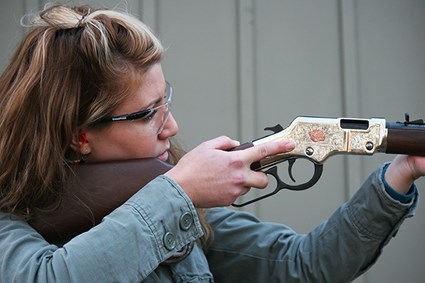 Hailing from the award-winning Golden Boy family of Henry Repeating Arms comes The American Beauty. She's got good genes, as she gleams, glitters and packs a nice tight little punch downrange on target or on small game.
Named after the American Beauty Rose, and featuring said rose as an embellishment on the main panel in a lovely floral scroll pattern-hand-cut by master engraver Heidi Roos and enhanced with 14k rose gold plating on the petals-this lever-action, .22 LR gun has been created to embody the spirit of the American woman.
And embody it it does. I love lever actions because these guns channel me back to the days of the Old West, to Annie Oakley and Calamity Jane and all those pioneer women who locked and loaded by working a lever before they shot varmints, or protected their young-uns.
I loaded four types of .22 LR ammo and sent five-shot groups downrange again and again-at targets 25 yards away and at swingers at the same distance. I shot from a rest, from a bench and off-hand. The smooth action, perfect weight and balance combined to make this a gun with deadly accuracy. I especially liked the Marble Arms fully adjustable, semi-buckhorn rear sight, with reversible white diamond insert and brass-beaded front sight. This feature is especially useful for a new shooter, as it is easy to explain how to line up to hit the target with this type of sight. The American Beauty fed every cartridge easily, with no hiccups or malfunctions at all. The trigger has a bit of creep, but as with other Henry lever rifles, this should go away after use. It's not a target trigger, so it's a little heavy, but reasonable for this type of gun.
I also like the easy-to-operate safety system, which demands that the hammer gets placed in the second position. This system should be easy for young and/or new shooters to understand and engage. The lever is solid and easy to manipulate-even on a new gun.
Because of its heritage, fathered by the Golden Boy family, The American Beauty features a smooth American walnut stock, octagonal barrel, silver buttplate and silver barrel band. It comes drilled and tapped for a scope of your choice.
The American Beauty would make the perfect gift for any small-statured shooter and I can see it as a family legacy gun.
Specifications
Action type                  Lever
Caliber                         .22S/L/LR
Capacity                      .22 Long rifle (15 rounds), .22 Long (18 rounds) or .22 Short (20 rounds)
Length                         38½ inches
Barrel length                20 inches
Weight                         6.75 pounds
Stock                           Fancy American walnut buttstock
Sights                          Marble Arms' fully adjustable semi-buckhorn rear, with reversible white diamond insert and brass beaded front sight
Finish                           Nickel receiver, silver barrel band, silver buttplate and blued lever and barrel
MSRP                          $899.95