by
posted on February 21, 2014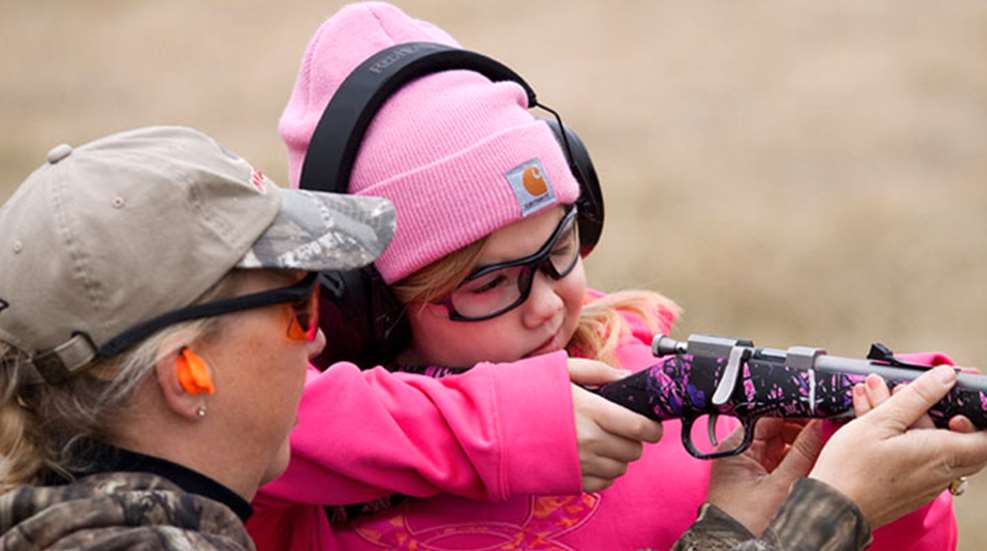 When 8-year-old Sara saw the gun, she knew she wanted to shoot it. Even though she'd never shot a gun before in her life and had never shown an interest in shooting, once she took a look at the "Muddy Girl" from Henry Repeating Arms, she wanted to take her first shot.
New in 2014, this Henry mini-bolt rifle, called the Muddy Girl, sports its namesake's camo pattern-a zany hot-pink-purple-and-black combination that belongs on more guns than just this little wonder. It makes a lifestyle statement for females that says, "This gun is mine. Get your own." For parents, it's reassuring to know that Henry mini-bolt rifles are the official youth rifle of the USA Shooting Team. After all, the Olympic shooting team has a vested interest in promoting rifles that aid in proper development of future competition shooters.
Sara, a "girly-girl" who likes to cheerlead, left her pompoms behind, yet still coordinated her pink-and-black matching apparel for the photo shoot. Out on the range, her Aunt Marti-a pro-staffer for Mossy Oak and Moultrie Products-talked to her about gun safety, and especially the first three safety rules from the NRA: Always point the gun in a safe direction; always keep your finger off the trigger until you're ready to shoot; and never load the gun until you're ready to use it. After Sara demonstrated that she understood the safety rules, Aunt Marti showed her how to shoulder the gun and how to weld her cheek to the curvy, synthetic stock. She also showed Sara how to load and unload the single-shot rifle, chambered in .22LR. Sara shouldered the unloaded gun again and again, looking down the barrel at the brilliant little fiber optic sights and finding the target.
Then, to demonstrate, Aunt Marti shot a few rounds downrange at about 25 yards. Sara stood behind her aunt and watched intently, and even jumped a little at the first sound of the gun firing, even though she wore protective earmuffs. She visibly relaxed as she watched her aunt open the bolt and reload the gun a few times.
When it came time for Sara to shoot the gun, she stepped up to the line, shouldered it and frankly, amazed the adults standing behind and beside her as she loaded, closed the bolt firmly, pulled back on the cocking mechanism and took the safety off. She then put her cheek on the stock, took a deep breath and squeeeeeeeezed the trigger. The first shot fell at the 3:00 mark, near the center of the target. Sara shot several more rounds, and every shot hit the target-fairly close to her first shot (lessons will come later).
"I like the color and the size of this gun," said Sara. "And I also like that it didn't kick me and it was easy to use."
Action and Trigger
The European-style bolt action of this rifle demands safe and aware gun handling-requiring a young shooter to load a round, then close the slim, spoon-shaped bolt, then pull back on the cocking knob and, finally, take off the safety. The bolt closes quietly and smoothly. The slight angle of the bolt lever allows a youngster to reach and find that important piece of the firearm, instead of having to look for it.
The 2¾-pound trigger has some take-up, but not too much for young shooters. After all, a hair trigger is not an option at this stage of the learning process.
Stock
This rifle is made in America alongside the Big Boy and Golden Boy Henry rifles in New Jersey. Its one-piece synthetic stock has been designed with just the right angle for little hands to grasp the gun firmly and still pull the trigger with confidence. A slightly oversized beavertail forearm comes with just enough checkering, in a simple grid pattern, to help a shooter's grip on the gun.
Barrel and Sights
Featuring a stainless steel, 16¼-inch barrel, the Muddy Girl comes with Williams Fire Sights-two bright-green fiber-optic dots on top at the rear, and one bright-red fiber optic dot for its front sight. It's a great system for new shooters. "Keep the red dot on the target, then look for it between the green dots, then focus on the red dot again," coached Marti.
Ammunition and Accuracy
This author shot the gun at longer ranges. It performed reliably at 50 yards, too, even though it felt quite odd for me to shoot such a small gun. The Muddy Girl had no problem with any of the .22 ammo I fired, which included several brand names.  With no malfunctions and 100 shots later, the Muddy Girl wanted more.
Now, I want one. In fact, I'd take a Big Muddy Girl out squirrel hunting any day.
Henry Mini Bolt Muddy Girl Rifle Specifications
Action Type: Bolt Action
Caliber: .22LR/.22 Short
Capacity: 1 round
Length: 30¼5 inches
Barrel Length: 16¼ inches
Trigger: 2¾ lbs.
Weight: 3¼ lbs.
Stock: One-piece, fiberglass synthetic stock
Sights: Williams Fire Sights
Finish: Stainless steel receiver and barrel
M.S.R.P.: $275
Learn more about Henry Repeating Arms' mini-bolt rifles.