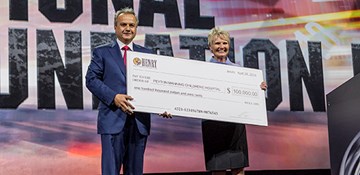 In addition to being a preeminent American rifle manufacturer, Henry Repeating Arms makes generous donations to worthy causes through its Guns For Great Causes program. At the 2014 National NRA Banquet and Auction in Indianapolis, Ind., Anthony Imperato, president and owner of Henry Repeating Arms, presented a check for $100,000 to the Peyton Manning Children's Hospital.
Imperato noted that the hospital "provides extraordinary patient care for the children of Indiana and we are proud to support them."
Henry's Guns For Great Causes program was started several years ago because the company felt "blessed with our success and wanted to give back to organizations we admire," Imperato explained.
The NRA Foundation was also the recipient of Henry's generosity that evening. A record-breaking $100,000 was raised with the auction of a legendary Henry lever-action rifle from 1865 that was paired with serial number one of the company's new Original Henry Rifle. Henry Repeating Arms donated the rifles to be auctioned together to benefit The NRA Foundation. The two-gun set featured the well-worn Model 1860 Henry, serial number 8261 manufactured in 1865, which was used to reverse-engineer Benjamin Tyler Henry's classic design and develop the tooling for the new Original Henry Rifle line. Completing the set was the Original Henry Deluxe Engraved serial number BTH0001, the first Henry domestically produced in nearly 150 years.
This is just one extraordinary example of Henry's generous support of NRA programs over the past 20 years.
"The pair of Henry Rifles we donated in support of The National NRA Foundation is a small token of our appreciation," said Imperato. "The NRA has been by our side since day one and we are eternally grateful to them for defending Second Amendment rights, for upholding the tradition of hunting and the shooting sports, and for their tireless efforts to promote firearm safety."