by
posted on January 26, 2018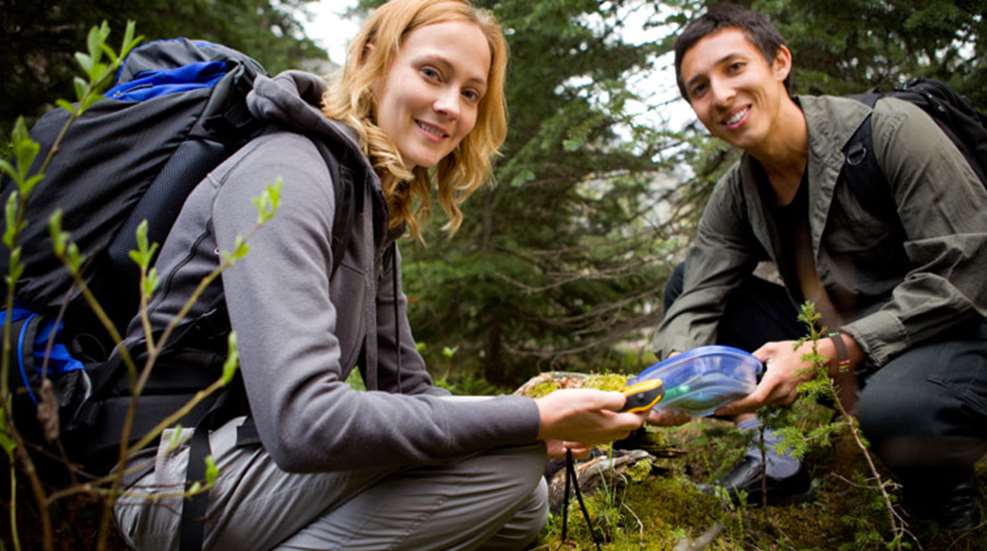 "Look!" exclaimed 10-year-old Emma, pointing to a rocky outcropping at the base of a hill and dancing excitedly on one foot, then the other. "That's gotta be the place."
"Shh," said 13-year-old Dylan, glancing around nervously at the three hikers a few feet off to their right.  He quickly slid his smartphone into his pants pocket, bent down and pretended to tie his boot. "Don't want the muggles to hear," he whispered.
Emma clapped a hand over her mouth.
Within minutes, the hikers were out of sight and Dylan retrieved his phone. A touch of the screen pulled up the geocache app and the pointing arrow. He nodded.
"Let's go take a look," he said.
But a thorough search of the outcropping and several yards on either side of it failed to reveal what they were looking for. Stepping away from the hill, Dylan surveyed their surroundings once again. Emma wandered over to a nearby shade tree and plopped herself down on the boulder beneath it.
"Musta got the wrong directions," she muttered, kicking a large rock at her feet. The rock moved a scant couple of inches, but it was enough. There, lying just beneath a protrusion of the boulder and right behind the spot where the smaller rock had been, was a clear, plastic container, the word "geocache" marked in black on the lid.
"Dylan!" she screamed, jumping off the boulder and pumping her fists with glee.
In the Beginning
The worldwide treasure hunting game of geocaching began in the spring of 2000 when the U.S. government made truly accurate GPS devices available to everyone.  That's when computer consultant David Ulmer hid a bucket filled with prizes and a logbook in the woods near his Oregon home. He posted the latitude and longitude figures—called coordinates—online for anyone who wanted to find it. The only rule was "Take some stuff; leave some stuff."
Over the course of the next three days, two people used their GPS devices to locate Ulmer's bucket and wrote about their search experiences online. Word spread, and soon others began to hide containers, now called caches or geocaches, and posting the coordinates. Within four months, there were 75 caches in the United States.
A Game For Everyone
Today, there are more than 882,000 active caches in the U.S. alone and more than two million worldwide. The name of the game, originally dubbed "GPS Stash Hunt" by Ulmer, has been changed to geocaching, but the basic components remain the same.
The object is to use GPS and your best outdoor skills to track down a cache—a hidden "treasure." This game is suitable for all ages and is enormously popular, worldwide. It's challenging, relatively inexpensive, and you don't have to go very far to play it—unless you want to. Check out the website www.geocaching.com, plug in your ZIP code and prepare to be surprised at the number of caches hidden in your own home town.
Getting Equipped
Geocaching requires little equipment, the one absolute being a GPS unit or smart phone with GPS functions.
Long-time geocachers and those who use a dedicated GPS unit for other purposes, such as hunting or orienteering, are already good to go. However, more and more geocachers are simply downloading a GPS app—many of which are low-cost or even free—to their smart phones. The only drawback is that cell phones may have trouble picking up a signal in some places.
You'll also want an account with a geocache listing site, such as www.geocaching.com; a map of the area; a pen for writing in the logbook; a flashlight; a compass and some small items to trade.
Other items to consider, particularly if you'll be in the country or on a several-hour quest, are hiking shoes, bug repellent, a first-aid kit (including snake bite supplies), extra batteries (for a GPS receiver or flashlight) and sunscreen.
Finally, for more fun as well as safety reasons, be sure to go with a buddy.
Get Your Game On
To get started, visit a geocaching website for a listing of hidden caches and search for those near you. Check the difficulty ratings, which tell you how easy or hard the search will be. (For a first hunt you'll want to choose a cache with an easy rating.) Make your selection and enter the coordinates into your GPS unit or smartphone.
From here, it's a matter of following the navigation arrow on your screen to get to the area where the cache is hidden. Sounds simple, doesn't it? Just understand that few caches are actually out in the open. Most are well hidden—under a rock, for instance, or in the hollow of a tree or the back recesses of a cave. Even though your GPS leads you to within a few feet of the cache, you'll still have to look carefully to find it.
Pay attention to how the cache is hidden before you remove it because you want to return the cache to the same position when you're through.
Now it's time for your reward! Open the cache and check out the treasures and trinkets inside. The possibilities here are endless: a marble, a whistle or other inexpensive toy, a lottery ticket, a deck of cards emblazoned with the logo of a favorite sports team or a specially created geocache coin called a geocoin. If you've brought a tradable item, exchange it for an item of the same value or less—a magnifying glass for a penlight, for instance, or one small toy for another.
Fill out the cache logbook with the date and your caching site user name before closing the cache and replacing it exactly the way you found it. Once you've returned home, log into your cache-listing website and, under the cache you just found, record the requested information.
Safety Tips
Geocaching is a game and it's meant to be fun, but that doesn't give you a pass on putting safety first. Keep the following in mind:

Always hunt in pairs or a group. Common sense tells you there's safety in numbers. Besides, you'll have more fun if you can share the experience with someone.

Always let someone know where you're going and what time to expect you back.

Be aware of your surroundings. Watch out for wildlife, dangerous footing and anything that might be a hazard.

Never leave dangerous or illegal items in the cache.

Don't wade through streams. Cross at fords or where the road or trail crosses the stream.

Be sure to have emergency medical supplies on hand as well as a flashlight, map, compass and water.

Similarly, don't leave food. Animals may destroy the cache to get to the food.
Rules and Courtesies of the Game
As a geocacher you must know the rules and regulations in the area where you'll be hunting. Before getting started, research local government regulations online. Also check out the rules for any parks that you will be traversing or in which you might want to leave a geocache. The National Park Service (NPS), for instance, has regulations applying specifically to geocaching. And, just to keep it all perfectly legal, if you're hiking on private property, be sure to ask the owner's permission.
Then there are the small but important courtesies, starting with "leave no trace." That means leaving everything the way you found it. If you lift up a fallen branch, don't toss it to the side. Put it back exactly where you found it. Ditto for closing a gate that you opened or cleaning up after your pet if you take one with you. Many geocachers operate under the motto "cache in, trash out." They take a garbage bag along on their hunts and pick up any trash they see along the trail. It only takes a moment, and it leaves the hunt area nice for the next group of geocachers.
Finally, don't tip off the "muggles"—the non-geocachers—in the area. Geocachers know the rules of the game and the importance of maintaining the cache for others. Muggles probably don't.
Benefits
The bottom line is that geocaching is a fun, high-tech treasure hunt with an inexpensive price tag. It's a great way to get exercise and spend time outdoors with family or friends. It's an activity that will improve your orienteering skills while providing the opportunity to hike in areas you've never been before. That's a lot of benefits rolled into one, benefits that await you in your own hometown and beyond.