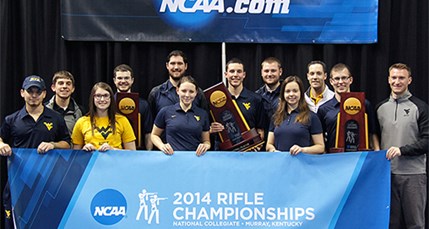 The 2015 Great American Rifle Conference (GARC) tournament, one of the final matches leading up to the NCAA Rifle Championships, saw the University of West Virginia dominate the Air Rifle matches, topping Kentucky again by 38 points. GARC is made up of nine NCAA recognized rifle teams without an NCAA recognized rifle conference. Eight of the team's that competed will attend this year's NCAA Rifle Championships. The GARC title win was the 9th for the Mountaineers.
"Today was a great day for us," West Virginia rifle coach Jon Hammond told WVUSports.com. "It's not too often you get a chance to shoot a national record. We've had the ability this year to do it, and today it all came together. We had a lot of great scores, but the four that counted were exceptional."
The Nebraska Cornhuskers, keeping in line with the 2014 repeat theme, rounded out to the top three with a 4,664.
Last year's high individual smallbore shooter, Nebraska sophomore Lauren Phillips, finished her run with a 580; good for fifth overall.
"It's encouraging to have a top five finish after last year's win," said Phillips. "I think our 3rd place team finish leaves us hungry for what's to come at NCAAs."
To see the full results and read more about this year's GARC tournament, visit NRABlog.com.