by
posted on April 10, 2015
If you have a family, and don't get to the range as often as you might like, then you might want to check out the MILO Range marksmanship skills trainer and threat engagement simulator. This training tool will allow you to practice target skills or threat engagement response skills in the comfort of your own home.
MILO Range offers four different training modes: video scenarios, interactive firearms skill builders, lane-based targeting and shooting entertainment. With the video scenarios trainees must adapt to whatever threat comes up by taking cover, using commands or force. The system reacts in real-time to weapons used by the trainee. The interactive firearms skill builders simulation uses 2D and 3D graphics to react in real-time to the weapon used by the trainee. Scores are displayed during the session. Ranging from simple plates to full-scale shoot houses, the skill builders will improve basic timing, accuracy, acquisition and threat identification.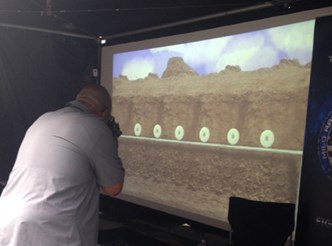 The Firing Line simulator is a multi-lane target for pistols and rifles. They can vary from static to fully scripted courses of fire. Instructors can focus on trainees instead of system operation, and the system performs the instruction. The Shooting Entertainment simulator includes zombies, robots and more. This grouping is fun, yet still improves basic technical shooting skills.
If you're attending the 2015 NRA Annual Meetings & Exhibits then stop by the Freedom Festival to test out some of these MILO Range simulators for yourself. If not, check out MILO at MILORange.com for more information.