by
posted on May 14, 2017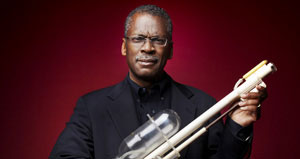 OK. So you're outside with friends, running around, firing off shots from your Super Soaker water gun. Having a blast - literally! - and it's a perfect summer day.
You can thank Lonnie Johnson for that. He's the inventor of the Super Soaker, and man, does he have a story.
Johnson was born in 1949 in south Alabama. As an African-American boy growing up in the South when blacks didn't have the same opportunities as whites, it was hard for anyone to imagine the path his life would eventually take.
He was a born tinkerer, though. When he was still a child, Johnson and his dad built a berry-shooting gun using only bamboo shoots. He also hand-built a go-kart using a lawnmower engine and scrap parts he found at a junkyard, and once got into trouble with his sister for taking apart her toy doll - just to see how the mechanism for the eyes worked.
In high school, Johnson earned the nickname "the professor," thanks to his genius in science classes. He was awarded math and military scholarships and eventually landed at the prestigious Tuskegee University, where he studied nuclear engineering.
But it wasn't until he joined the U.S. Air Force and began designing weapons and spacecraft that his genius really began to be noticed. In the late 1970s, Johnson's designs were used in machines that today are roaring through outer space.
Closer to home, Johnson was tinkering one day with a model of an environmentally friendly cooling machine he had created. He was testing it in his bathroom trying to figure out how to make it work, when a powerful stream of water shot from the gadget. He immediately realized what he had on his hands and soon set aside his other inventions to work on what would become the Super Soaker.
Was the rest, as they say, history? Not quite. Inventing the water gun was one thing. He still had to find a company who would make the gun, and it would take years to do that.
Despite the setbacks, he never gave up on the idea of the toy. Finally, after seven years, he met a toy maker that was impressed enough to take a chance. When Johnson showed up to his first meeting and began shooting coffee cups off the table and across the boardroom, the company knew they had something special.
Today, Johnson is still inventing. He owns a company near Atlanta that works on making energy-efficient products like rechargeable batteries. A while back, Johnson gave an interview to a magazine reporter. When asked what advice he would give to someone getting started out in the invention business, he said, "Perseverance! There is no short, easy route to success."